We've been mostly looking at national polls of Democratic primary voters following the first debate but what about state polls in the early caucus and primary hot spots? The latest out of Iowa is showing a dramatic shift in the race and some early warning signs for the campaign of Vermont Sen. Bernie Sanders.
The best news comes for Sen. Kamala Harris and Sen. Elizabeth Warren, both candidates seeing big gains in Iowa. Meanwhile, Sanders has continued on a downward trend and hasn't been able to recapture his early momentum which seemed insurmountably strong.
Biden still leads Iowa
The latest numbers from a Suffolk University poll with their polling partner USAToday:
In a new Suffolk University/USA TODAY Poll, Biden continues to lead the field, backed by 24% of those who say they are likely to attend the Democratic caucuses in Iowa that will open the presidential contests next year. Harris jumped to second place, at 16%, leapfrogging over Sanders, whose support sagged to single digits. At 9%, he finished fourth, behind Massachusetts Sen. Elizabeth Warren at 13%.

The new standings are hardly set in stone. Twenty-one percent are undecided. Six of 10 who have decided say they might change their mind before the caucuses. One in four say their minds are firmly made up. The second set of debates, scheduled for the end of the month in Detroit, could upend the horse race again.
Here's an easier to read graphic of how the numbers shake out: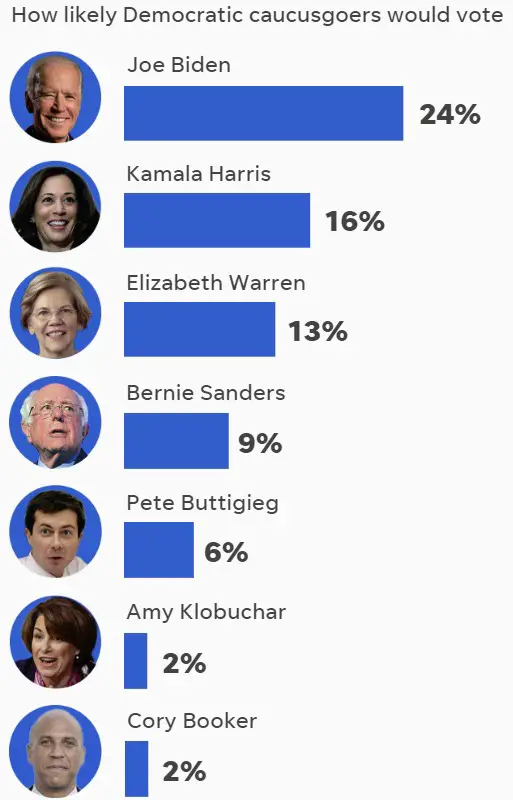 Source: Suffolk University poll of 500 likely Democratic caucusgoers in Iowa, taken Friday (6/28) through Monday (7/1), has a margin of error of plus or minus 4.4 percentage points
Will Biden's lead hold?
Perhaps the better question is whether the upward trajectory of Harris and Warren will continue to increase? Biden isn't going to be able to do much right now to improve his standing until the next debate rolls around and he gets another shot to convince voters and donors that he actually does have what it takes to compete in this high-stakes primary.
The survey has some sobering findings for Biden, a familiar figure in the state. His level of support didn't change from the Des Moines Register/Mediacom/CNN Iowa Poll taken last month, but among those who watched him debate, more than four in 10 say he did worse than they expected. Among all of those surveyed, he is the second choice of 11%.

Harris saw her support more than double compared with the poll in June, to 16% from 7%. She is the second choice of 17% – a telling measure of the potential breadth of a candidate's support. When first and second choices are combined, Biden only narrowly edges Harris, 35% to 33%.
For anyone who believes the debates are a sideshow, just look at the data buried in the poll. Biden's skating on thinner ice with voters due to his shaky debate performance. They're not dumping him overboard just yet, but they're on notice wondering whether he will be able to challenge Donald Trump next year as a formidable foe rather than a weak debater.
What's happening to Bernie?
Back in March and June, we reported on polling from Iowa where Bernie sat comfortably in second-place behind Biden. However, his latest numbers from Suffolk are not a good sign for his prospects in the Hawkeye State.
Some analysts, since the debate last week, have pointed out that in Bernie's first answer to the very first question of the debate, he conceded that he would have to raise taxes on some middle-class families in order to pay for his social programs, including the heavily-touted Medicare For All plan.
Savannah Guthrie: "Can I get a direct question? Will you raise taxes for the middle class in the Sanders administration?"

Bernie Sanders: "Yes…"#DemDebate

— Breaking911 (@Breaking911) June 28, 2019
That comment alone, which is basically a campaign platform to run on which blatantly includes tax increases in exchange for expanded government programs could be a hard sell in many parts of the country. In general, Medicare For All sounds good on paper, and most of the other candidates support the plan or something similar, but there is a price tag with every new program. Elizabeth Warren is grappling with the same issue.
Bernie argued that tax increases would be offset by the fact that families would no longer be paying high health insurance premiums for their healthcare or have any out-of-pocket costs, a point that shouldn't be overlooked when factoring in how these plans would affect the economy or average take-home wages. However, convincing voters to take that plunge requires a skilled salesman, a trait which sometimes eludes Bernie given his much more abrupt and straightforward style of spitting out his well-rehearsed anti-corporate rhetoric.
In 2015, on stage standing solely next to Hillary Clinton in the early primary debates, Bernie stood out as the most progressive option. In 2019, however, the buffet is literally filled with candidates for progressive Democratic primary voters to pick from.