On Wednesday, we highlighted a poll which showed former vice president Joe Biden still appearing to hold support in the early caucus state of Iowa despite his lackluster debate performance in the prior week. It appeared, at least from some trends, that he was still holding together his supporters, though perhaps not as concretely as before the debate.
However, new polling and data out on late Wednesday showed some alarming trends for the Biden campaign, and for Bernie, for that matter, according to Politico:
A Focus on Rural America poll released Wednesday suggests the ground has shifted significantly over the past several months, with Elizabeth Warren, Kamala Harris and Biden currently clustered together at the top: Warren had 20 percent, Harris at 18 percent and Biden 17 percent.

Bernie Sanders came in fourth at 12 percent.

In September, in the same poll, Biden was walloping the field; with 37 percent support, he led Sanders, his next closest competitor, by 25 points.
Just to underscore the drop, the same polling showed Biden leading at 37 percent back in September of last year. However, in the latest iteration, Biden has slipped to third-place, behind Elizabeth Warren and Kamala Harris, in first and second place respectively. Bernie sitting in fourth-place is another story but the big news here is Biden's drop.
Here's a look at the numbers in this same poll since last year sorted by the July 2019 column on the furthest-right: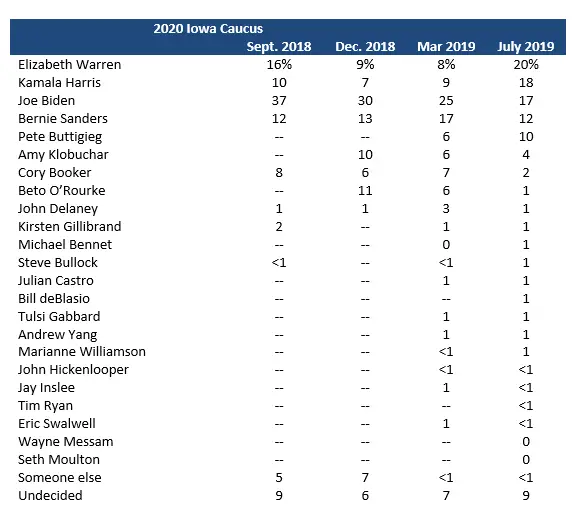 Source methodology for July poll: 600 interviews by cell phone and landline on June 29th – July 1st, 2019 with registered voters in Iowa who stated they were likely to participate in the Democratic Presidential caucuses of 2020. All participants were recruited from official Iowa voter lists.
According to further details from the polling outfit, the debate pretty much shaped this entire poll:
The two nights of debate made for a crowded stage and had a huge impact on voters. 63% saw some or more of the debate while 83% followed the debate's media coverage. 26% of voters said the debates had a big impact their opinions, in addition to the 37% who were persuaded by the debates at least somewhat.

The head-to-head polling above reflects the takeaway voters had on the debate winners. Most voters said, based on debate performance, they were won over by Harris (34%), Warren (16%), Buttigieg (11%), Biden (7%) Castro (6%) and Sanders (6%).
According to poll respondents, Harris won the debate followed by Warren. With this in mind, Biden has seen his numbers take a serious dip.
It's not too late, of course, for Biden to turn this around, and it's possible that with these polls coming days and sometimes hours after the debate, that the biggest impact driving down Biden's numbers could be blunted a bit once candidates are back on the stump and campaigning-as-usual commences again. Independence Day on Thursday offered campaigns a chance to get back in front of voters and back on their game for the coming weeks.
Busing argument spills into Iowa
With Biden and Harris both returning to Iowa for Independence Day events, the debate discussion spilled onto the campaign trail, according to the Des Moines Register:
On Wednesday at a West Des Moines picnic, Harris indicated she believed school districts today should make the voluntary decision on whether to bus students in order to integrate de-facto segregated schools.

"I think of busing as being in the toolbox of what is available and what can be used for the goal of desegregating America's schools," Harris said in response to a question from a reporter.

Pressed for clarification on her stance, Harris said: "I believe that any tool that is in the toolbox should be considered by a school district."

That statement led many within the Biden campaign to say that Harris essentially agrees with Biden. She pushed back on that notion at an Indianola house party Thursday afternoon.

"Sadly, we do not agree," she said. She said that although she currently supports voluntary busing, it was wrong to oppose it in the 1960s and 1970s when "there were forces and individuals and supposed leaders in our country who actively worked against the integration of schools based on race."

On Thursday during a July Fourth parade in Independence, reporters asked Biden repeatedly about the debate exchange. Biden said Harris is "a good person, she's smart as can be and she feels strongly" but added the debate about school integration needs to focus on the future.

"Look, the question is what are we going to do in neighborhoods that in fact have substandard schools? What are we going to do for all those kids who have enormous potential but who have been left behind?" Biden said, mentioning his plan to triple federal education funding to help school districts with lower-income students.
At some point, the discussion over an issue which was primarily in practice in the 1960s becomes a surreal topic on the campaign trail in 2019. It would seem that in many ways, Harris succeeded in putting Biden on the defense over his civil rights record. In other ways, the Democratic primary has now shifted in focus away from President Trump and is stuck in an argument over Joe Biden's political career dating back some forty or fifty years.
That, perhaps, is part of Harris' strategy, but at some point, she'll have to pivot back to the bread and butter campaign issues Democrats want to hear more about. There will come a time when Democratic primary voters will be expecting Harris to come up with a way to defeat Donald Trump for the White House rather than simply being able to defeat Joe Biden in a primary.
We're barreling hard toward the next Democratic debate on July 30 and 31. The campaign continues to get more interesting every single week.