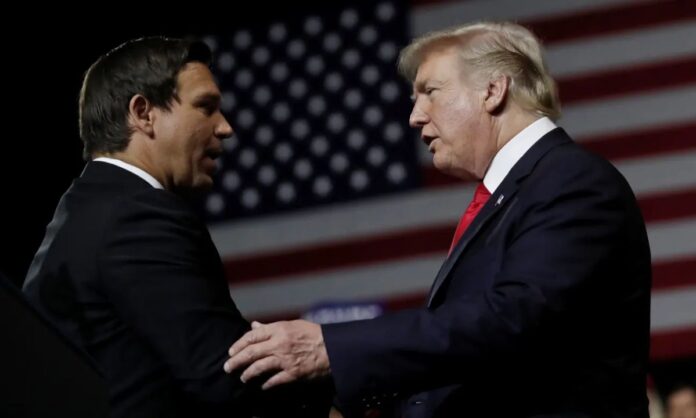 Is former President Donald Trump losing some grip on the Republican Party? The short answer is, somewhat.
The longer answer is that it depends on where you poll and who you ask. Nationally, Trump still leads among GOP primary voters but the numbers have dropped a handful of points in the past few weeks. Call it some kind of fatigue setting in of one legal issue after another, or perhaps a sense that there are newer stars waiting to take up the America First mantle and battle forth into the next presidential cycle.
Yes, it's Florida, so DeSantis has some home-field advantage. On the other hand, Trump does as well having his primary residence at Mar-a-Lago. Whatever the case, Desantis is beating Trump by eight points among GOP voters in the Sunshine State:
Former President Donald Trump's support among Republican voters in Florida for another presidential bid has significantly eroded this year, a USA TODAY/Suffolk University Poll finds, as Gov. Ron DeSantis has scored gains in the home state they now share.

In a hypothetical 2024 presidential primary in the Sunshine State, DeSantis now leads Trump 48%-40%. That's a reversal from a USA TODAY/Suffolk Poll of Florida in January, when Trump led DeSantis 47%-40%.
The numbers have basically flipped from January when Trump was leading in the state by seven points. Since then, quite a bit has changed in terms of national politics. The FBI raided Trump's Florida residence in August which provided him a bump in polling support.
However, with the ongoing legal challenges, it seems that other potential GOP contenders have spotted an opening and intend to exploit it.
Nationally speaking, Trump still leads among GOP primary voters by a healthy margin but his support has fallen five points in recent weeks:
Former President Trump's lead in a hypothetical 2024 Republican presidential primary match-up dropped 5 points compared to a month ago, according to a new poll.

The Morning Consult-Politico survey released Wednesday found that 52 percent of Republican primary voters would support Trump, who is followed by Florida Gov. Ron DeSantis with 19 percent. Former Vice President Mike Pence came in third with 8 percent, while all other candidates received support from 3 percent of primary voters or less.

Trump's support among GOP voters is 5 points lower than the 57 percent support he received last month.
DeSantis continues to build on his national identity among the conservative base. Recent moves such as sending a plane load of illegal immigrants to Martha's Vineyard, illustrating the point that liberals want open borders until it's in their backyard, have proven to bolster his credentials and ability to fight and win the narrative.
Being out of office, Trump is at a disadvantage right now without the ability to fight policy battles or implement his own agenda.
Ultimately, the poll of Florida Republicans asking about their choice in the upcoming presidential primary is academic at this point. It's early and the midterms are what matters right now. It will be interesting to watch the trend if anything changes after November depending on the outcome.