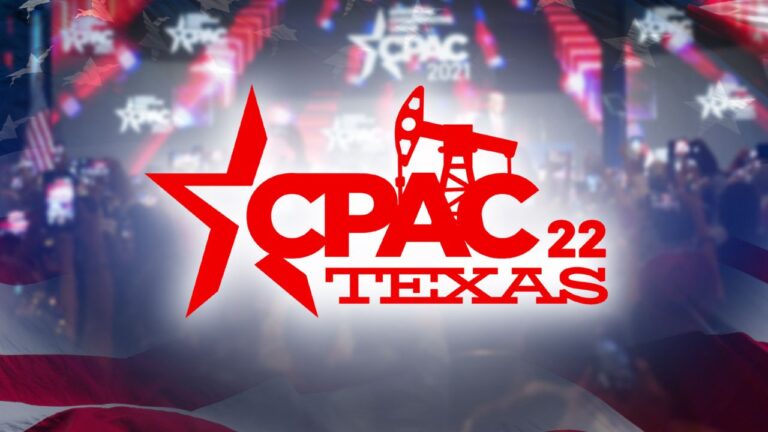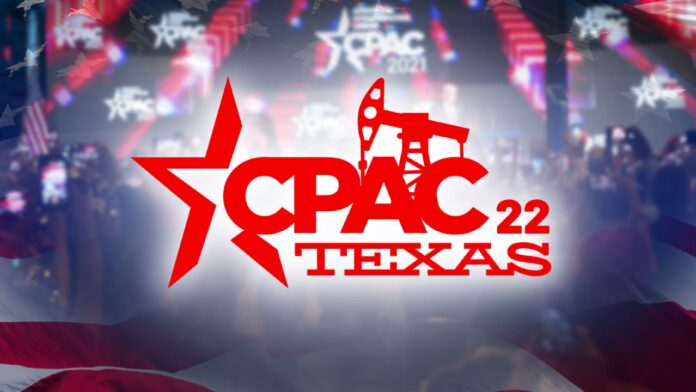 The third day of speeches and discussion panels at CPAC Texas 2022 will wrap up with former President Donald Trump as the keynote speaker finishing out the event on Saturday evening around 6:30 pm ET.
Related Videos: CPAC Texas 2022 Day 1, Day 2
Aside from Trump, Saturday will also feature speeches and panels from Nigel Farage, Jenny Beth Martin, Jesse Kelly, Ric Grenell, and Glenn Beck, among others.
Below you will find all the info on CPAC Texas day 3 including the live stream and complete daily agenda schedule.
CPAC Texas 2022 – Day 3 – Dallas, Texas
When: Saturday, August 6, 2022
Time: All-day event, see agenda below
Where: Hilton Anatole in Dallas, TX
Live Stream: Available below
Full Video – Trump CPAC Texas Speech
Former President Donald Trump's full CPAC Texas speech on August 6, 2022.
Full Video – Day 3 – CPAC Texas 2022
The video below is provided by CPAC via Rumble.
Alternate Video Links: C-SPAN
Agenda Schedule (Saturday, Aug. 6)
The full CPAC Texas 2022 agenda is available here but below you will find a rundown of today's events.
All times Central | Subject to change
8:00 am – 8:00 pm
CPAC Central
9:30 am – 5:00 pm
General Session
9:45 am – 10:00 am
Criminal Justice Reform Done Right
Featuring: Doug Collins
10:00 am – 10:40 am
The World is Watching
Featuring: Jay Aeba, Miklos Szantho, Eduardo Bolsonaro
10:40 am – 11:00 am
Caging the Red Dragon
Featuring: Bill Hagerty, Gordon Chang
11:00 am – 11:25 am
Energy Insecurity
Featuring: James Carafano, Gary Palmer, Beth Van Duyne, Joshua Philipp
11:25 am – 11:40 am
Saving the West
Featuring: Nigel Farage
11:40 am – 11:50 am
Jenny Beth Martin – Speech
Featuring: Jenny Beth Martin
11:50 am – 12:15 pm
Power Play
Featuring: Kevin Kiley, Ben Cline, Bo Hines, Chris Miller, Matt Gaetz
12:15 pm – 12:40 pm
Making Woke Go Broke
Featuring: Orlando Salazar, George Farmer, Christl Mahfouz, Glenn Story
12:40 pm – 12:55 pm
Socialist News Network
Featuring: Jesse Kelly
12:55 pm – 1:50 pm
The Frontline Prescription
Featuring: Ronny Jackson, Rich McCormick, Joseph Humire
1:20 pm – 1:40 pm
Wiping up the Pooh
Featuring: Gordon Chang, Jan Jekielek
1:40 pm – 1:55 pm
Ric Grenell – Speech
Featuring: Ric Grenell
1:55 pm – 2:20 pm
Cold Dead Hands
Featuring: Greg Steube, Ken Buck
2:20 pm – 2:45 pm
Fighting Soros
Featuring: Matt Schlapp, Wendy Kinney, Elaine Beck
2:45 pm – 3:10 pm
I'm Not a Biologist
Featuring: Riley Gaines, Taylor Silverman
3:10 pm – 3:35 pm
We Are All Domestic Terrorists
Featuring: Mercedes Schlapp, Ian Prior, Ryan Girdusky, Julie Pickren
3:35 pm – 3:50 pm
From the Heart
Featuring: Mark Robinson
3:50 pm – 4:05 pm
CPAC Straw Poll: Presented by Real America's Voice
Featuring: Matt Schlapp, Charlie Gerow, Jim McLaughlin
4:05 pm – 4:30 pm
The Role of Congress: Post-Roe
Featuring: Abraham Enriquez, Penny Nance, Michelle Fischbach
4:30 pm – 4:50 pm
Power Play
Featuring: Lauren Boebert, Tudor Dixon, Warren Davidson
4:50 pm – 5:20 pm
American History: What You Don't Know
Featuring: Glenn Beck
5:20 pm – 5:35 pm
The Best is Yet to Come
Featuring: Kimberly Guilfoyle
5:35 pm
Closing Remarks
Featuring: Donald J. Trump
If you missed the first two days of CPAC Texas, be sure to check out the videos available here: Day 1, Day 2