The explosive numbers are literally dropping day by day now for South Bend, Ind., Mayor Pete Buttigieg. Last week, it was the big numbers in Iowa where he jumped to as much as a nine-point lead according to the Des Moines Register. Now, some new numbers from a St. Anselm College poll out of the Granite State are giving some eye-popping numbers for the Midwestern newcomer on the national stage. Can he handle the newfound top tier status and the pressure it brings with it? Stay tuned.
Is it a fluke, a one-off, or some outlier that will be discounted next week by a series of other polls that don't reflect these kinds of numbers for Buttigieg? That remains to be seen. For now, though, this man is close to getting the title of "front runner" for the time being:
The Saint Anselm College Survey Center poll of 255 likely Democratic primary voters shows that Buttigieg, supported by 25 percent, now holds a 10 percentage point lead over former Vice President Joe Biden and Massachusetts Sen. Elizabeth Warren, who are tied for second at 15 percent. Buttigieg is substantially ahead of Vermont Sen. Bernie Sanders, who is in fourth place at 9 percent.

Rounding out the top 10 were Minnesota Sen. Amy Klobuchar at 6 percent; billionaire activist Tom Steyer of California at 5 percent; U.S. Rep. Tulsi Gabbard of Hawaii and New Jersey Sen. Cory Booker of New Jersey at 3 percent each; entrepreneur Andrew Yang of New York at 2 percent and California Sen. Kamala Harris at 1 percent. Thirteen percent of those polled said they were undecided.
Here's a graphic for a better representation of the numbers: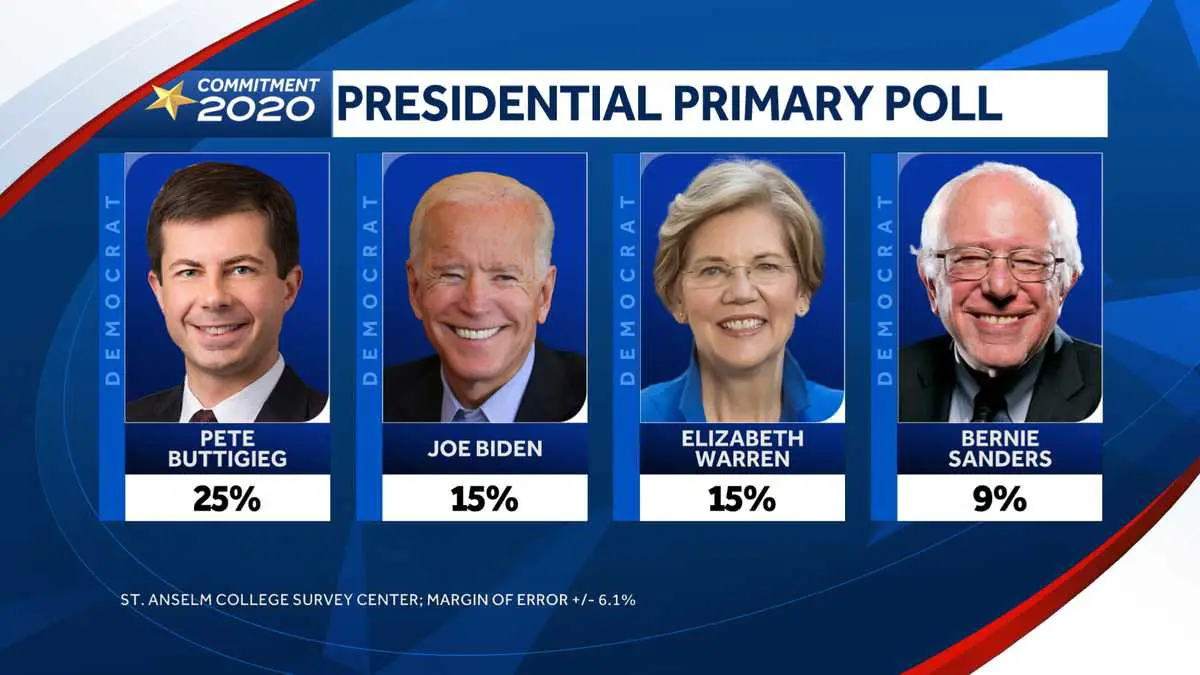 Here's the rest of the field for comparison: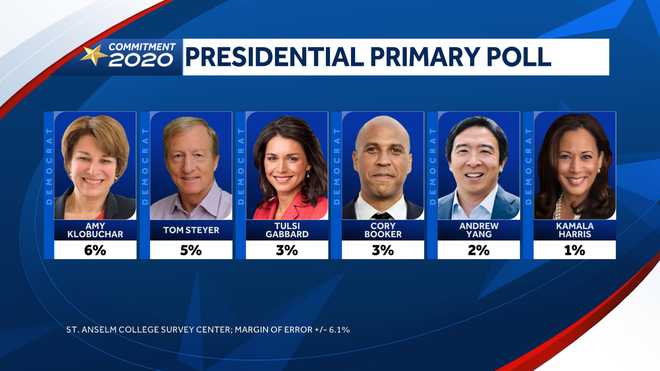 That's … amazingly bad news for Bernie in this poll? It would be bad news all around if neither Sanders or Warren, one hailing from New Hampshire, and one from Massachusetts, can't at least hold down the top spot in their neighboring state against some small-town mayor from the Midwest. The margin of error is six percent, so let's say Buttigieg's numbers are lower, somewhere around 20%, and the others a little higher, it still gives Mayor Pete quite the surge in recent days considering he hasn't been as competitive in the state.
Newsweek is putting an even stronger spin on it for Buttigieg saying he leads Iowa and New Hampshire by 10 points or more which clearly bumps him into the top tier right now.
Why the sudden jump in New Hampshire? Apparently, he's making a good impression with voters:
With 76 percent of New Hampshire voters holding a favorable impression of Buttigieg, he outpaced both Biden and Warren, who came out with 31 percent and 39 percent respectively.

Those polled also put Buttigieg as their collective choice for best presidential candidate with 23 percent, six percentage points over Warren and nine points over Biden.
That's an astonishingly higher number for a favorable impression considering Biden and Warren are stuck in the thirties. This honeymoon phase won't last forever, but it's sure giving Buttigieg some very high numbers to flaunt for donors.
The only issue here and the real dynamic that brings things numbers into context is that it's roughly three months before voting begins. Buttigieg could be peaking too early, as can often be the case in the October and November months before the primary voting year. Candidates seem to come out of nowhere and put up huge numbers, but the question is whether they can last.
During the month of September and into October, Elizabeth Warren put up some huge numbers all over the map, though some of her support remains, it has plateaued a bit.
There couldn't be more intense pressure and scrutiny for Buttigieg's debate performance tonight. Can he continue his "moderate charm" campaign with voters and continue to broaden his appeal, or will his opponents be out to knock him down a few pegs?
Tune in tonight at 9 pm ET for the MSNBC/Washington Post Democratic debate. Get all the info you need including the live stream right here.