Amid the scurry of impeachment talk and Ukrainian phone call transcripts swirling in Washington, a funny thing happen on the way to the latest national poll numbers. For the first time ever this cycle, Massachusetts Sen. Elizabeth Warren leads a national poll, topping former vice president Joe Biden by 2 points, according to Quinnipiac.
The prior numbers from Quinnipiac, on Aug. 28, had Biden leading Warren by 3 points, before that on Aug. 6 it was 9 points. Notice a pattern here? Biden was steady in both prior polls, sitting at 32% and holding. That is, until the latest round of polling dated Sept. 25 which gives Biden 25% and Warren 27%:
Massachusetts Senator Elizabeth Warren is essentially tied with former Vice President Joe Biden in today's Quinnipiac University national poll. Warren gets 27 percent of the vote while Biden gets 25 percent of Democratic voters and independent voters who lean Democratic. Though well within the margin of error, this is the first time that a candidate other than Biden has had the numerical lead in the primary since Quinnipiac began asking the question in March.

In the August national poll, Biden received 32 percent, Warren had 19 percent, Sanders got 15 percent, Harris had 7 percent, and Buttigieg got 5 percent.

While Warren picks up support across the board, she receives one of her largest gains among white voters with a college degree. These voters were split in August, with 29 percent supporting Biden and 25 percent supporting Warren, and today they support Warren over Biden 37 – 20 percent.

"After trailing Biden by double digits since March in the race for the Democratic nomination, Warren catches Biden," said Quinnipiac University Polling Analyst Tim Malloy. "We now have a race with two candidates at the top of the field, and they're leaving the rest of the pack behind."
The historical points from Quinnipiac must make this sting a little worse for Biden, especially given the way he's being pulled into the Trump/Ukraine/impeachment fest happening in DC. Whether Biden is or will be further implicated remains to be seen, but any stench of ongoing scandal will harm his argument of electability, certainly with swing-state voters.
Quinnipiac isn't the only pollster to find the race this close, though they're the only one to find Warren leading. YouGov also pegged the race a tie just weeks ago handing Biden and Warren 25% each.
Perhaps the more pertinent part of the polling has to do with perceived electability. YouGov found in mid-September that Warren is … looking pretty darn good in this department alongside Biden now: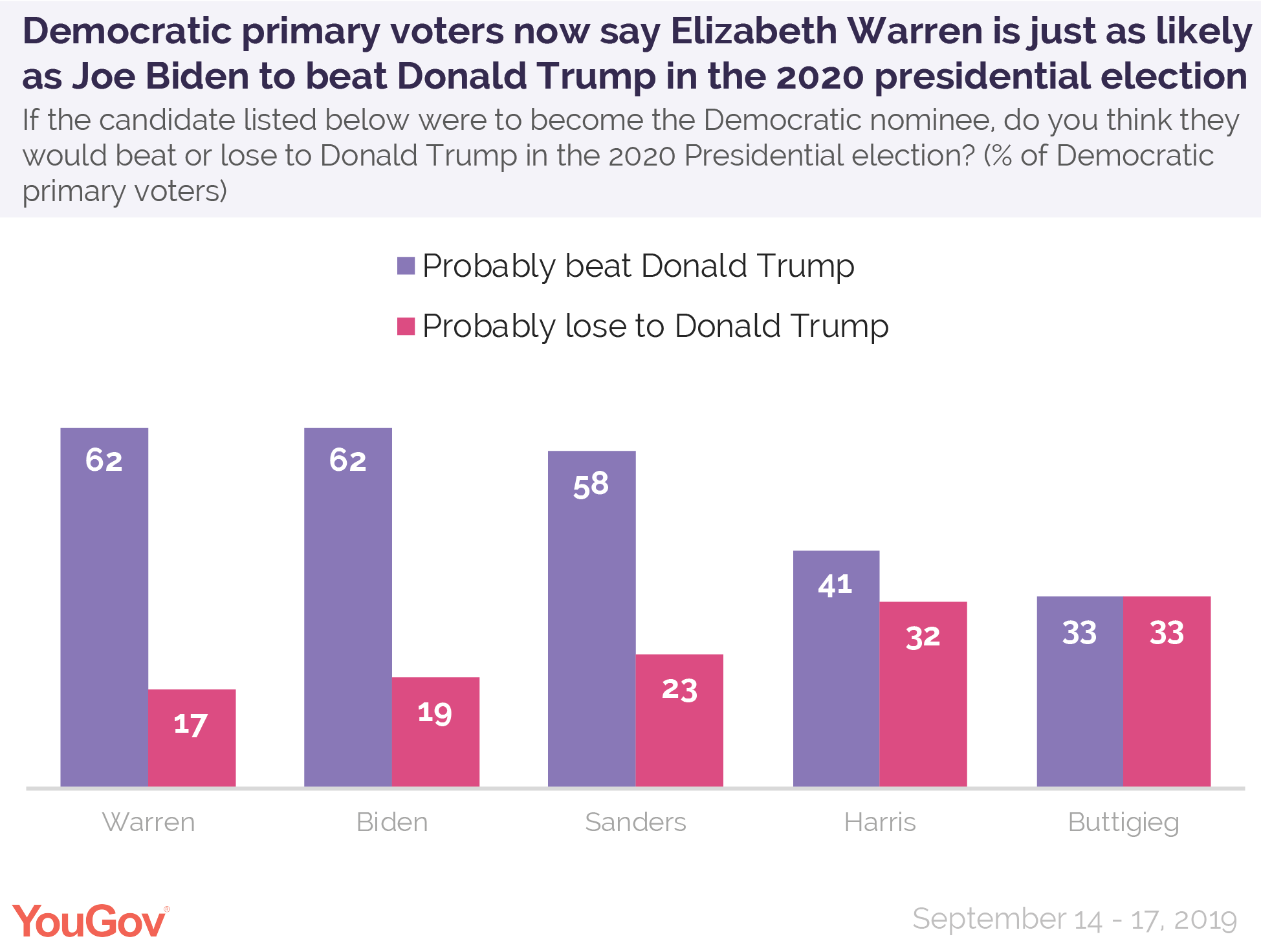 You'll note that Biden is a couple of points higher on the "might lose" side of the coin. The fact, however, that the wide perception among Democratic primary voters of Biden's electability versus the entire field seems to be disappearing by the day. Warren now – not Biden – is best-positioned in the minds of Democratic voters to be the one to tackle President Trump next year.
If the trend continues, and numbers for Warren continue to firm up, look for Biden's long knives to come out even more sharply than they already are. Just days ago, the attacks began, with Biden hitting Warren over the necessity of tax hikes to pay for her social programs:
Biden slammed Warren on Friday for her Medicare for All plans while speaking to voters in Cedar Rapids, Iowa.

"It's going to cost a lot of money and she's going to raise people's taxes doing it," he said of the plan.
The question of increasing taxes to pay for plans like Medicare for all seems to be a thorny one for Warren. The short answer is yes, the plan requires higher taxes. The long answer, when Warren or Bernie can explain it, is that the tax increases are offset by the lack of health care premiums since those payments are now covered by taxes. The increased taxes are supposed to balance out with savings, or so they say.
That can be a hard sell when the concrete answer is that taxes would go up as a given. For placing trust in the plan, voters would then have to assume that the tax increases will definitely be offset and that the new Medicare for all health care plan does what's being promised of it.
In that debate, Biden feels like he's got the upper hand since very few voters like the idea of voting to raise their own taxes. They may be angry at their insurance coverage, or lack thereof, but are they in favor of guaranteed tax increases to fix it? Biden's guessing the answer is no.
You can be assured that Warren will be working on a better answer to this question having stumbled on it a few times. It's explainable in several ways, but she'll have to pick an answer and own it or risk sounding evasive.