On Friday, we flagged the latest Monmouth University poll that gave South Bend, Ind. Mayor Pete Buttigieg a three-point lead among Iowa Democratic caucus voters. At the time, it was the only poll showing a Buttigieg surge in the Hawkeye State. Then, over the weekend, the newspaper of record in Iowa, the Des Moines Register, released their latest numbers which come out on a monthly basis.
The result? A bombshell blowout for Buttigieg with a nine-point lead over Elizabeth Warren, his closest rival:
Pete Buttigieg has rocketed to the top of the latest Des Moines Register/CNN/Mediacom Iowa Poll in the latest reshuffling of the top tier of 2020 Democratic presidential candidates.

Since September, Buttigieg has risen 16 percentage points among Iowa's likely Democratic caucusgoers, with 25% now saying he is their first choice for president. For the first time in the Register's Iowa Poll, he bests rivals Joe Biden, Bernie Sanders and Elizabeth Warren, who are now clustered in competition for second place and about 10 percentage points behind the South Bend, Indiana, mayor.
Here's the full breakdown of the November numbers: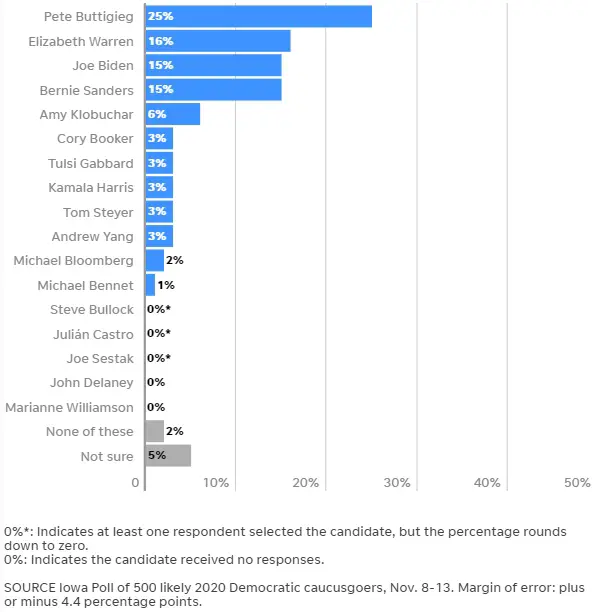 We explored a little bit of what's happening in the race on Friday, but there is a lot more to unpack. What would lead to a Buttigieg surge this strong in Iowa? Aside from his well-organized ground game and strong desire to plant a flag in the state with a victory, the New York Times says there is a moderate rebellion happening within the Democratic Party, and it's on display in the primary and recent gubernatorial races where moderate Democrats prevailed:
After spending months in anxious passivity, staking their hopes on Joseph R. Biden Jr. and little else, moderate Democrats appear suddenly determined to fight for control of their party in the 2020 elections.

Most convincing to some Democrats may be the off-year elections this month in Kentucky and Louisiana, where moderate-to-conservative Democrats prevailed in governors' races that President Trump worked strenuously to win for his party. The victories bolstered the argument, advanced by some leading Democrats, that the party could peel away some of Mr. Trump's supporters in 2020 by avoiding "litmus test" battles and courting the political middle.

"Clearly, factually, people who voted for Trump voted for our Democratic gubernatorial candidates," said Gov. Gina Raimondo of Rhode Island, a moderate who leads the Democratic Governors Association. She said Democrats could win those voters in 2020 with a "message of unity" and pragmatic promises on issues like health care and student debt.

For months the Democratic race was defined in terms of which candidate could promise the most daring policy reforms — a contest in which Mr. Biden, the former vice president, was struggling to keep pace with Senators Elizabeth Warren of Massachusetts and Bernie Sanders of Vermont. As the most liberal candidates set the agenda, many in the party establishment squirmed, anxious about alienating moderate voters.
Is Buttigieg, who recently discovered a niche to the left of Joe Biden, but to the right of Bernie Sanders and Elizabeth Warren, figuring out how to capitalize on this trend? If Biden represents "business as usual" by hearkening back to the Obama years, but Warren and Sanders represent a flamethrower revolution in areas like health care and wealth taxes, is there a third option for Democrats who want something a little tamer but a little more exotic?
The Times article concludes that, for the time being, Buttigieg has hit a sweet spot with a sizable number of voters, at least Democratic voters in Iowa, who want some kind of change, but not too much change. That desire, coupled with a fear that sending a candidate deemed "too liberal" into the general election could bolster President Trump's reelection chances, is helping Mayor Pete.
Buttigieg is much less competitive in New Hampshire, Nevada, and South Carolina, where he sits in fourth, fourth, and fifth respectively on average. His worst showing is in South Carolina where he's sitting behind Kamala Harris, but who knows how much longer she'll actually be in the race.
The Iowa numbers simply represent his best showing right now and he seems to be going all-in for it. The strategy looks like a play to score a victory there, which would, in turn, improve his prospects in other states down the line. Some analysts argue every election cycle that Iowa doesn't matter or matters less than it did in the past. That can be true, to an extent, but it's also true that being an early winner has advantages.
The next Democratic debate is set for Wednesday, Nov. 20, live from Atlanta on MSNBC. Look for Buttigieg to take some sharper jabs given his newfound top-tier status.