Live tonight, from Atlanta, ten Democratic candidates will meet at Tyler Perry Studios for the sixth Democratic debate. Hosted by MSNBC and The Washington Post, with an all-female moderating panel, tonight's debate holds some great opportunities and great risk for several candidates.
Sharing center stage, as they did last month, is former vice president Joe Biden and Sen. Elizabeth Warren. Standing directly next to Warren is South Bend, Ind., Mayor Pete Buttigieg, with Sen. Bernie Sanders flanking Joe Biden.
Here is everything you need to know to watch the debate tonight including tv channels, live streaming, and other ways to tune in.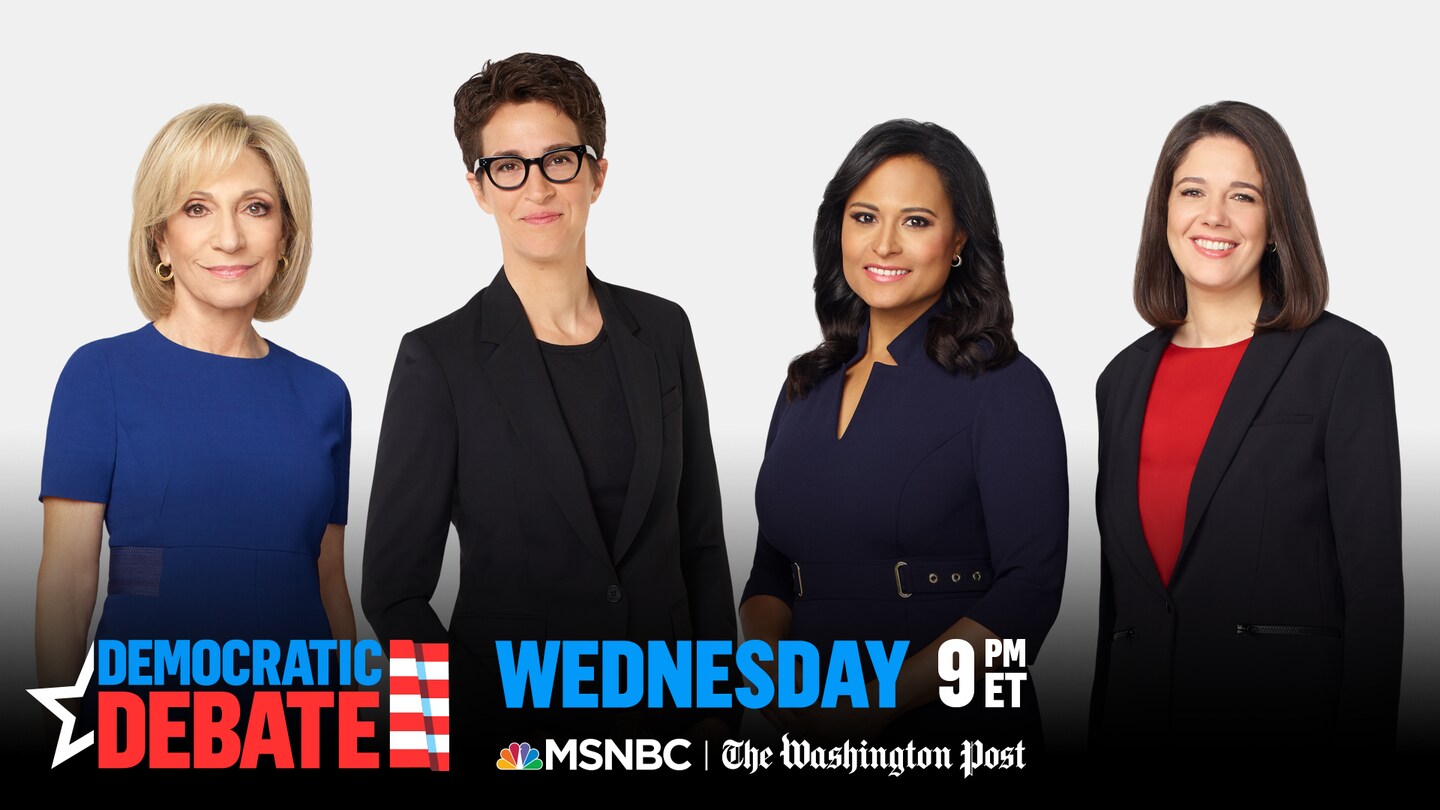 Debate Details
MSNBC/Washington Post Democratic Debate (5th Debate)
Date: Wednesday, November 20, 2019
Start Time: 9 pm ET (8 pm CT, 7 pm MT, 6 pm PT)
Location: Tyler Perry Studios in Atlanta, Georgia
Sponsors: MSNBC, The Washington Post
Moderators: Rachel Maddow, Andrea Mitchell, Kristen Welker, and Ashley Parker
Debate Live Stream
Pre-debate coverage begins at 7 pm ET. The debate begins at 9 pm ET.
Alternate Stream Links: NBCNews.com, WashingtonPost.com
Where else can I watch the debate?
On TV – The debate will air exclusively on MSNBC on cable and satellite.
Streaming – Stream on MSNBC.com's homepage and WashingtonPost.com's homepage. In addition, the debate will be available across mobile devices via The Washington Post or the MSNBC mobile app. The debate can also be streamed for free via the MSNBC and Washington Post apps for iOS and Android, and on the MSNBC apps for Apple TV, Roku, Amazon Fire, Chromecast, and Android TV.
Radio – SiriusXM Channel 118, and TuneIn.
Which candidates made the cut?
The final candidate list for the November debate in podium order, from left to right, includes:
New Jersey Sen. Cory Booker
Hawaii Rep. Tulsi Gabbard
Minnesota Sen. Amy Klobuchar
South Bend, Indiana, Mayor Pete Buttigieg
Massachusetts Sen. Elizabeth Warren
Former Vice President Joe Biden
Vermont Sen. Bernie Sanders
California Sen. Kamala Harris
Entrepreneur Andrew Yang
Businessman Tom Steyer
Once again, as with the October debate, Biden and Warren will take center stage. The real battle to watch, however, could be the one between Warren and Buttigieg.
Debate Format
MSNBC has released some details about how the debate will be formatted. The event, held over two hours, will be broken up into four segments with only three commercial breaks during the broadcast.
MSNBC has decided to ax opening statements to allow more time for actual questions. There will, however, be time allotted for each candidate to make a "closing argument," as MSNBC calls it.
During the debate, candidates will have 75 seconds to answers questions posed to them and 45 seconds for follow-ups at the moderators' discretion. Candidates will also be able to respond if they're referred to or attacked by another candidate, but that will also be at the moderators' discretion.
More information
Bookmark and follow our Democratic debate schedule for the latest information.
We will have analysis and the full debate video following the debate once it is available from MSNBC or other media sources.