There's a myth that the polls were wrong in last year's presidential race. They were not. Certainly, the polls swung wildly, but that's not an error. It's a true indication of the public disgust of having to choose between the two most unpopular candidates in American history—running in the same election!
There are three reasons you know the polls were right last year. First, they responded within days of each new report of bad news. Second, they moved in concert. Whether it was a Democratic poll, a Republican poll, or an independent poll, their charts look very similar. And third, and most telling, the polls, which necessarily lag actual opinion by a few days, were within the margin of error, compared to election returns. It's also important to note that the polls were national, and nationally, Hillary Clinton did beat Donald Trump.
But you can't say those things about the polling in Alabama this year, in the special election to replace Luther Strange, who replaced Jeff Sessions. Yes, Roy Moore's numbers did drop, across the board, after it was reported that when he was in his 30s he "dated" junior-high-school girls. And he admitted that he asked their mothers if it was ok.
However, the polls have not moved in tandem this year. And they have not agreed. That has led FiveThirtyEight, which is known for sharp analysis of politics and sports, to publish a story called, "What the Hell is Happening with these Alabama Polls?"
Somebody's going to be wrong in Alabama.

We've already urged caution when interpreting polls of Alabama's special election to the U.S. Senate, which will be held on Tuesday. Some of that is because of the media's usual tendency to demand certainty from the polls when the polls can't provide it. And some of it is because of the circumstances of this particular race: a special election in mid-December in a state where Republicans almost never lose but where the Republican candidate, Roy Moore, has been accused of sexual misconduct toward multiple underaged women.

Most polls of the state have been made using automated scripts (these are sometimes also called IVR or "robopolls"). These polls have generally shown Moore ahead and closing strongly toward the end of the campaign, such as the Emerson College poll on Monday that showed Moore leading by 9 points. . .

But when traditional, live-caller polls have weighed in — although these polls have been few and far between — they've shown a much different result. A Monmouth University survey released on Monday showed a tied race. Fox News's final poll of the race, also released on Monday, showed Jones ahead by 10 percentage points.
Moore ahead by 9 while Jones is ahead by 10? Seriously? There have been few polls, since Republicans can usually take Alabama for granted. The last time there was an election for this seat, in 2014, Jeff Sessions won with 97.3% of the vote. No, that wasn't Russia or Iran, it was Alabama. Democrats didn't even bother to nominate a candidate.
Because of this, the pollsters have no experience there. But in the above article, FiveThirtyEight also points to the four differences in how the polls are conducted:
1) Robopolls are forbidden from calling cell phones,
2) Robopoll response rates are low, so may not be representative.
3) However, people may be more open with "a computer" than a live interviewer.
4) To adjust for the first two problems, pollsters make assumptions.
There are also online polls. But they have their own problems. A SurveyMonkey poll shows responses with Moore ahead by 10 and Jones ahead by 9—in the same poll, depending on minor differences in polling.
Among all Alabama registered voters interviewed in the past week and weighted using our standard methods to match to U.S. Census estimates of registered voter demographics, we find Democrat Jones leading Republican Moore by eight percentage points (53 to 45 percent). That margin is similar to the findings among all registered voters in two recent live-interviewer telephone polls conducted by Fox News and Washington Post/Schar School.

We know the actual electorate will be a fraction of all registered voters – roughly 40 to 50 percent of Alabama's registered voters participated in the last two off-year general elections, in 2010 and 2014 – we just don't know how small that fraction will be or who exactly will turn out.
FiveThirtyEight describes determining factors:
in a state as red as Alabama, Jones needs two things to go right for him: He needs a lopsided turnout in his favor, and he needs pretty much all of the swing voters in Alabama (and there aren't all that many of them) to vote for him. Neither of these are all that implausible. But if either one goes wrong for Jones, Moore will probably win narrowly (and if both go wrong, Moore could still win in a landslide). The stakes couldn't be much higher for the candidates — or for the pollsters who surveyed the race.
Politico also writes about the campaign. They note that polling usually tries to "pick a winner," by gauging public opinion, but in this race, there are no predictions of a winner, just scenarios by which each candidate "might" win.
Who's leading in Tuesday's special Senate election in Alabama? The race is so peculiar and has so many variables that some pollsters are reluctant to say.

Rather than put out a single result that could be viewed as a projection in the race between Democrat Doug Jones and Republican Roy Moore, several polling outfits have simply released a number of different turnout models that explain how the composition of the electorate could swing the election. It's an approach that they say best reflects the tremendous uncertainty surrounding a historically unusual, off-year, mid-December special election in a racially polarized state — where one candidate is an accused child molester. . .

Patrick Murray, the director of the Monmouth University Polling Institute, said Monday that the survey suggests "a Moore victory is the more likely outcome," though "there is still an opening for Jones." But he also underscored the complex factors that make this contest so hard to poll.

"It's worth keeping in mind that one difficulty in polling Alabama's electorate is that very few, if any, pollsters have a track record there. Monmouth's only prior foray into the state was during the 2016 presidential primary season," said Murray. "This lack of familiarity is further compounded by the unpredictability of special elections, which is why we chose to describe the contours of this race rather than release a single estimate. Ultimately, that is what polling should be about anyway."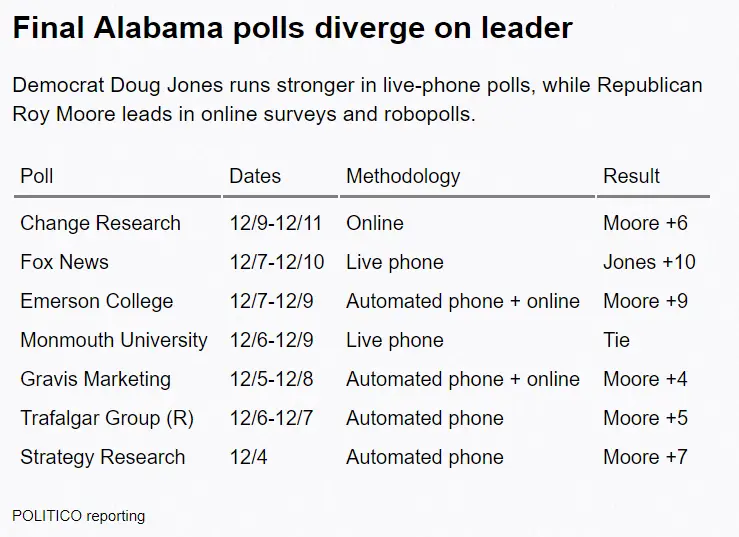 And finally, the betting site, PredictIt, has a number of "markets" in which "investors" may bet on the outcome, based on who might win, and also by how much, which counties they'll win, and a number of other factors.
Here's a chart showing that the odds in Moore's favor were over 90% before the sex revelations. Then, he dropped to as low as 36% probability of winning.

However, as you can see, after bottoming out in mid-November, Moore's probability of winning has been back up to the 70s and 80s. That's a landslide by anybody's reckoning.
One final note: As you can see in the chart, NONE of the polls show Jones ahead, except Fox News. Could it be that their poll has been purposely manipulated—by wording or calculation—to scare Republican voters to the polls today? Fox's credibility is on the line.