A Democratic primary poll released today by Zogby gives Bernie Sanders the early lead when it comes to which candidate should battle President Trump next time around. It's also worth noting that 23% of Democratic primary voters are uncertain as to who they would support right now, which is understandable given how early we are in the process. However, clearly the fervor for Bernie continues to fester, and support for Biden to step back into the ring remains fairly strong.
The Washington Examiner reports on the poll results:
The upcoming 2020 Democratic presidential is Sen. Bernie Sanders' to lose, according to a new election poll.

Sanders has a huge lead over rivals Sen. Elizabeth Warren and former Vice President Joe Biden, both of whom are eyeing a bid.

The dark horse appears to be Facebook's Mark Zuckerberg.

Virginia Gov. Terry McAuliffe, a media and Clinton favorite, is dead last with just 1 percent supporting his candidacy in the Zogby Analytics survey of likely Democratic primary voters provided exclusively to Secrets.
Here is the complete breakdown: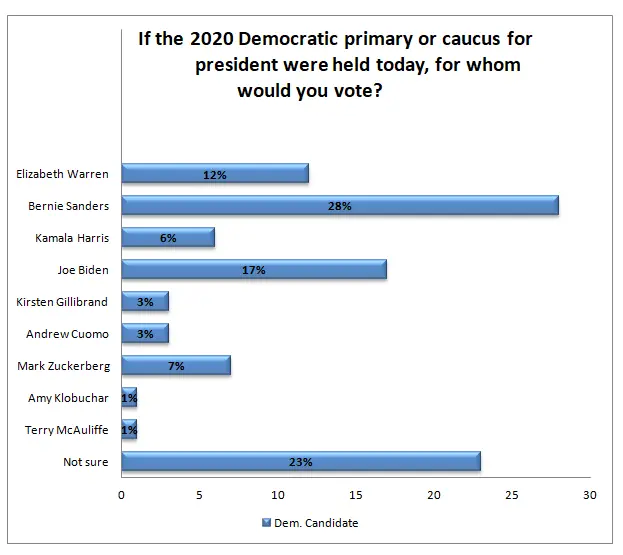 Kamala Harris is probably the important name to watch from this list. She's gaining recognition in Democratic circles but still remains relatively unknown outside of California.
I'm not sure whether Joe Biden is actually going to get back into politics again. He passed on 2016, in deference to Hillary and some family issues, and by the time 2020 rolls around, he'll be well past prime. The same goes for Bernie Sanders in terms of age, but I think the difference is the level of passion and the depth of support.
Elizabeth Warren is likely to run in 2020 and could build a following, but I think she'll be overshadowed by younger Democratic politicians pushing a similar message.
Andrew Cuomo and Terry McAuliffe both have a high probability of running in 2020, but I don't think either one will get very far.
That brings us to Facebook founder, Mark Zuckerberg. What can I say? Since the advent of Donald Trump, having political experience on your resume doesn't necessarily mean anything in this day and age. The fact that he did pull 7% means that he at least has some interest, and Democrats would probably like to learn more about him as a possible candidate.
If you want to see more names of Democrats considering a 2020 run, head over to our list.