Nate Silver, at FiveThirtyEight, has been seen as the "guru" of political and sports analysis since 2008, so when he speaks, he's like EF Hutton. (Now I have to explain that to the kids. Back in the 1970s, there was a great ad campaign in which everybody stops what they're doing to hear what this stock broker says.) There's a whole series of the commercials on YouTube, for old folks nostalgia and for the kids' education.
Anyway. . .Here's a condensation of what Silver has to say about where we stand in the election.
1. Who's ahead in the polls right now? Hillary Clinton has a significant lead, although there's some question about the margin. . .

2. What's the degree of uncertainty?. . . The most important factors in that calculation are the number of days until the election and the number of undecided and third-party voters. . . our models show both a better chance of a Trump victory than most of our competitors and a better chance of Clinton winning states like Texas. . .

3. What's the medium-term trend in the polls?. . . After polls in mid-September showed a very close race, with Trump trailing Clinton by only 1 to 2 percentage points nationally and almost catching up to her in the Electoral College, Clinton began to pull away. . .

4. What's the short-term trend in the polls?. . . There almost certainly hasn't been a shift back toward Trump, but it's hard to tell whether Clinton's lead has stabilized or if she's continuing to gain ground. . .

5. Which states shape up as most important?. . . Florida stands out according to our tipping-point index because winning it would all but clinch the election for Clinton. Without Florida or North Carolina in her column, conversely, Clinton would have to retreat to her "firewall" states, of which Pennsylvania, Colorado and New Hampshire are probably the most vulnerable. . .

6. Does one candidate appear to have an overall edge in the Electoral College, relative to his or her position in the popular vote? . . . a split between the Electoral College and the popular vote. . .would be more likely to favor Trump than Clinton, according to our forecast. That's partly because Clinton has more to lose. . .

7. How do the "fundamentals" look?. . . The economy remains "meh" — that's a technical term — with solid jobs reports but mixed figures otherwise. . .But as Trump runs an increasingly abnormal campaign. . . it's becoming less likely that he can benefit from those relatively favorable conditions as a conventional Republican might. . .

8. How do FiveThirtyEight's forecasts compare against prediction markets?. . . Prediction markets put Trump's chances at 15 percent, right in line with FiveThirtyEight's forecasts.

9. What would keep me up late at night if I were Clinton?. . . I'd worry about what might happen if Trump was on a rising trajectory as Nov. 8 approaches, having cut my lead down to 3 or 4 percentage points, and then there was a more modest polling error on the order of what we saw in advance of Brexit, where the final polls were off by about 4 points. . .

10. What would keep me up late at night if I were Trump?. . . the Trump campaign was never really set up to have a strong finishing kick. Trump has considerably less cash on hand than Clinton; he also has a much inferior ground game and is burning bridges with Republicans who could help him. . .
Silver bases his predictions by analyzing the reliability of the polls, then weighting them, and averaging them, giving more emphasis to the proven polls. He also has a "polls-plus" analysis, which brings in additional factors, such as number seven in the list above—how the economy is doing. Another is the popularity of the current president.
His analysis leans toward a Hillary win, but he notes that (a) there is still time left for a surprise, (b) there are an unusually high number of undecided voters, and (c) you never know what Trump may do next. So every time he says Hillary is ahead, it's always followed by a "but."
Those are the major candidates. Many of the "undecided" voters are going for third-party options. But Libertarian candidate Johnson and Green candidate Stein are fading. While there was once hope that Johnson would reach the 15% to qualify to be on the debate stage, his numbers are dropping below 7% now, and Stein is now falling under 2%.
However, there is a candidate who is surging: Independent Evan McMullin. HeatStreet notes that even Nate Silver is now taking him seriously—not to win 270 electoral votes, but rather, to win Utah, thereby making it possible to throw the election into the House of Representatives, where the Republican House would likely choose McMullin above Trump or Clinton.
Independent Presidential candidate Evan McMullin is having enough of an impact in Utah that Nate Silver's FiveThirtyEight has added him to their polling schematic.

McMullin has risen to an astounding 19.6% in FiveThirtyEight's polling average for Utah giving him a chance — albeit a small one — at taking Utah's six electoral votes. But it's enough of a chance that he now must be shown in the breakdown. . .

But while McMullin may not be showing Trump and Clinton's numbers, it's the sharp increase in interest that's spurned major polling organizations to suddenly count McMullin among potential Utah winners. McMullin has surged rapidly since the second Presidential debate, while Donald Trump has collapsed — and McMullin is still at only 52% name recognition in the state.

This may not be the only state McMullin's team sees potential in. [After the second] debate, Google Trends reports that there has been a 2,800% increase in searches for "write-in candidate" using their search engine platform.
The HeatStreet article notes that FiveThirtyEight is even including McMullin in its analysis of Utah. Look at the chart below. Trump dropped from 50.8% to 38.3%, probably due to the 2005 "Access Hollywood" Trump tape, and probably due to Bill Clinton's background, Hillary also dropped from 37% to 29.5%. In runs McMullen at 18.5% out of the gate.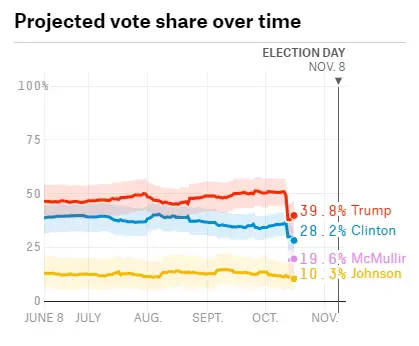 Considering that only half of Utah's voters are familiar with him—and that the sex scandals seem to be turning off the heavily Mormon electorate, it is not unreasonable to see McMullin win the state. Especially if favorite son, Mitt Romney, who can't stand Trump, endorses McMullin—who is already using Romney's mailing list.