There's been a lot of talk about the "gender gap" this year. Of course, that talk has increased since the release of the 2005 "Access Hollywood" tape. Many men have said, "everybody talks that way." Scott Baio, and others, have said women all talk like that, too. Most women disagree. And men who want to ever be with a woman again, disagree, too! But the gender gap was real even before the tape release.
Nate Silver has developed two maps, based on actual polling, showing what the election would look like if only men voted, or if only women voted.
First, the map of Women's America.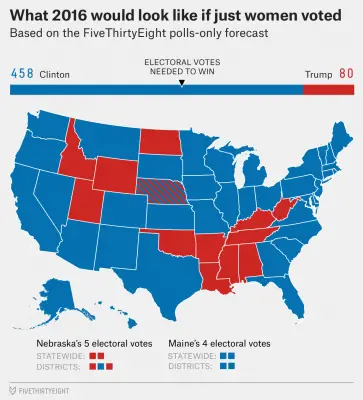 Next, the map of Men's America.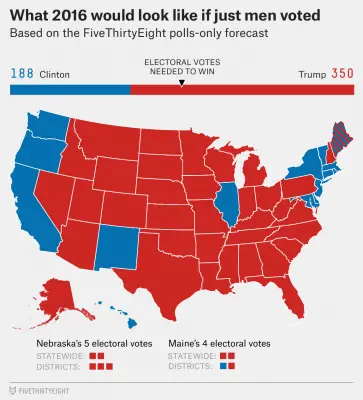 …one demographic split caught my eye. That was from a Public Religion Research Institute poll conducted on behalf of The Atlantic. It showed a massive gender split, with Clinton trailing Trump by 11 percentage points among men but leading him by 33 points among women. . .

it seems fair to say that, if Trump loses the election, it will be because women voted against him. I took a look at how men and women split their votes four years ago, according to polls conducted in November 2012. On average, Mitt Romney led President Obama by 7 percentage points among men, about the same as Trump's 5-point lead among men now. But Romney held his own among women, losing them by 8 points, whereas they're going against Trump by 15 points.
However, The Daily Caller says it's not too late for Trump to recover.
The recent pattern is similar to what occurred before and after the Democratic National convention. Before the convention, Trump was surging into a statistical dead heat with the former First Lady. After the convention, Clinton regained the upper hand, and stretched her lead into double-digits– only to lose it again.

The big question now is whether Trump can pull off a third great surge — with less than a month until Election Day. He can but only if he takes his campaign to the next level. Here's how:

First, return to the central issue of the race: the economy. This is still Trump's most important edge over Clinton. . . A corollary to Trump's laser-like focus on the economy is renewed emphasis on taxes and Obamacare. . .

Second, project a strong commitment to bipartisanship. Americans are sick of legislative gridlock and the way the extremes in each party have held Congress hostage. . .

Third, speak about unifying the country. One of the biggest fears voters have is that America is becoming more divided by race, ethnicity, gender and sexual orientation. . .

Fourth, emphasize transparency and trust in government. This is a huge winning issue for Trump. However, rather than try to demonize Clinton – even threatening her with jail time if he's elected — he should treat the issue more broadly. Only one in five Americans trust the government, and in a democracy that's a terrible thing. . .

Fifth, end the hyperbole. Trump has a penchant for describing the policies of the Obama-Clinton years as a "disaster." The description grabs people's attention but Trump too often takes his messaging too far. For example, he claims that a policy – like NAFTA – is the "worst trade deal in the history of our country and possibly the world.". . . Language and rhetorical style matter, and Trump is losing moderate voters who would like to support him.
There are many issues in this election—aside from sex. Seriously, there are. The Harrisburg American lists a number of them. It's surprising to realize how many issues there really are.
RACE and POLICING—The continued deaths of unarmed African-American men women and children at the hands of police are turning into one of the most consequential civil rights issues of the new millennium. . .

ISLAMIC STATE—As Islamic State militants suffer setbacks in Iraq and Syria, they are becoming more intent on inspiring lone-wolf attacks, already seen in the U.S. and Europe. . .

ISRAEL—Support for Israel has been a mainstay of American foreign policy since the Jewish state's creation in 1948. . .

TAXES—Presidents like to try reshaping the tax code to make substantive changes in fiscal policy and to show voters their priorities. . .

GUNS—The right to bear arms is carved into the Constitution and seemingly embedded in the national DNA. But after a seemingly endless stretch of violence, Americans are confronting how far those rights extend. . .

RUSSIA—Russia is reasserting itself, posing vexing questions for the U.S. and a presidential field seemingly split on Vladimir Putin. . .

JOBS—Tepid income growth and a smaller share of the population at work have kept many Americans anxious about jobs and the economy, seven years after the Great Recession ended. . .

SOCIAL SECURITY—Big changes are coming to Social Security, sooner or later. If left to later, those changes promise to be wrenching.

EXECUTIVE AUTHORITY—"Your Majesty" isn't in the American political lexicon. But when a president sets a major policy by edict, skirting Congress, it sets off a debate that traces back to the time of kings and queens. . .

MINIMUM WAGE—Modest income gains, strikes by fast-food workers, the rapid growth of low-paying jobs while middle-income work shrinks. These factors have combined to make the minimum wage a top economic issue for the 2016 campaign.

WALL STREET REGULATION—The debate over rules governing banks and the markets comes down to this: how to prevent another economic catastrophe like the Great Recession ignited by the financial crisis in 2008. . .

INFRASTRUCTURE—The nation's infrastructure is in need of repair and improvement. On that, politicians generally agree. Harder to answer: How to pay for it and which projects should take priority?. . .

IRAN—Last year's nuclear deal with Tehran has removed for now the threat of a U.S.-Iranian military confrontation. But the deal rests on shaky ground. . .

REFUGEES—With millions of Syrians displaced by a years-long war and hundreds of thousands of people fleeing to Europe, countries around the world are being pressed to help resettle people seeking refuge. . .

CHILD CARE/PAY EQUITY—In much of the U.S., families spend more on child care for two kids than on housing. . .

EDUCATION—Education is a core issue not just for students and families, but for communities, the economy, and the nation as a global competitor. . .

STUDENT DEBT—More Americans are getting buried by student debt — causing delays in home ownership, limiting how much people can save and leaving taxpayers at risk as many loans go unpaid. . .

IMMIGRATION—The future of millions of people living in the U.S. illegally could well be shaped by the presidential election. . .

CLIMATE CHANGE—It's as if Donald Trump and Hillary Clinton live on two entirely different Earths: one warming, one not. . .

ROLE OF GOVERNMENT—It's the Goldilocks conundrum of American politics: Is the government too big, too small or just right? . . .

DEBT—The federal government is borrowing about one out of seven dollars it spends and steadily piling up debt. . .

TRADE—In this angry election year, many American voters are skeptical about free trade — or hostile to it. . .

SUPREME COURT—The ideological direction of the Supreme Court is going to tip one way or the other after the election. . .

CHINA—Tensions have been rising over China's assertive behavior in the seas of Asia. The U.S. also accuses China of unfair trading practices and cyber theft of business secrets. . .

INCOME INEQUALITY—Income inequality has surged near levels last seen before the Great Depression. . .

OPIOID EPIDEMIC—More than 28,000 Americans died from overdosing on opioids in 2014, a record high for the nation.. . .

NORTH KOREA—Pariah state North Korea could soon be capable of targeting America with nuclear weapons. What can the U.S. do to stop it?. . .

HEALTH CARE—About 9 in 10 Americans now have health insurance, more than at any time in history. . .

AMERICA AND THE WORLD—How the U.S. uses its influence as the world's sole superpower is a central feature of presidential power. . .

VOTING RIGHTS—Voting rights in America are in flux. . .
Our men and women are all people, and we are all Americans. If a candidate were to focus on what is important in OUR lives, he or she could walk away with the election.