Reuters announced that Donald Trump's campaign manager, Corey Lewandowski, has been charged with misdemeanor battery for an incident in Florida between Lewandoski and a reporter. Trump was not pleased. And the story has taken another turn, thanks to Breitbart, the agency that employed the reporter who was "manhandled."
Here's the arrest story from Reuters:
Police in Jupiter, Florida, charged Corey Lewandowski, 42, with intentionally grabbing and bruising the arm of Michelle Fields, then a reporter for the conservative news outlet Breitbart, when she tried to question Trump at a campaign event on March 8. . .

Police released a video of the incident showing Fields walking alongside Trump and trying to question him. Lewandowski is seen grabbing her arm and pulling her backward. Previous videos of the incident had been obscured by people in the crowd.

At the time, Lewandowski called Fields "delusional" and said he never touched her.

Lewandowski was charged with simple battery, defined under Florida law as intentionally touching or striking a person against their will. For a first offense, it is a misdemeanor in the first degree, which carries a maximum sentence of one year in prison or a fine of $1,000.

A court date was set for May 4, according to the police report. Jupiter police said Lewandowski turned himself in, and he was issued a notice requiring him to appear in court and then released. He was not booked into the jail.
Here's an overhead photo of the event, clearly Lewandowski and Fields: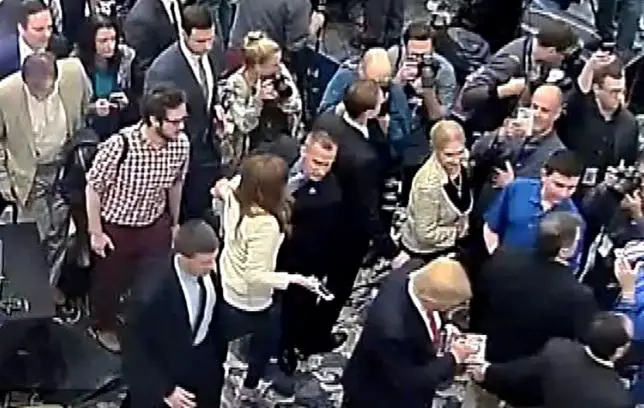 Trump appeared on CNN, trying to defend Lewandowski.
He had Anderson Cooper read Fields' original statement, which said that she was nearly thrown to the ground. Trump said she changed her story once she realized there was video. In fact, Trump says Fields was grabbing him, and Lewandowski was just defending Trump.
Breitbart, which has been known for supporting Trump, was not supportive of Field's story. In fact, one of her coworkers doubted her on Twitter.
The morning after Breitbart reporter Michelle Fields published her account of being manhandled by Donald Trump's campaign manager, one of her colleagues took to Twitter to publicly cast doubt on her story.

"I've been reporting for Breitbart at Trump rallies and no one ever grabbed my shoulder and everyone was nice," Patrick Howley wrote Thursday morning, reacting to Fields' story of getting pulled down by Trump's manager Corey Lewandowski.

"I think the reporter whose shoulder allegedly got grabbed should release video of the incident," he added, without naming Fields directly.
The dispute caused an uproar at Breitbart. Fields quit, in protest—along with three other staffers, according to NBC.
Breitbart reporter Michelle Fields has resigned from the conservative news site over its response to her alleged assault by Donald Trump's campaign manager.

Three of her colleagues also resigned from Breitbart: editor-at-large Ben Shapiro, national security reporter Jordan Schachtel and Jarrett Stepman, an editor.

In his departing statement on Sunday, Shapiro said the site should be "ashamed" of "their treatment" of Fields.
Typically, Trump tweeted, wondering if he should press charges for being "manhandled" by Fields.
Victory press conference was over.
Why is she allowed to grab me and shout questions? Can I press charges? pic.twitter.com/qbW2RjkINX

— Donald J. Trump (@realDonaldTrump) March 29, 2016
Meanwhile, after the dust settled, Breitbart has changed its tune, with this short statement:
Statement from Breitbart News Editor-at-Large and In-House Counsel Joel B. Pollak:

The article was written by me as part of an effort to make light of a significant company event, and was published as a result of a misunderstanding without going through the normal editorial channels.

I apologize to Michelle Fields, my friend Ben Shapiro, and to everyone concerned.
So we seem to have general agreement about what happened. But few people are asking about why Lewandowski jumped in. In her own words, the question was about Trump's stand on affirmative action.
Is this an issue which should occupy so much coverage in a presidential campaign? What do you think, who is correct?