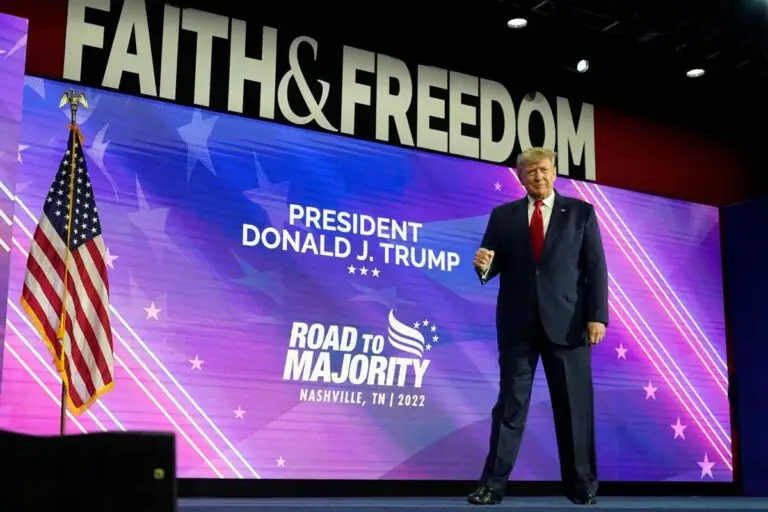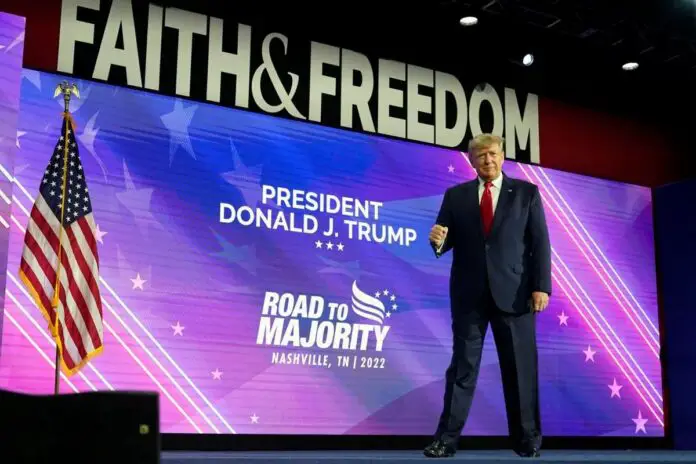 Appearing today in Nashville, former President Trump was a headline speaker at this year's Faith and Freedom Coalition event. Trump has spoken at the event on previous occasions and continues to hold sizable support from the evangelical community.
Here are all the details including the live stream to tune in and watch Trump's remarks.
Faith and Freedom Coalition – Nashville, Tennessee
When: Friday, June 17, 2022
Time: Trump speaking at 1 pm ET
Where: Gaylord Opryland Resort & Convention Center
Full Video: Watch below
Some networks may dip into Trump's speaking slot but the entire speech can be streamed below. You can also watch on RSBN and C-SPAN. Fox Nation, the Fox News streaming service, will be carrying the entire Faith and Freedom event from start to finish.
Full Video – Trump Speech – Faith and Freedom Coalition
Former President Trump will take the stage at 1 pm ET from the Gaylord Conference Center in Nashville. The live stream begins at 12:15 pm ET.
One of the big topics at this year's conference is the Supreme Court and the impending decision that could overturn Roe v. Wade, an important issue for many voters of faith:
The event, which has been put on for a dozen years, is "designed to empower conservative activists to fight for their values at the polls and in the public arena," according to the Faith & Freedom Coalition's website.

The focus this year involves pushing "conservatives further down the road to majority in the 2022 midterm elections."

Timothy Head, executive director of the Faith & Freedom Coalition, in a statement called the 45th president "a loyal friend to people of faith," adding that he "fearlessly fought to protect the right to free speech, especially in places of worship."

Other Trump acknowledgments included strengthening the United States' alliance with Israel and appointing three Supreme Court justices in addition to hundreds of judges nationwide.
Trump rarely wavered in supporting and pushing for causes such as nominating conservative judges up and down the federal judiciary and always standing on the side of the pro-life movement.
Trump will be joined this year by a slew of other speakers:
Other scheduled speakers at this year's conference will include Rep. Dan Crenshaw; Sen. Ted Cruz; Sen. Marsha Blackburn; former U.S. Ambassador to the U.N. Nikki Haley; former U.S. Education Secretary Betsy DeVos; Jeanine Pirro; Sen. Lindsey Graham; Rep. Jim Jordan; Georgia senatorial candidate Herschel Walker; and Rep. Barry Loudermilk.
More details to come. Tune in live at 1 pm ET.