As we head into November, we're still getting polling data released which was collected during the ordinarily choppy month of October, a tumultuous time for campaigns. We've had the impeachment story drop from the House on President Trump, then a searing debate back on Oct. 15, all the while as each campaign continues to claw for donations with the hope of making the next debate stage.
Then comes the latest polling shocker to drop from Iowa via a New York Times / Sienna College poll. The Times headline says Biden is "fading," but the results simply show a tight race with a very uncertain electorate:
Ms. Warren appears to have solidified her gains in the first voting state while Mr. Buttigieg has climbed quickly to catch up with Mr. Sanders and overtake Mr. Biden, the onetime front-runner. Ms. Warren is drawing support from 22 percent of likely caucusgoers, while Mr. Sanders is at 19 percent, followed by Mr. Buttigieg at 18 percent and Mr. Biden at 17 percent.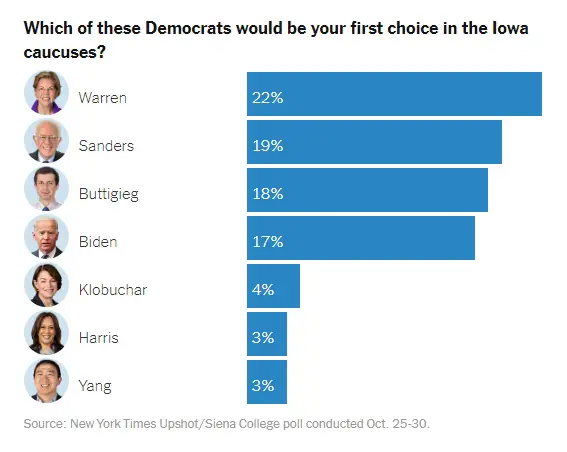 At first glance, the numbers do look terrible for Biden. The fact that Buttigieg has overtaken him, even by just a point, perhaps the result of his solid debate performance means that Biden's in some seriously uncharted territory, a spot where he and his campaign likely never assumed they'd be strategizing from.
The poll reveals a race in flux but not in disarray, framed by a stark debate about the direction of the Democratic Party and by a degree of fluidity arising from Mr. Biden's travails. In the early states, at least, the former vice president appears to be buckling on one side to the expansive populism of Ms. Warren and Mr. Sanders, and on the other to Mr. Buttigieg's calls for generational change.

While no single candidate has a decisive advantage, the strongest currents in the party appear to be swirling around candidates promising in different ways to challenge the existing political and economic order.
Disarray is probably the best way to describe the race in Iowa at the moment. National polls continue to show Biden leading, but the state polls start to become much, much more important as we slowly grind toward the end of 2019.
It can't go unmentioned that Bernie has picked himself back up and seems to be in contention once again despite some softening numbers.
Could it be Biden's connection to the Trump/Ukraine impeachment story? Is it merely Biden fatigue among Democratic primary voters? Did Buttigieg catapult himself into contention on one strong debate performance? There are many ways to possibly explain the numbers.
The two most-recent Iowa polls listed by RealClearPolitics, including the one mentioned above, show Warren leading Biden handily. The third recent Iowa poll at RCP shows a statistical tie. There is notable a trend to point out that as the month of October has dragged on, Biden's support in Iowa seems to be collapsing or at least trending downward quite rapidly.
If you jump states over to New Hampshire, RCP shows Warren leading there on average by four points. Nevada and South Carolina, however, are still in Biden's column for now.
We'll be waiting for some more polling data out to confirm this trend next week. In the meantime, the Biden campaign is probably spending some long nights figuring out how to stop the bleeding and where to start pushing back.