Granted, it's Morning Consult, which has consistently shown Biden with slightly higher numbers in recent months than other pollsters, but it's at least a new data point to assess after the fourth Democratic debate. The numbers were gathered on Wednesday, the day after the debate, among 2,202 registered voters who indicated they may vote in a Democratic primary or caucus in their state.
Morning Consult paints the poll as a win for Sen. Elizabeth Warren since she weathered the most direct attacks from her opponents on stage, yet her numbers have remained largely unchanged. It's hard to ignore, however, that it's probably a win for Biden, since he remains 10 points ahead of Warren in this poll, also largely unchanged:
According to a Morning Consult poll conducted Wednesday, what happened onstage in Westerville, Ohio, did little to change the state of the race, with former Vice President Joe Biden still holding his lead in first-choice support among Democratic primary voters, at 31 percent, and Warren in second place with 21 percent.
Out of the remaining field, Sen. Bernie Sanders sits at 18%, followed by Sen. Kamala Harris at 7%, and South Bend Mayor Pete Buttigieg at 6%.
As Morning Consult also found, however, the debates are starting to have less and less impact on actually switching votes: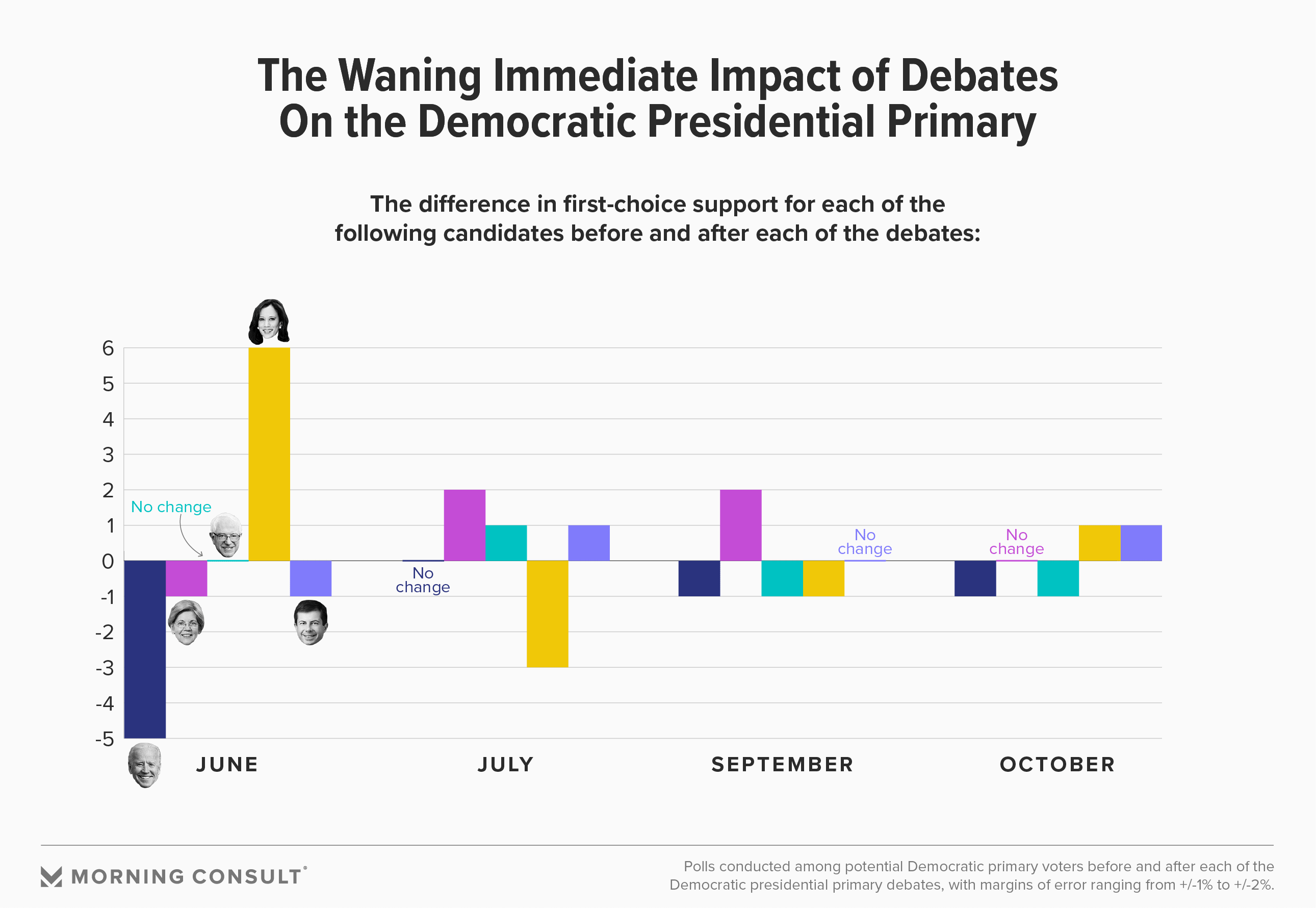 For Biden, this dynamic plays well since it would indicate that even if he continues to sputter in future debates, his overall support doesn't seem to be that affected by it. Even after the "takedown" by Sen. Kamala Harris over the issue if busing, Biden's numbers held steady while Harris' rose, then nosedived a month later.
This isn't to say that the debates have no impact since they certainly do. The impact just may not be as drastic as it would seem even if a candidate has a good or bad night.
Morning Consult also measured the impact of the debates over time since they started back in June: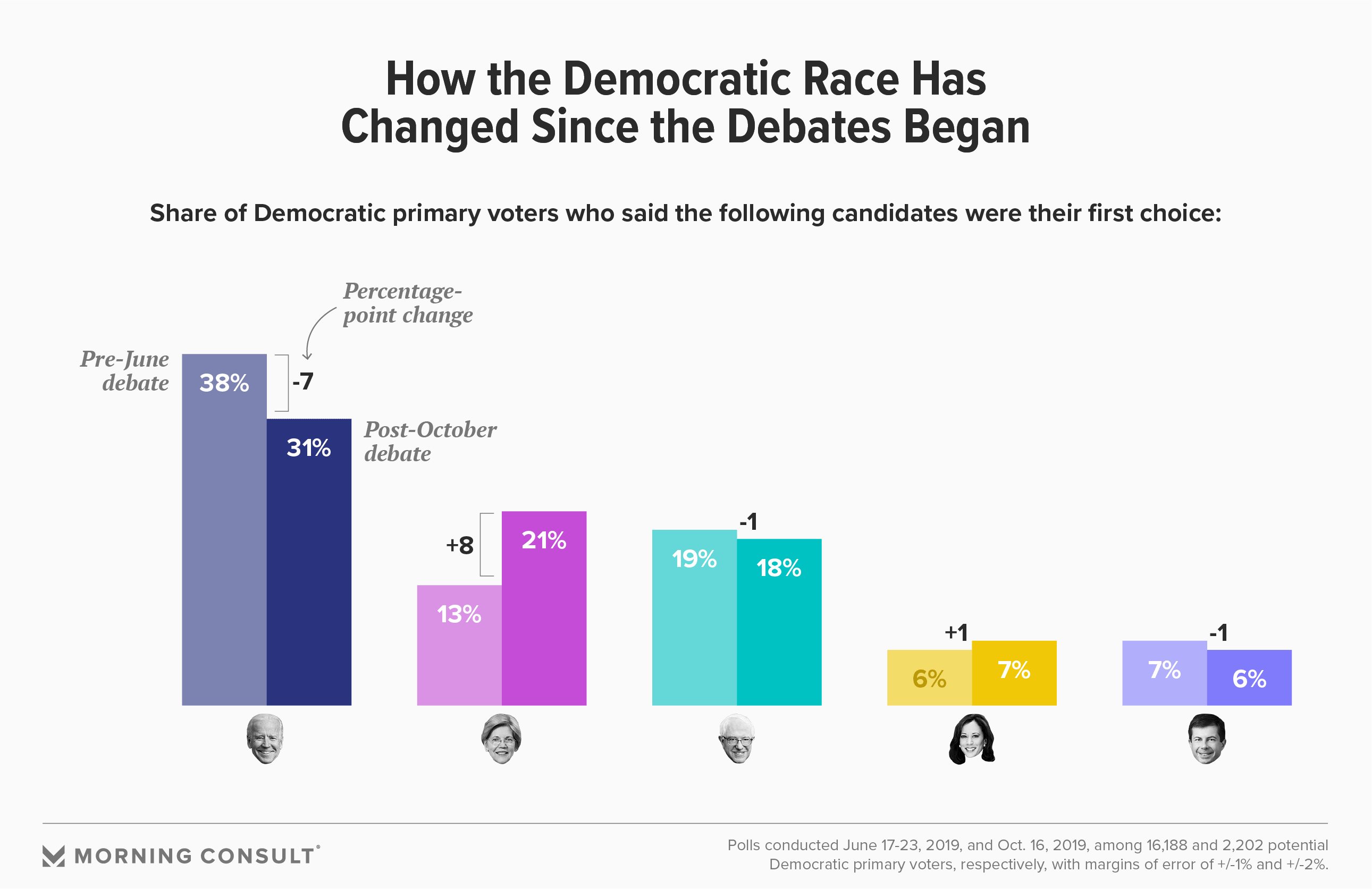 Obviously the noticeable trend is Warren's improvement of 8 points and Biden's decline of 7 points. Some of Biden's support may have drifted to Warren, but it's likely she also started gathering support from some of the lower-tier candidates as it became obvious they didn't have a chance at the nomination.
What does this mean for Biden?
The end result for Biden is that he's a known quantity. Voters are deeply acquainted with him, and they're aware of his style. It's possible that he can get away with gaffes, and seemingly contradictory statements said in the same breath, and not take any heat for it among his base of support.
Voters aren't backing Biden because he's a "details" kind of candidate. If you want plans and policy documents, go see Elizabeth Warren. Instead, they're backing Biden because of name recognition and the continued, though eroding belief that he is the most electable option to beat Trump.
Biden even taunted Warren following the debate when asked about his status as the front runner and whether he believes the race has changed:
"Well, it's kind of about time other people get questioned," he said. "You know, I haven't seen any polling showing that nationally, on average, that anybody else is a frontrunner. You guys keep talking about that."

"I think Elizabeth Warren's done very well," Biden added. "She's moved, but now that she has moved and is taken more seriously, people are going to ask her about a little candor here. Tell us how you're going to do what you say you're going to do"
There certainly have been polls where Warren has topped Biden nationally, though her numbers have come down since overtaking Biden by 0.2 percent in the RealClearPolitics average last week.
It's also possible that the results of the debate haven't fully sunk in yet across the board for voters. It's also possible that with diminished viewership, going up against a playoff baseball game (Go Nats!) that the October debate simply won't be as impactful as prior debates.
For what it's worth, FiveThirtyEight polled debate viewers and found that Warren came off the best, followed by Buttigieg:
FiveThirtyEight.com and Ipsos polled a group of 3,360 Democratic primary voters nationwide and had them grade the hopefuls on a four-point scale.

Those voters said Warren earned a 3.2 to top the list, while Sanders tied with the South Bend, Ind., mayor with a 3.1. They were followed by former Vice President Joe Biden (3) and Sen. Amy Klobuchar (2.9).

Rep. Tulsi Gabbard received the lowest marks. Her average was 2.4 points.

In the middle of the pack were Sens. Kamala Harris and Cory Booker, both with 2.8 points. Then came businessman Andrew Yang, with 2.7 points, followed by former Rep. Beto O'Rourke with 2.6 points. Circling the bottom with Gabbard were former HUD Director Julian Castro and billionaire Tom Steyer with 2.5 points.

Pollsters had also asked respondents to rate the favorability of the candidates before Tuesday's debate in order to determine if a candidate over or under-performed, with the assumption being that better-liked candidates would have an edge.

Warren had the highest pre-debate favorables – and respondents found she also performed the best. Sanders performance, with the second best grade, was in line with his popularity too – as he had the third highest favorability rating.

Buttigieg and Klobuchar out-performed, pollsters said.
The question worth asking is whether having a perceived "good" performance for Warren is really going to mean all that much in terms of the horse race. It may take some more days and well into next week before we get a sense of how she's handling her borderline front runner status and whether she can build on it and let it slip away.
If the Morning Consult post-debate poll is any indication of how things will end up, then Warren's still got a lot of work to do, and maybe the Biden campaign can breathe for a second.