The latest national Democratic primary poll numbers out from Emerson Polling show the former vice president maintaining his lead over his rivals but has seen his number drop slightly since the last Emerson poll released in June. Biden is leading the field at 30% which is down from 34% last month in the same poll. Sen. Bernie Sanders has continued to see his support erode further while Sen. Elizabeth Warren and Sen. Kamala Harris saw the biggest gains in their Emerson numbers since last month.
Here's a short write-up from Emerson followed by the full graphic:
The first Democratic debate has shaken up the race for the Democratic nomination. Compared to June's national poll, former Vice President Joe Biden extended his lead, Sen. Bernie Sanders lost ground, Sen. Kamala Harris doubled her support, and Sen. Elizabeth Warren held steady. Despite Biden losing 4 points of his support from 34% to 30%, he extended his lead in the Democratic primary from 7 points in June to 15 points, as his main rival, Sanders dropped 12 points to 15% from his June number of 27%. Harris saw her numbers improve 8 points to 15%, and Warren ticked up one point from June to 15% of the vote, creating a three-way tie for second.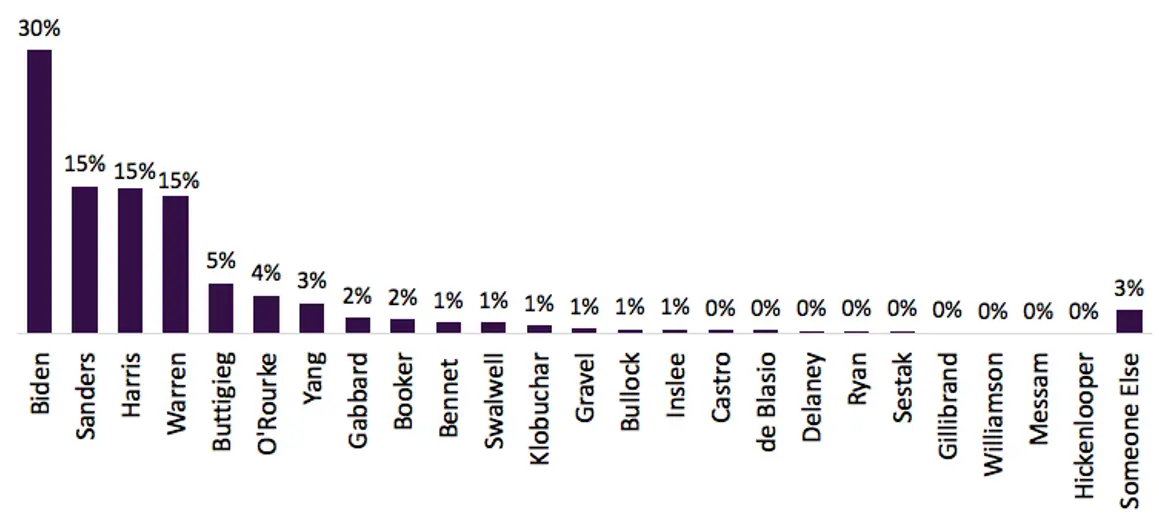 Source data: Data collected July 6-8 with a margin of error of +/- 4.4%.
Though Biden's number dropped from 34 to 30, his lead actually increased over his closest rival. This mainly has to do with Bernie Sanders losing 12 points since June which has ended up going to other progressive candidates. As a result, the field has flattened quite a bit with a three-way tie for second place.
First debate drives national sentiment
Once again, another poll illustrates how the first Democratic debate is continuing to shape the race:
Fifty-seven percent (57%) of voters said they followed the Democratic debates. A plurality of viewers, 30%, said Harris had the best debate performance. Eighteen percent (18%) of voters said Biden performed the best, 13% said Warren, and 10% chose Sanders. Conversely, when asked which candidate had the worst performance, 19% of voters said Biden, 15% said Sanders, and 13% said O'Rourke performed the worst.
Perhaps also notable is how Beto O'Rourke actually registers at four percent considering the flailing status of his campaign. Viewers tended to give him worse debate marks than Biden though he genuinely needed a good performance which he failed to deliver.
Andrew Yang hitting three percent is also noteworthy since it means he's generating more interest than most of the other bottom-tier politicians in the race. Yang was fairly quiet during the debate, but for most viewers, he's a fresh face in national politics so perhaps he's attracting some attention as a result of simply being an unknown candidate.
The three-way tie for second place between Sanders, Harris, and Warren means progressive voters are split over which candidate they believe can become the true Biden alternative in the race. Plenty of progressives aren't enamored with the prospect of Biden as the nominee, but if they don't consolidate around another candidate, 30% of the primary electorate is all the former vice president needs to maintain a lead.
Biden and Sanders lead head-to-head with Trump
It's early, and these general election polls don't mean too much, but Emerson included them anyway. In head-to-head matchups against President Trump, only Biden and Sanders maintain a lead: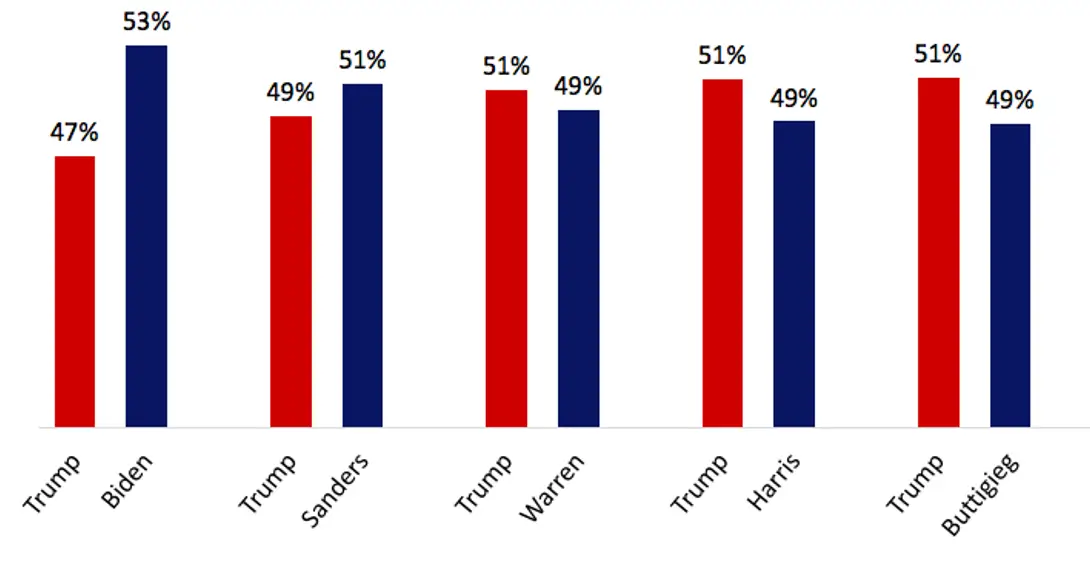 Source data: July 6-8, 2019 1,100 registered voters, a margin of error (MOE) of +/- 2.9 percentage points.
Emerson notes that following the debate, Trump's numbers improved by about five points in head-to-head matchups over the June numbers. That point alone illustrates that much of the early polling data is based on generic sentiment rather than voters starting to compare candidates and settle on a preference which will happen later in the process.