According to findings by NBC News, Republicans are actually leading Democrats in early vote counts based on the nationwide numbers. As it stands today, out of the 24,024,621 early votes and absentee votes already cast, 43 percent have been cast by Republicans, while 41 percent have been cast by Democrats. Keep in mind, this doesn't mean that voters stuck within their own party, it just means in states that have party registration, we can see how many voters registered to each party have cast early ballots.
Something even more interesting to chew on is the comparison to 2014 and 2016. According to NBC, the current turnout is looking more like a 2014 electorate than it is a 2016 electorate. Here's the comparison breakdown of the past cycles versus 2018 at this time before Election Day:
Obviously, the interest in 2018 has far exceeded the interest of the 2014 election, the last time Republicans were said to have won big. Why are the numbers so similar this time around considering the talk of the "blue wave" in 2018? NBC offers no answer to that, so we're left to speculate.
Here's some analysis from the article:
Turnout overall is generally lower during midterm elections than presidential elections, but this year the total early vote count six days out is between where it was in 2014 and the over 29 million (29,196,380) early votes that were counted six days out from the presidential election in 2016.

In all of the key states NBC News has been following, early vote counts for so far this year (Arizona, Florida, Georgia, Indiana, Montana, Nevada, Tennessee and Texas), the six-day-out total is higher in than it was in 2014. The national trend toward early voting has been close between the two parties.

As of Wednesday, 43 percent of early voters are Republican and 41 percent are Democrats. At this point in 2016, 43 percent of early voters were Democrats and 40 percent were Republicans.
It's possible that Republicans are outpacing Democrats simply because the most competitive Senate races are taking place in states which have more registered Republicans than Democrats, like Texas, for example. It could also be that the dividing lines are so strong, that partisans on both sides are already locking in their votes leaving the Election Day voting for the undecideds to break the tie in all these close races.
The major elephant in the room here is why Democrats aren't outpacing Republicans when most polls show they have an advantage in enthusiasm over the GOP?
Here's another chart from the story breaking down individual states: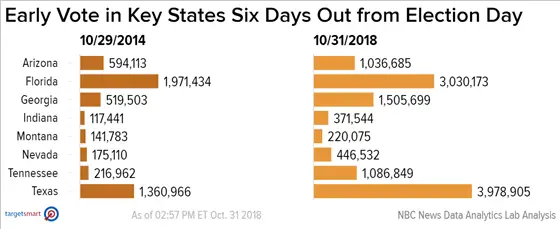 Every state is up significantly over 2014, but Texas and Florida are way up thanks to competitive races in each state. Florida has the double-whammy races for Senate and Governor at the same time.
Republicans must be encouraged by these numbers since it means the early voting advantage for Democrats that has historically existed seems to be non-existent this year. For Democrats, on the other hand, these numbers may be disconcerting since you'd expect to see record Democratic turnout to build a wave large enough to swallow up Republican-held districts across the country. That could still happen, of course, since these numbers are nationwide and they don't tell the whole story district-by-district.
Candidates across the country will be out in full force this weekend making their final push toward Tuesday, shaking as many hands as possible. Stay tuned!