The media has reported widely that Donald Trump has been trying to increase the importance of Russia, and its leader, Vladimir Putin. Less widely reported is the fact that things Trump has done are tending to cede world leadership China. For instance, by withdrawing from the Paris Climate Agreement, it gives China the opportunity to say they will lead, instead.
Fox News announced the withdrawal.
After days of drama and suspense, President Trump announced Thursday that his administration will exit the Paris climate agreement. . . Leaving the accord aligns the United States with Syria and Nicaragua. . .

Though there are no legal ramifications for pulling out of the accord, it does alienate America and diminish its standing as a global leader. . .

The Paris Climate Agreement is a pact between nearly 200 nations to voluntarily reduce their greenhouse gas emissions in an effort to fight climate change. . .

Trump's chief strategist Steve Bannon as well as EPA Administrator Scott Pruitt have been pressing the president to exit the deal. Trump's daughter Ivanka as well as business leaders and other U.S. allies have been pushing pro-Paris agenda, Politico reported.

Business leaders including Apple's Tim Cook and Tesla's Elon Musk had also lobbied Trump to stay in the agreement.
Business Insider says there will be repercussions.
According to John Sterman, a professor at the MIT Sloan School of Management and senior advisor at Climate Interactive, leaving the Paris Agreement will create uncertainty in the economy about the future of fossil fuels and renewable-energy resources. That would be "bad for businesses" and others hoping to invest in renewable energy and could spread to other countries' economies. It would also lead to slower deployments of renewable energy, Sterman said. . .

Another repercussion, Sterman says, is potential retaliation from other countries, who could also leave the Paris Agreement or punish the US in some way.

"It's not that far-fetched to imagine a scenario where China, in response to the US pulling out … implements a carbon tax on all goods exported from the US to China, and others nations could follow suit," Sterman said.

This prospect reportedly led several fossil-fuel companies, including ExxonMobil and the coal-mining group Cloud Peak Energy, to urge the president to stay in the agreement. Sterman said coal, gas, and oil companies knew that while they may be restricted slightly by the Paris Agreement, they could lose their seat at the international negotiating table — with China, India, the European Union, and other world powers — if the US pulled out of the accord. . .

Sterman said the US would lose jobs that could only be done locally, like installing, operating, and maintaining solar panels and wind turbines. These kinds of jobs mostly are occupied by blue-collar workers, who are "the base of President Trump's support," Sterman said.
As you can see from this map, Trump's decision aligns us with only two tiny, questionable countries in the world—our buddies in Syria and Nicaragua.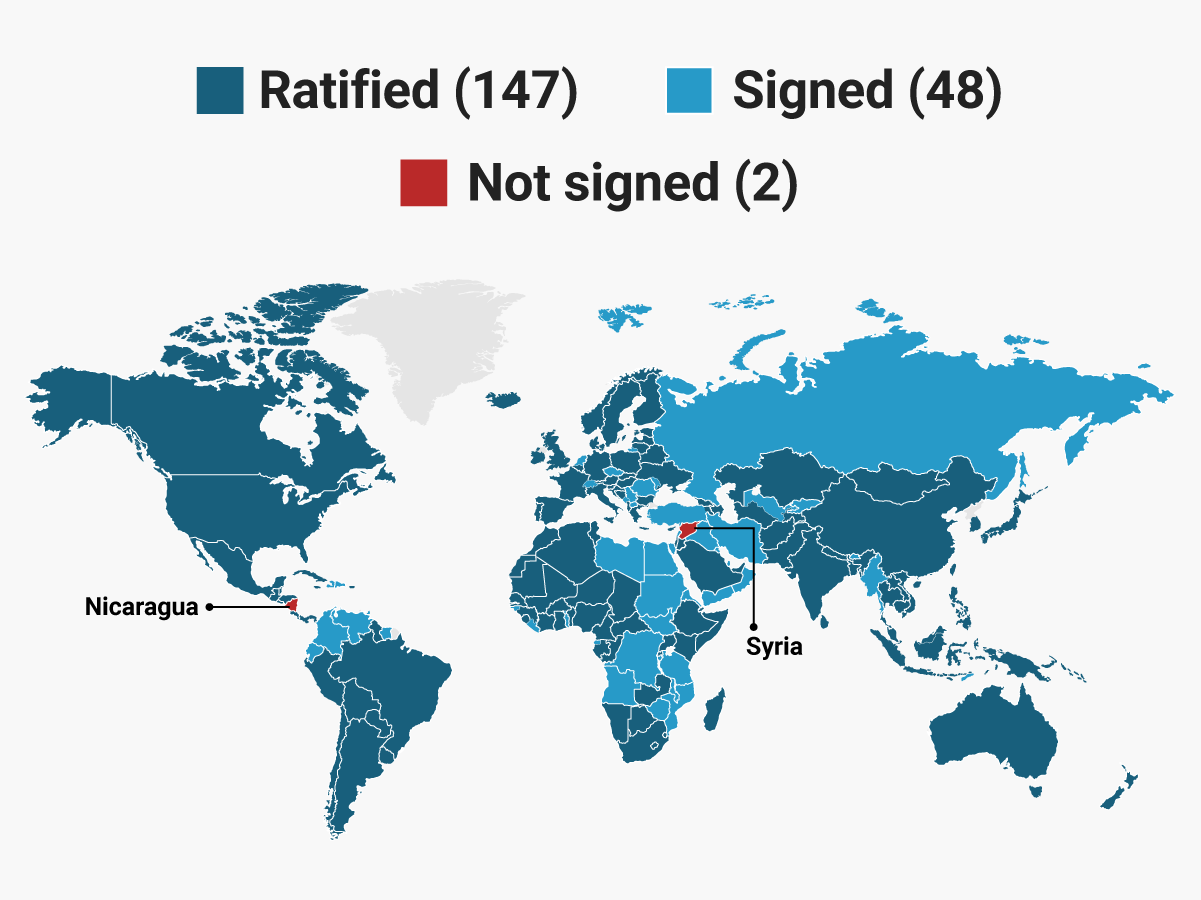 The conservative Washington Examiner says its another step toward Chinese world leadership, specifically noted by the German ambassador.
Ambassador Peter Wittig: When it comes to the international order, there should be no vacuum. If we lose American leadership, others will step in. The recent "belt and road" conference in Beijing was a reminder that China is ready to step into a possible vacuum that the U.S. might be leaving. . .

Conclusion: The horizon of U.S.-EU relations is a tough one. China and Russia will be loving this.
The National Geograpnic takes it a step further, in an article titled, "China Poised for Leadership on Climate Change After U.S. Reversal."
China may soon fill the leadership vacuum that President Donald Trump leaves on the world stage as he is expected to sign a new executive order Tuesday that seeks to dismantle much of the work on climate change enacted by his predecessor. . .

At the same time, China's leadership has taken steps to move away from coal and has renewed calls to continue global action on reducing carbon emissions. . .

While Trump's order casts uncertainty over U.S. efforts to rein in emissions, China, the world's largest emitter of greenhouse gases, has not paused in its drive to ramp up renewable energy and curb its use of coal. It just halted the construction of 103 new coal-fired power plants, and its energy agency at the start of the year announced plans to pour more than $360 billion into renewable energy by the end of the decade. . .

Here again, the spoils could fall to China, which is home to some of the world's biggest wind and solar manufacturers. "If the U.S. backs out of the energy transition," Kortenhorst says, China will think, "it's time to double down, because the market opportunity has just fallen even closer into their lap."
Handing over leadership to China is also noted in this earlier article about TPP, titled, "Trump sinks Asia trade pact, opening the way for China to lead."
An ambitious Asia-Pacific trade pact linking the United States and 11 countries lay in tatters on Tuesday after U.S. President-elect Donald Trump said he would kill the deal on his first day in office on Jan. 20.

Trump's statement appeared to open the way for China to assume the United States' leadership mantle on trade and diplomacy in Asia. The Republican termed the Trans Pacific Partnership (TPP) "a potential disaster for our country."

China, Japan and South Korea are already in the initial stages of discussing a trilateral trade deal, and Beijing has been pushing its own limited Asian regional trade pact that excludes Washington for the past five years.

Japan and Australia, Washington's closest allies in Asia, pledged after Trump's announcement to push ahead without the United States, although removing the largest market for goods and services would shrink it dramatically. . .

China has pushed its own Regional Comprehensive Economic Partnership (RCEP), which notably excludes the United States.
•The idea of negotiating a new climate change pact with ONLY Syria (Nicaragua is in process of signing) on our side, of all the nations of the world, seems like folly.
•Likewise, handing over leadership in eastern trade to China seems questionable.
• And, of course, Trump has said we can't deal with North Korea, so he's asking China to take leadership in that area, too.
Business Insider says China is quite willing to take over as moving force in the world.
China does not want world leadership but could be forced to assume that role if others step back from that position, a senior Chinese diplomat said. . .

"If anyone were to say China is playing a leadership role in the world, I would say it's not China rushing to the front but rather the front-runners have stepped back, leaving the place to China," Zhang said.

"If China is required to play that leadership role, then China will assume its responsibilities," he added.