To almost no one's surprise, Marco Rubio defeated his opponent in the Republican primary for his Florida senate seat. Meanwhile, Debbie Wasserman Schultz won her Democratic primary battle for her house seat. Both wins were hardly news, but both candidates still brought a lot of drama to the race. Here's the primary report.
Republican Sen. Marco Rubio and Democratic U.S. Rep. Patrick Murphy each easily won their primaries Tuesday, setting up a November showdown that's guaranteed to be nasty as each party grapples for a majority in the Senate.

Rubio, who decided at the last second to seek a second term, easily fended off millionaire homebuilder Carlos Beruff and Murphy used the backing of President Barack Obama and other Democratic leaders to defeat U.S. Rep Alan Grayson, who was counting on his party's most faithful liberal voters to overcome Murphy's money and establishment support.

In other contests, former Democrat Party Chairwoman Debbie Wasserman Schultz was hoping to keep her seat in Congress against Tim Canova, a Bernie Sanders-backed law professor who was able to raises more than $3 million.
Rubio rebuffed Beruff, winning 72% of the vote (1,018,882) to 18.5% (262,257). On the Democratic side, Patrick Murphy won 58.9% (655,393) to Alan Grayson's 17.7% (197,197). Meanwhile, voters overwhelmingly approved Florida Constitutional Amendment 4 by 72% (1,951,254) to 27% (736,310. The amendment offers a solar energy tax break to businesses. Also on the ballot, Daniel Webster won the Republican state house nomination in the 11th District, and Patrick Henry won the Democratic state house nomination in the 26th District. Talk about name recognition! (Full Florida results here)
In the Democratic primary for the 23rd District US House seat, Debbie Wasserman Schultz turned back the challenge by Tim Canova, winning 56.8% of the vote (28,250) to Canova's 43.2% (21,476).
It was a long and winding road for Rubio. He was elected as a Tea Party favorite in 2010. But once he got to Washington, he was seen as becoming a "tool" of the establishment. Conservatives turned their back on him, leading to his embarrassing loss, in his own state, to Donald Trump. Trump famously said that they hate "Li'l Marco" down in Florida. Rubio won only the teeny-tiniest toe of the state.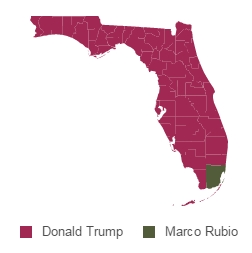 Rubio was also criticized for being an absentee senator. Almost as soon as he was elected in 2010, he began running for president, and missed a record number of votes. Trump also pointed that out. Even more pointedly, his mentor, Jeb Bush told him he should resign for being "missing in action."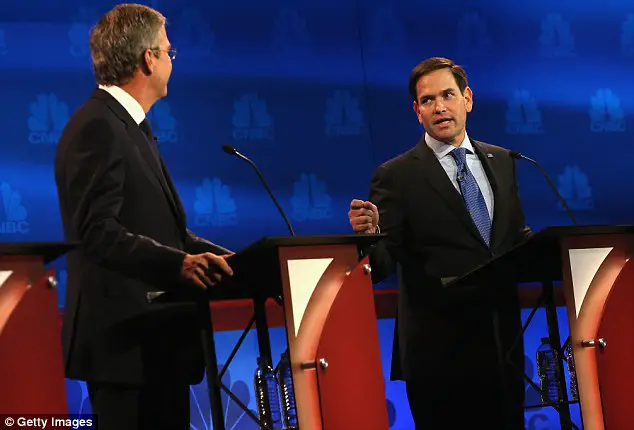 Rubio has missed 60 percent of his Senate votes since June, one analysis, determined and more than his fellow White House competitors . . .

'But Marco, when you signed up for this, this is a six year term, and you should be showing up to work,' Bush turned to him and said. 'I mean literally, the Senate, what is it like the French work week?'

'You get like three days where you have to show up. You can campaign,' he said, 'or just resign and let someone else take the job.'
Rubio clearly didn't enjoy being in the senate. Even after his humiliating defeat in his presidential run, Rubio said he had no interest in running for re-election to the Senate.
Marco Rubio is a U.S. senator. And he just can't stand it anymore. "I don't know that 'hate' is the right word," Rubio said in an interview. "I'm frustrated.". . .

"That's why I'm missing votes. Because I am leaving the Senate. I am not running for reelection," Rubio said in the last Republican debate, after Donald Trump had mocked him for his unusual number of absences during Senate votes. . .

Now, he's done. "He hates it," a longtime friend from Florida said, speaking anonymously to say what Rubio would not.
After considerable arm-twisting my the GOP establishment, Rubio changed his mind, and decided to run for re-election. Grudgingly. In fact, he unabashedly said he might not bother to serve out his term—once again "absentee" while he begins to run for president again.
Marco Rubio on Monday refused to commit to serving a full six-year term in the Senate should he win reelection. And the former Republican presidential candidate subtly suggested that if he ran for the White House again, he would be prepared to leave politics behind if he lost.

"No one can make that commitment because you don't know what the future's gonna hold in your life personally or politically," the Florida senator told CNN on Monday, opening the door for a presidential run when asked if he could commit to a full Senate term before seemingly slamming it shut in the next breath.
Oh, yeah. It's too much to ask of a "public servant" to actually commit to doing his job.
There was also drama on the Democratic side. Debbie Wasserman Schultz showed up for work, liked being in the House, and intended to serve out her term, but her embarrassment came from being Democratic National Committee (DNC) chairperson.
Apparently, Russian hackers broke into the DNC files and found that Schultz was stacking the deck for Hillary Clinton, according to the Daily Caller.
The leak of nearly 20,000 of the Democratic National Committee's emails on Friday contain correspondence showing disdain for Vermont Sen. Bernie Sanders and his supporters, collusion with media, and various candid remarks from key party officials. . .

Another leaked email from Wasserman Schultz said "He is an ASS" in reference to Bernie Sanders' campaign manager Jeff Weaver. The comments in May were in response to an email highlighting Weaver's remarks that Sanders plans to stay in the race till the Democratic convention.
The Russians released a lot more emails, showing that Wasserman was trying to tilt the field for Hillary, instead of remaining the neutral party chair. In the resulting furor from the leak, which hit just before the DNC convention, Wasserman Schultz tried to resign, but keep her job of opening and closing the convention. That didn't work, and she ended up being persona non grata the whole week.
But that wasn't the end of it. Breitbart reported that Bernie Sanders wanted her to lose her House seat, too. He actively supported her challenger in her primary this week.
In fact, as Breitbart also reported, her primary opponent Canova said he liked Donald Trump, too.
As we reported earlier, while Wasserman Schultz resigned the DNC chair in disgrace, she is seen by some as doing a better job than RNC chairperson Reince Priebus.
Trump took the opportunity of Wasserman Schultz's downfall to restate his love for Reince Priebus, her counterpart at the wholly owned Trump subsidiary formerly known as the Republican Party. "Today proves what I have always known," Trump tweeted Sunday, "that @Reince Priebus is the tough one and the smart one, not Debbie Wasserman Schultz."

But I spoke to a few longtime Republican operatives in the past few days who had come to the exact opposite conclusion. They viewed the Democratic leaks not with glee, but with palpable envy.

That's because whatever Wasserman Schultz tried to do for Clinton and the Democratic establishment in her underhanded way is exactly what Priebus completely failed to do as his party was being overrun.
Rubio and Wasserman Schultz are both expected to be elected easily in November.
Late in the evening, Tuesday, the Associated Press projected Senator John McCain the winner in his primary election in Arizona.
Voters also went to the polls in Arizona, where Republicans nominated John McCain for a seventh Senate term in decisive fashion.

McCain, the 2008 GOP presidential nominee, faced a vigorous primary challenge from former state Sen. Kelli Ward, who attacked McCain as too willing to compromise with Democrats. But shhe struggled to raise the money and amass the widespread support needed for a serious challenge. McCain held a 20-percentage-point lead in early returns when the AP projected his victory late Tuesday.
With 99% of the vote in, McCain has 51.7% of the vote (251,554), compared to Kelli Ward's 39.2% (190,932).
We are not adding much to the McCain story, since we gave him his own page yesterday. The gist was that Donald Trump's media outlet, Breitbart, worked hard to unseat McCain, including a "poll" that put his opponent far ahead. For more details, look there.