Bernie Sanders has a lot to cheer about, despite the New York primary polls. First, he has pulled to within two percent of Hillary in national polls. Second, he and John Kasich are viewed as most favorable of all candidates. And TIME magazine has named him one of the world's 100 most influential people.
On the eve of the important New York primary, a new poll shows Bernie and Hillary neck-and-neck, nationally.
Hillary Clinton leads Bernie Sanders nationally by just two points in the Democratic presidential race, according to results from a brand-new NBC News/Wall Street Journal poll.

Clinton gets support from 50 percent of Democratic primary voters, while Sanders gets support from 48 percent. That's down from Clinton's nine-point advantage a month ago, 53 percent to 44 percent. . .

Sanders leads among men by 17 points (58 percent to 41 percent), whites (53 percent to 44 percent) and those ages 18 to 49 (66 percent to 34 percent).
This chart shows it: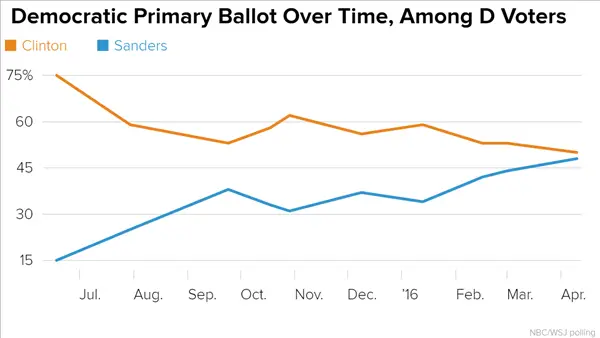 This chart may be even more telling: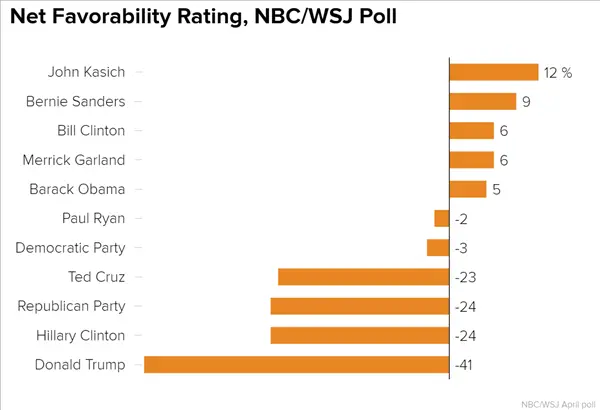 Frankly, people "like" Bernie and Kasich. Here's a chart that shows why. While Bernie and Kasich have retained their favorability rating, their opponents have been dropping, precipitously.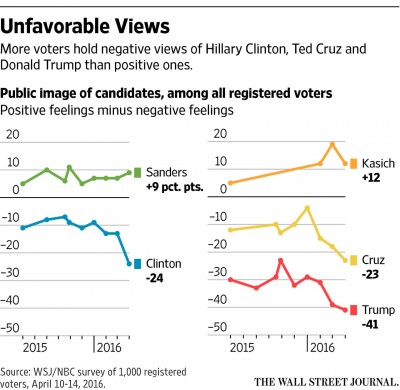 Bernie also bested the rest in another poll. He walked away with Time Magazine's poll of 100 Most Influential People in the World. It was a reader poll just released by the magazine.
He beat all the other candidates.
Democratic presidential candidate Bernie Sanders has won the TIME 100 reader poll, topping not only his rival Hillary Clinton but also a host of world leaders and cultural figures for who TIME readers think should appear on our annual list of the most influential people in the world.

Sanders finished with 3.3% of the total "yes" votes when the poll closed at midnight on Thursday, edging out the South Korean boy band Big Bang's 2.9%, Burmese leader Aung San Suu Kyi's 2.2%, and President Obama's 2%. Pakistani activist Malala Yousafzai, Lady Gaga, Taylor Swift, Michelle Obama, Pope Francis and Leonardo DiCaprio round out the top 10. Clinton, Sanders' opponent for the Democratic nomination, finished with 1% of the yes votes.
It should be noted that the poll was of readers, not experts, according to Wikipedia.
First published in 1999 as the result of a debate among American academics, politicians, and journalists, the list is now an annual event. Although appearing on the list is often seen as an honor, Time makes it clear that entrants are recognized for changing the world, regardless of the consequences of their actions. The final list of influential individuals is exclusively chosen by Time editors with nominations coming from the TIME 100 alumni and the magazine's international writing staff. Only the winner of the Reader's Poll, conducted days before the official list is revealed, is chosen by the general public. . .

The list was first published in 1999, when Time magazine named the 100 most influential people of the 20th century. Based on the popularity of the installment, in 2004, Time magazine decided to make it an annual issue, listing the 100 people most influencing the world. Those recognized fall in one of five categories. . .Titans, Pioneers, Artists, Leaders, and Icons.
Follow the New York Primary results as they come in tonight.