Republicans will turn their attention down south today for the South Carolina Republican Primary. Voting will begin at 7am ET and last until 7pm ET. We should expect results to start coming in shortly after the polls close by around 8pm ET. Donald Trump has dominated the polls for the past two weeks following his win in New Hampshire, however, the race has tightened some in the last 24 hours, especially the battle for the 2nd and 3rd place spots.
Saturday, February 20, 2016
South Carolina Republican Primary
Live Results: DecisionDeskHQ, CNN, NYTimes
Voting from 7am to 7pm ET
Find Your Polling Place

Latest updates throughout the day will appear here, newest at the top:
Update 6 – 9:09am ET 2/21
A final look at 100% reported in the race.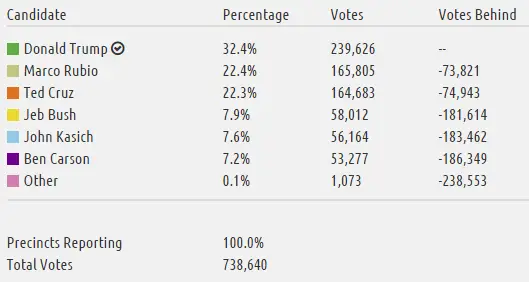 Update 5 – 9:37pm ET
Another look at the most recent vote totals: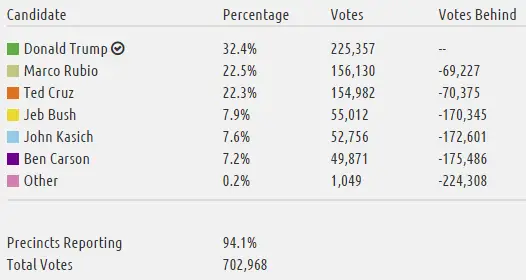 Update 4 – 8:08pm ET
Another update on the vote totals. Over 100,000 votes counted now, here's how it stands: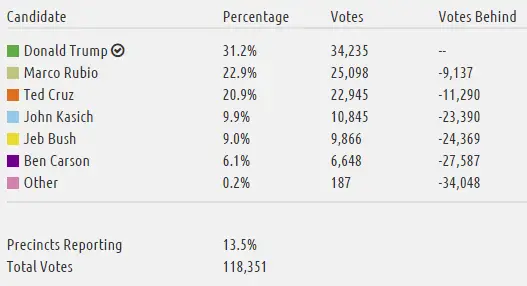 Update 3 – 7:35pm ET
CNN and other outlets have called the race for Donald Trump. The question is by what margin and who will take the 2nd place spot?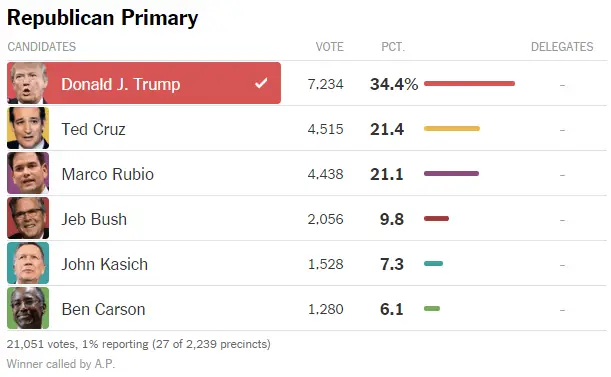 Update 2 – 7:02pm ET
Polls now closed in South Carolina, anyone still in line should get to vote. We should see the first numbers start coming in around 7:30pm ET. Keep an eye on the DecisionDeskHQ South Carolina results for the earliest returns.
Update 1 – 3:23pm ET
CNN reports that exit polls will be released at 5pm ET which might start to give us an indication of where tonight is headed. Stay tuned for another update around that time.
Original Story
Polls continue to indicate that Donald Trump is sitting well in the South Carolina Republican primary, though the race appears to have tightened in recent days. Report from Politico:
A new poll out one day before Saturday's South Carolina primary shows Donald Trump maintaining a wide lead in the state and with Ted Cruz and Marco Rubio in a fight for second place.

In the poll, which was conducted on Wednesday and Thursday, Trump leads with 32 percent, followed by Cruz at 19 percent and Rubio at 18 percent.

The results are disappointing for Jeb Bush, who is banking on a strong performance in the state but comes in with just 8 percent. He is just ahead of John Kasich, who has 7 percent.
If Rubio finishes in 2nd place, assuming Trump wins the top spot, then Ted Cruz is in a very difficult position moving forward. Much of his plan hedges on winning southern states as a means to pile up delegates ahead of the later contests in mid-March. If Cruz stumbles in South Carolina, it will open the door to a Rubio resurgence ahead of Super Tuesday on March 1st.