The Democratic primary heads out west today for the Nevada Caucus which begins around 2pm ET (1pm CT, 12pm MT, 11am PT). The caucus should last for between 1 to 2 hours after which we should begin getting results somewhere after 3pm ET (2pm CT, 1pm MT, 12pm PT).
Saturday, February 20, 2016
Nevada Democratic Caucus
Live Results: DecisionDeskHQ, CNN, NYTimes
Caucus begins at 11am PT (2pm ET)
Find Caucus Location

Latest updates throughout the day will appear here, newest at the top:
Update 4 – 9:40pm ET
Another look at the vote total. Reporting at around 88% now: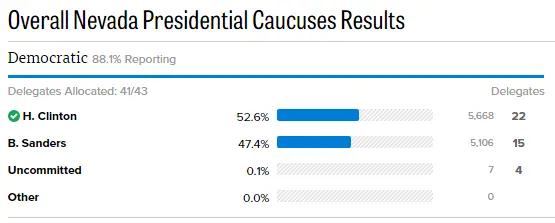 Update 3 – 6:23pm ET
Hillary Clinton has been declared the winner with about 79% precincts reporting:


Update 2 – 4:17pm ET
First results starting to come in showing a near tie for Clinton and Sanders, as expected. Click one of the live result links above to follow along as the votes come in. Once we get into higher numbers, we'll begin posting the actual results right here.
Update 1 – 3:21pm ET
The caucuses are happening right now and the results may take longer due to the overwhelming lines of caucusgoers. Anyone who was in line by 12pm PT (3pm ET) will be allowed to participate so it may take a little while. Entrance polls were just released, here's some analysis from ABC News.
Original Story
Polls on the Democratic side indicate a very, very tight race in Nevada. We could be seeing a similar margin as Iowa where fractions of a percent separated Bernie Sanders and Hillary Clinton. Report on the race from RealClearPolitics:
Bernie Sanders has a path to the Democratic nomination, but the results of the Nevada caucuses Saturday will foreshadow whether that path is mostly magical thinking.

In the wake of his near-victory in the Iowa caucuses and 22-point triumph over Hillary Clinton in the New Hampshire primary, Sanders would like to make inroads with minorities, moderates, older voters and upper-middle-class Democrats to demonstrate an appeal beyond the base he's developed of younger people, liberals and white voters.

At a Democratic town hall in Las Vegas Thursday evening, Sanders predicted he would succeed. "I chose to run, proudly, in the Democratic primary and caucus process, and I look forward to winning that process."

Clinton was equally bullish on her own prospects. "He's won one. I've won one. We've got 48 to go," she said, referring to Sanders' victory in New Hampshire. "I'm not going to waste a minute. That's why I want to get this nomination as quickly as possible so I can get to work on being your president," she said at the event, broadcast by MSNBC and Telemundo.
Sanders will need to win or come very close to winning in Nevada to keep his New Hampshire momentum. Looking beyond New Hampshire, the next Democratic contest is in South Carolina on February 27th.