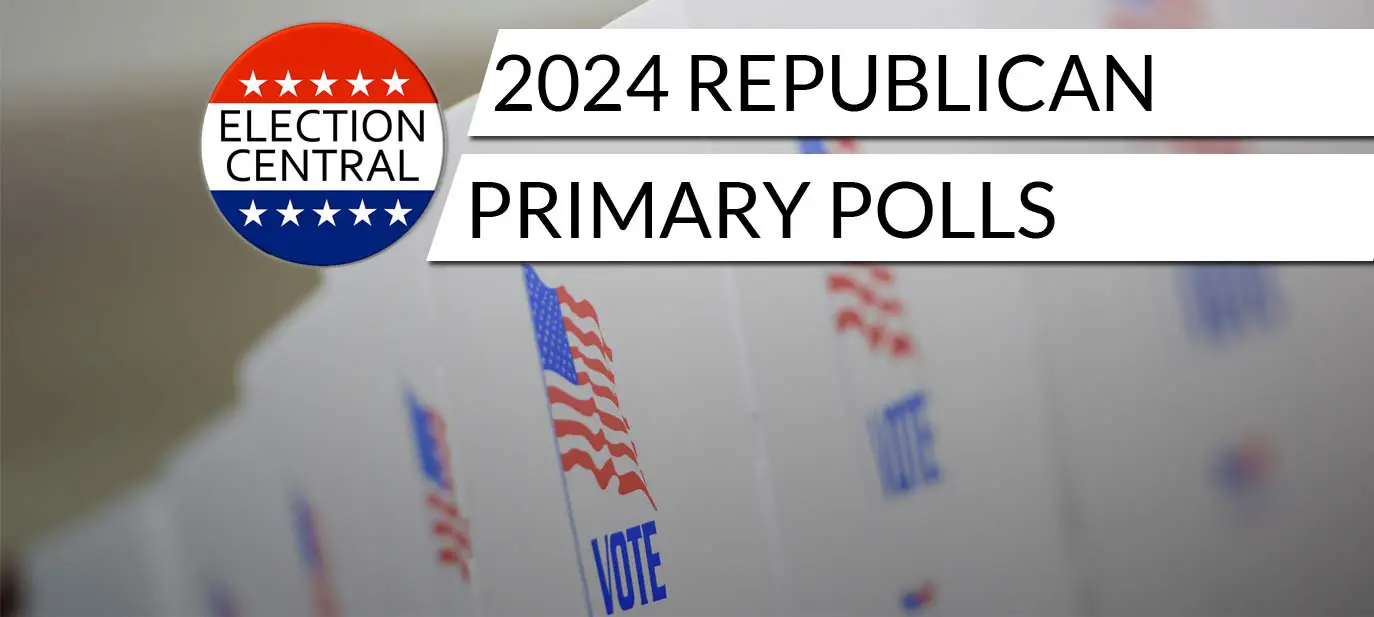 The latest 2024 Republican Primary polls for the 2024 Republican Presidential Nomination. These numbers are updated when new polls become available. The candidate average number is based on national polls released within the past three months.
Related: 2024 Democratic Primary Polls
The first set of 2024 GOP Primary polls includes the addition of Donald Trump as a primary candidate. Scroll down to the next section for polls that do not include Trump as an option. All polls below are national polls unless otherwise noted.
Navigate: National Polls | Iowa | New Hampshire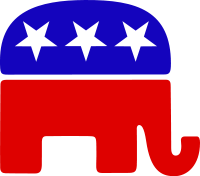 2024 GOP Primary Polls (With Trump)
Poll
Trump
DeSantis
Pence
Christie
Trump Jr.
Haley
Cruz
Romney
Rubio
Carlson
Cheney
Owens
T. Scott
Kasich
Abbott
Pompeo
Noem
Youngkin
Cotton
Hawley
R. Scott
Hogan
Average
50.1%
14.3%
8.3%
7%
6%
4.1%
3%
3%
1.9%
2%
1.8%
1.7%
1.5%
1.3%
1%
1.1%
1.2%
1%
0.8%
0.7%
0.8%
0%
McLaughlin & Associates
11/16/21
450 LV
55%
15%
7%
-
-
3%
2%
2%
1%
-
2%
1%
1%
1%
1%
1%
1%
-
0%
-
0%
-
YouGov
11/8/21
559 A
44%
21%
4%
-
-
5%
-
-
3%
3%
-
-
-
-
-
-
-
1%
-
-
-
-
Harris Poll
10/28/21
RV
47%
10%
9%
-
-
6%
4%
-
1%
-
-
-
3%
-
-
1%
-
-
-
-
-
-
YouGov
10/21/21
629 A
41%
18%
5%
-
-
4%
-
-
2%
1%
-
-
2%
-
-
-
1%
-
1%
1%
-
-
Echelon Insights
10/19/21
476 RV
62%
22%
-
-
-
-
-
-
-
-
-
-
-
-
-
-
-
-
-
-
-
-
McLaughlin & Associates
10/18/21
463 LV
53%
10%
9%
-
-
4%
3%
4%
2%
-
1%
3%
1%
1%
1%
1%
1%
-
1%
-
1%
-
Morning Consult
10/11/21
803 RV
47%
12%
12%
-
6%
3%
3%
3%
3%
-
2%
-
1%
-
-
0%
1%
-
1%
0%
1%
0%
Zogby Analytics
10/10/21
371 LV
59%
7%
12%
-
-
5%
1%
-
1%
-
-
-
-
-
1%
2%
-
-
-
-
-
-
PEM Management Corporation
9/18/21
469 LV
26%
25%
2%
7%
-
6%
4%
-
1%
-
-
-
2%
-
-
-
3%
-
-
1%
-
-
Harris Poll
9/16/21
490 RV
58%
9%
13%
-
-
3%
4%
-
3%
-
-
-
1%
-
-
2%
-
-
-
-
-
-
McLaughlin & Associates
9/14/21
456 LV
59%
8%
10%
-
-
2%
3%
3%
2%
-
2%
1%
1%
2%
-
1%
0%
-
1%
-
1%
-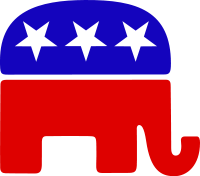 2024 GOP Primary Polls (No Trump)
Poll
DeSantis
Pence
Trump Jr.
Cruz
Haley
Owens
Romney
Rubio
Pompeo
T. Scott
Carlson
Kasich
Cheney
Noem
Youngkin
Abbott
Christie
Cotton
R. Scott
Hawley
Hogan
Sasse
Taylor Greene
Average
22.8%
16.9%
14.7%
9%
5.6%
4.3%
4%
2.4%
2.4%
2.1%
2%
1.7%
1.7%
1.2%
1%
1%
1%
0.7%
0.7%
0.7%
0.3%
0%
0%
Echelon Insights
11/18/21
456 RV
26%
15%
9%
10%
6%
-
3%
1%
1%
1%
-
-
1%
0%
1%
1%
1%
0%
1%
1%
0%
0%
-
McLaughlin & Associates
11/16/21
450 LV
25%
13%
20%
7%
4%
3%
5%
2%
2%
2%
-
1%
2%
1%
-
1%
-
0%
0%
-
-
-
-
Harris Poll
10/28/21
RV
21%
23%
-
12%
9%
-
-
4%
3%
5%
-
-
-
-
-
-
-
-
-
-
-
-
-
Echelon Insights
10/19/21
476 RV
22%
8%
13%
8%
5%
-
3%
-
2%
2%
2%
-
2%
2%
-
1%
1%
1%
0%
0%
0%
0%
-
McLaughlin & Associates
10/18/21
463 LV
24%
14%
18%
5%
5%
5%
5%
2%
1%
2%
-
2%
2%
2%
-
2%
-
1%
2%
-
-
-
-
Echelon Insights
9/23/21
429 RV
22%
15%
9%
9%
6%
-
4%
2%
2%
1%
2%
-
1%
1%
-
0%
1%
1%
0%
1%
1%
0%
0%
Harris Poll
9/16/21
490 RV
20%
32%
-
14%
6%
-
-
4%
6%
2%
-
-
-
-
-
-
-
-
-
-
-
-
-
McLaughlin & Associates
9/14/21
456 LV
22%
15%
19%
7%
4%
5%
4%
2%
2%
2%
-
2%
2%
1%
-
-
-
1%
1%
-
-
-
-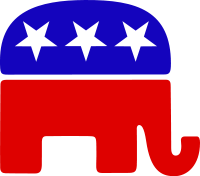 All 2024 GOP Primary Polls
Key: A = Adults, RV = Registered Voters, V = Voters, LV = Likely Voters, (T) = Trump included
Poll
Results
November 2021

11/18/21 456 RV


Echelon Insights
DeSantis 26, Pence 15, Cruz 10, Trump Jr. 9, Haley 6, Romney 3, Hawley 1, Christie 1, Cheney 1, R. Scott 1, Abbott 1, Youngkin 1, T. Scott 1, Pompeo 1, Rubio 1, Sasse 0, Noem 0, Hogan 0, Cotton 0

11/16/21 450 LV (T)


McLaughlin & Associates
Trump 55, DeSantis 15, Pence 7, Haley 3, Cruz 2, Romney 2, Cheney 2, Owens 1, Rubio 1, T. Scott 1, Kasich 1, Pompeo 1, Noem 1, Abbott 1, Cotton 0, R. Scott 0

11/16/21 450 LV


McLaughlin & Associates
DeSantis 25, Trump Jr. 20, Pence 13, Cruz 7, Romney 5, Haley 4, Owens 3, Cheney 2, Rubio 2, Pompeo 2, T. Scott 2, Noem 1, Kasich 1, Abbott 1, Cotton 0, R. Scott 0

11/8/21 559 A (T)


YouGov
Trump 44, DeSantis 21, Haley 5, Pence 4, Carlson 3, Rubio 3, Youngkin 1
October 2021

10/28/21 RV (T)


Harris Poll
Trump 47, DeSantis 10, Pence 9, Haley 6, Cruz 4, T. Scott 3, Pompeo 1, Rubio 1

10/28/21 RV


Harris Poll
Pence 23, DeSantis 21, Cruz 12, Haley 9, T. Scott 5, Rubio 4, Pompeo 3

10/21/21 629 A (T)


YouGov
Trump 41, DeSantis 18, Pence 5, Haley 4, Rubio 2, T. Scott 2, Carlson 1, Hawley 1, Cotton 1, Noem 1

10/19/21 476 RV


Echelon Insights
DeSantis 22, Trump Jr. 13, Cruz 8, Pence 8, Haley 5, Romney 3, Carlson 2, Pompeo 2, Cheney 2, T. Scott 2, Noem 2, Abbott 1, Cotton 1, Christie 1, Hawley 0, Sasse 0, R. Scott 0, Hogan 0

10/19/21 476 RV (T)


Echelon Insights
Trump 62, DeSantis 22

10/18/21 463 LV (T)


McLaughlin & Associates
Trump 53, DeSantis 10, Pence 9, Haley 4, Romney 4, Owens 3, Cruz 3, Rubio 2, T. Scott 1, Kasich 1, Cheney 1, Pompeo 1, Cotton 1, R. Scott 1, Noem 1, Abbott 1

10/18/21 463 LV


McLaughlin & Associates
DeSantis 24, Trump Jr. 18, Pence 14, Cruz 5, Romney 5, Haley 5, Owens 5, Cheney 2, Rubio 2, Noem 2, T. Scott 2, Kasich 2, R. Scott 2, Abbott 2, Pompeo 1, Cotton 1

10/11/21 803 RV (T)


Morning Consult
Trump 47, Pence 12, DeSantis 12, Trump Jr. 6, Rubio 3, Haley 3, Cruz 3, Romney 3, Cheney 2, Cotton 1, T. Scott 1, Noem 1, R. Scott 1, Hawley 0, Hogan 0, Pompeo 0

10/10/21 371 LV (T)


Zogby Analytics
Trump 59, Pence 12, DeSantis 7, Haley 5, Pompeo 2, Abbott 1, Cruz 1, Rubio 1
September 2021

9/23/21 429 RV


Echelon Insights
DeSantis 22, Pence 15, Trump Jr. 9, Cruz 9, Haley 6, Romney 4, Rubio 2, Carlson 2, Pompeo 2, Noem 1, Christie 1, Cheney 1, Cotton 1, Hawley 1, T. Scott 1, Hogan 1, Abbott 0, Sasse 0, R. Scott 0, Taylor Greene 0

9/18/21 469 LV (T)


PEM Management Corporation
Trump 26, DeSantis 25, Christie 7, Haley 6, Cruz 4, Noem 3, Pence 2, T. Scott 2, Rubio 1, Hawley 1

9/16/21 490 RV


Harris Poll
Pence 32, DeSantis 20, Cruz 14, Haley 6, Pompeo 6, Rubio 4, T. Scott 2

9/16/21 490 RV (T)


Harris Poll
Trump 58, Pence 13, DeSantis 9, Cruz 4, Haley 3, Rubio 3, Pompeo 2, T. Scott 1

9/14/21 456 LV (T)


McLaughlin & Associates
Trump 59, Pence 10, DeSantis 8, Cruz 3, Romney 3, Haley 2, Rubio 2, Kasich 2, Cheney 2, Owens 1, T. Scott 1, Pompeo 1, Cotton 1, R. Scott 1, Noem 0

9/14/21 456 LV


McLaughlin & Associates
DeSantis 22, Trump Jr. 19, Pence 15, Cruz 7, Owens 5, Haley 4, Romney 4, Rubio 2, T. Scott 2, Kasich 2, Cheney 2, Pompeo 2, Cotton 1, R. Scott 1, Noem 1

9/1/21 395 RV (T)


Emerson College
Trump 66, DeSantis 9, Haley 6, Pence 5, Romney 2, Cruz 2, Hawley 1, Cotton 0

9/1/21 395 RV


Emerson College
DeSantis 31, Pence 24, Cruz 13, Haley 9, Hawley 5, Romney 5, Cotton 1
August 2021

8/18/21 420 RV


Echelon Insights
DeSantis 25, Pence 23, Cruz 9, Trump Jr. 5, Haley 5, Romney 4, Rubio 3, Hawley 1, Christie 1, Noem 1, Abbott 1, Cotton 1, T. Scott 1, Sasse 0, Hogan 0, Pompeo 0, R. Scott 0, Cheney 0, Carlson 0, Taylor Greene 0, Lindell 0

8/3/21 467 LV (T)


McLaughlin & Associates
Trump 54, DeSantis 11, Pence 8, Haley 4, Cruz 3, Romney 3, Rubio 3, Owens 2, Kasich 2, Noem 2, Cheney 1, Pompeo 1, T. Scott 0, Cotton 0, R. Scott 0

8/3/21 467 LV


McLaughlin & Associates
DeSantis 23, Trump Jr. 12, Pence 11, Cruz 9, Owens 6, I. Trump 5, Romney 4, Haley 4, Rubio 4, Noem 2, Pompeo 2, Cheney 1, T. Scott 1, Cotton 1, Kasich 1, R. Scott 0

8/2/21 518 A (T)


YouGov
Trump 58, DeSantis 13, Haley 4, Pence 3, Carlson 2, Rubio 1, Noem 1, T. Scott 1, Hawley 0, Cotton 0
July 2021

7/23/21 421 RV


Echelon Insights
DeSantis 32, Pence 17, Trump Jr. 10, Cruz 9, Haley 4, Romney 3, Rubio 2, Abbott 1, Cheney 1, Noem 1, Cotton 1, Hawley 1, T. Scott 1, Pompeo 1, Carlson 1, Sasse 0, R. Scott 0, Christie 0, Hogan 0

7/8/21 491 LV (T)


PEM Management Corporation
Trump 45, DeSantis 13, Pence 6, Cruz 4, Haley 4, Rubio 2, Noem 1, T. Scott 0, Hawley 0

7/8/21 800 RV (T)


Fabrizio, Lee & Associates
Trump 47, DeSantis 19, Pence 8, Haley 3, Romney 3, Cruz 2, T. Scott 1, Rubio 1, Cotton 1, Noem 1, Hogan 1, R. Scott 0, Pompeo 0, Hawley 0, Christie 0

7/8/21 800 RV (T)


Fabrizio, Lee & Associates
Trump 58, DeSantis 31

7/8/21 800 RV


Fabrizio, Lee & Associates
DeSantis 39, Pence 15, Cruz 7, Haley 4, Romney 3, T. Scott 2, Noem 2, Pompeo 1, Cotton 1, Hogan 1, R. Scott 1, Hawley 0, Christie 0
June 2021

6/22/21 386 RV


Echelon Insights
DeSantis 21, Pence 14, Trump Jr. 7, Haley 6, Cruz 6, Romney 4, Rubio 3, T. Scott 2, Cheney 1, Christie 1, Abbott 1, R. Scott 1, Noem 1, Carlson 1, Pompeo 0, Hogan 0, Cotton 0, Sasse 0, Hawley 0

6/20/21 444 LV (T)


McLaughlin & Associates
Trump 55, DeSantis 9, Pence 8, Owens 4, Cruz 4, Haley 3, Romney 3, Rubio 1, T. Scott 1, Kasich 1, Cheney 1, Pompeo 1, Cotton 1, R. Scott 1, Noem 0

6/20/21 444 LV


McLaughlin & Associates
DeSantis 24, Pence 19, Trump Jr. 15, Cruz 6, Romney 5, Haley 4, I. Trump 4, Owens 3, Cheney 2, Rubio 2, Noem 1, Pompeo 1, T. Scott 1, Cotton 1, Kasich 1, R. Scott 1
May 2021

5/18/21 444 LV


McLaughlin & Associates
Pence 19, DeSantis 18, Trump Jr. 13, Cruz 12, Haley 5, Owens 5, Romney 3, I. Trump 3, T. Scott 2, Pompeo 2, Kasich 2, Noem 1, Cotton 1, Rubio 1, Carlson 1, Cheney 1, R. Scott 0

5/18/21 444 LV (T)


McLaughlin & Associates
Trump 57, Pence 10, DeSantis 8, Haley 5, Cruz 3, Owens 3, Romney 2, Kasich 1, Carlson 1, Noem 1, T. Scott 1, Pompeo 1, R. Scott 1, Cheney 1, Cotton 0, Rubio 0

5/17/21 479 RV


Echelon Insights
DeSantis 22, Pence 14, Cruz 9, Trump Jr. 6, Haley 5, Romney 4, Cheney 3, T. Scott 3, Carlson 2, Hawley 1, Noem 1, Abbott 1, Cotton 1, Sasse 1, Pompeo 1, Rubio 1, Hogan 0, Portnoy 0, R. Scott 0, Christie 0

5/17/21 782 RV (T)


Morning Consult
Trump 48, Pence 13, DeSantis 8, Trump Jr. 7, Romney 4, Haley 4, Cruz 4, T. Scott 2, Rubio 1, Noem 1, Pompeo 1, Cheney 1, Hawley 0, Hogan 0, R. Scott 0

5/6/21 LV


Trafalgar Group
DeSantis 34, Cruz 15, Romney 10, Pence 10, Haley 6, Noem 2, Hawley 1, Sasse 1
April 2021

4/23/21 440 RV


Echelon Insights
DeSantis 20, Pence 16, Trump Jr. 9, Cruz 8, Haley 6, Romney 4, Rubio 2, Carlson 2, Hawley 1, Pompeo 1, Noem 1, Portnoy 0, Abbott 0, Hogan 0, Sasse 0, T. Scott 0, Cotton 0, R. Scott 0

4/13/21 441 LV


McLaughlin & Associates
Pence 19, Trump Jr. 15, DeSantis 14, Cruz 10, Owens 4, Romney 3, Haley 3, I. Trump 3, Rubio 3, Carlson 3, Kasich 2, Cotton 2, Pompeo 2, Noem 1, T. Scott 1, R. Scott 1

4/13/21 441 LV (T)


McLaughlin & Associates
Trump 55, Pence 10, DeSantis 7, Cruz 3, Romney 3, Kasich 3, Owens 2, Haley 2, Cotton 1, Rubio 1, Carlson 1, T. Scott 1, Pompeo 1, R. Scott 1, Noem 0

4/7/21 494 LV (T)


PEM Management Corporation
Trump 43, DeSantis 9, Haley 9, Cruz 6, Pence 6, Rubio 2, Noem 1
March 2021

3/21/21 1008 RV


Echelon Insights
DeSantis 17, Pence 16, Cruz 5, Haley 4, Carlson 4, Pompeo 4, Trump Jr. 3, Romney 3, Rubio 2, Abbott 2

3/2/21 1264 RV


Fabrizio, Lee & Associates
Pence 19, DeSantis 17, Cruz 13, Haley 8, Romney 5, Rubio 4, Noem 4, Pompeo 4, Hawley 2, Cotton 1, Hogan 1, Christie 1, T. Scott 1, R. Scott 1

3/2/21 1264 RV (T)


Fabrizio, Lee & Associates
Trump 51, Pence 9, DeSantis 7, Haley 6, Romney 5, Cruz 3, Rubio 2, Noem 1, Cotton 1, Hogan 1, Hawley 1, Pompeo 1, Christie 0, T. Scott 0, R. Scott 0
February 2021

2/28/21 448 LV (T)


McLaughlin & Associates
Trump 55, Pence 8, Cruz 5, DeSantis 4, Owens 3, Haley 3, Romney 3, Kasich 2, Cotton 2, Rubio 1, Carlson 1, Noem 1, T. Scott 1, Pompeo 1, R. Scott 0

2/28/21 448 LV


McLaughlin & Associates
Trump Jr. 21, Pence 15, Cruz 9, DeSantis 9, Romney 6, Haley 5, Owens 4, I. Trump 3, Kasich 2, Cotton 2, Rubio 2, Noem 2, T. Scott 2, Pompeo 2, Carlson 1, R. Scott 1

2/27/21 363 RV


RMG Research
DeSantis 21, Cruz 18, Haley 10, Pompeo 9, Carlson 8, Noem 4, Cotton 4, Hawley 2, Abbott 2, Nunes 2

2/25/21 1074 RV


Harris Poll
Pence 36, Cruz 13, Haley 11, T. Scott 7, Hawley 6, Cotton 4

2/25/21 1074 RV (T)


Harris Poll
Trump 42, Pence 18, Haley 8, Cruz 5, T. Scott 3, Cotton 3, Hawley 2

2/18/21 430 RV


Echelon Insights
Pence 21, Cruz 10, DeSantis 8, Trump Jr. 8, Haley 6, Romney 4, Noem 2, Sasse 2, Pompeo 1, Paul 1, Hogan 1, Kasich 1, Cotton 1, Crenshaw 1, T. Scott 0, Stefanik 0, Carlson 0, Rubio 0, Abbott 0, Hawley 0, Portnoy 0

2/15/21 645 RV (T)


Morning Consult
Trump 53, Pence 12, Haley 6, Trump Jr. 6, Romney 4, Cruz 4, Rubio 2, Pompeo 2, Hawley 1, Cotton 1, Noem 1, Hogan 1, R. Scott 0
January 2021

1/26/21 RV


Echelon Insights
Pence 21, Trump Jr. 10, Haley 9, Cruz 8, Paul 3, Romney 3, Rubio 2, Kasich 2, DeSantis 2, Carlson 2, Cotton 1, T. Scott 1, Pompeo 1, Crenshaw 1, Hogan 0, Hawley 0, Abbott 0, Stefanik 0, Sasse 0

1/17/21 1003 A


Léger
Pence 22, Romney 20, Trump Jr. 11, Cruz 9, Haley 8, Hogan 7, Rubio 4, I. Trump 3, Pompeo 3, DeSantis 3, T. Scott 3, Sasse 3, Hawley 2, R. Scott 2

1/17/21 1003 A (T)


Léger
Trump 29, Romney 19, Pence 13, Haley 7, Cruz 6, Hogan 6, Rubio 3, T. Scott 3, Sasse 3, Trump Jr. 2, Pompeo 2, R. Scott 2, DeSantis 2, Hawley 1, I. Trump 1
Key: A = Adults, RV = Registered Voters, V = Voters, LV = Likely Voters, (T) = Trump included
Related: 2024 Democratic Primary Polls