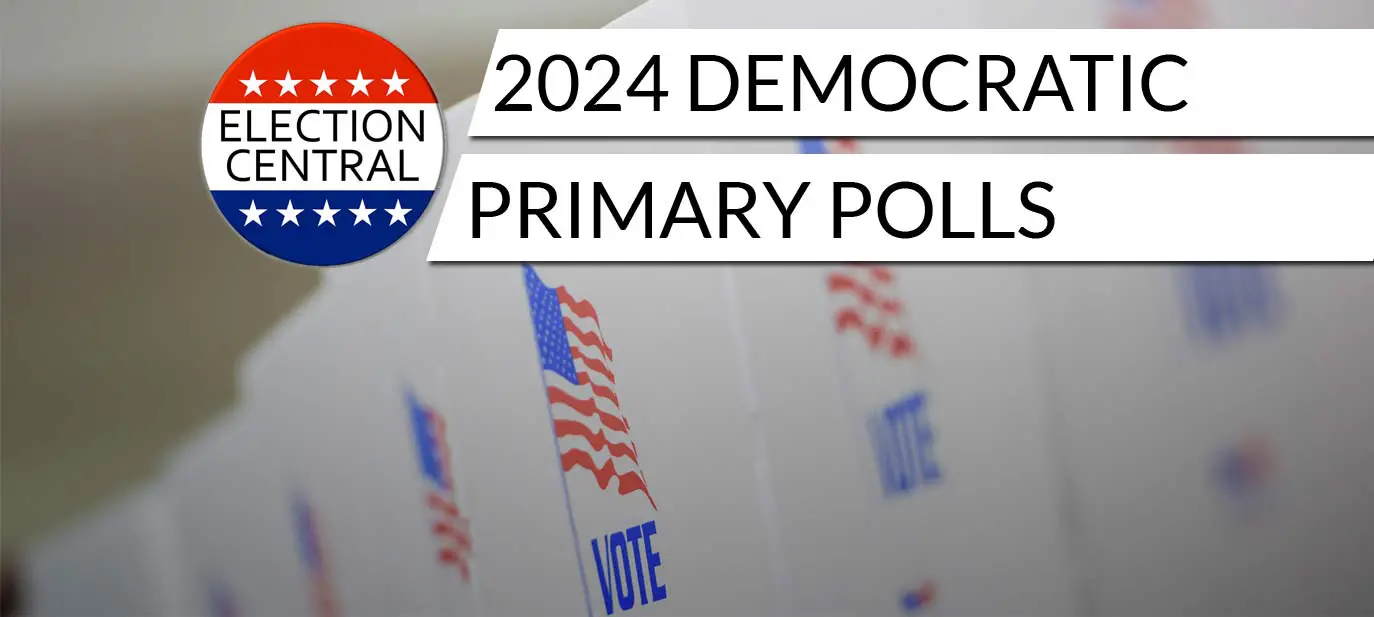 The latest 2024 Democratic Primary polls for the 2024 Democratic Presidential Nomination. These numbers are updated when new polls become available. The candidate average number is based on national polls released within the previous two months.
Related: 2024 Republican Primary Polls
Some pollsters have decided to include President Joe Biden in their polls, and some have left his name off the list to get a better sense of what the primary would look like if he chooses not to run in 2024.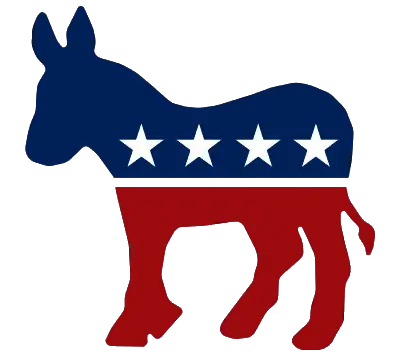 2024 Dem Primary Polls
Poll
Biden
M. Obama
Harris
Sanders
Clinton
Warren
Buttigieg
Ocasio-Cortez
Abrams
Booker
Klobuchar
Kennedy
O'Rourke
Newsom
Pritzker
Lujan Grisham
Inslee
Manchin
Whitmer
Cuomo
Gabbard
Bennet
Raimondo
Cooper
Adams
Gillibrand
Hickenlooper
Beshear
Sinema
Steyer
Kaine
Patrick
Average
30.3%
19.5%
18.7%
12.1%
10%
7.5%
6.8%
6.2%
5.3%
4.3%
3.4%
3%
2.5%
2.2%
2%
2%
2%
2%
1.8%
1.5%
1%
1%
1%
1%
0.7%
0.5%
0.5%
0%
0%
0%
0%
0%
Harris Poll
1/20/22
672 RV
32%
-
14%
11%
11%
4%
4%
4%
5%
-
1%
-
-
-
-
-
-
1%
-
-
-
-
-
-
-
-
-
-
-
-
-
-
Harris Poll
1/20/22
672 RV
-
-
23%
12%
17%
7%
7%
6%
6%
-
2%
-
-
-
-
-
-
3%
-
-
-
-
-
-
-
-
-
-
-
-
-
-
McLaughlin & Associates
1/18/22
463 LV
25%
17%
8%
-
7%
-
4%
7%
6%
2%
2%
-
3%
3%
-
-
-
2%
-
1%
-
-
-
-
0%
1%
0%
-
-
0%
0%
0%
McLaughlin & Associates
1/18/22
463 LV
-
22%
16%
-
9%
-
6%
9%
6%
4%
3%
-
2%
2%
-
-
-
2%
-
2%
-
-
-
-
1%
0%
1%
-
-
0%
0%
0%
YouGov
12/20/21
491 A
40%
-
10%
18%
6%
10%
9%
7%
-
-
-
-
-
-
-
-
-
-
-
-
-
-
-
-
-
-
-
-
-
-
-
-
Morning Consult
12/13/21
916 RV
-
-
31%
-
-
8%
11%
8%
-
5%
3%
-
-
3%
-
-
-
-
-
-
-
-
1%
1%
1%
-
-
-
-
-
-
-
Echelon Insights
12/13/21
479 RV
-
-
33%
14%
-
8%
7%
5%
5%
6%
3%
-
-
1%
-
-
-
2%
2%
-
1%
-
-
-
-
-
-
0%
0%
-
-
-
YouGov
12/13/21
640 A
20%
-
13%
11%
-
11%
10%
7%
-
-
-
-
-
-
-
-
-
-
-
-
-
-
-
-
-
-
-
-
-
-
-
-
YouGov
12/13/21
530 RV
22%
-
13%
11%
-
13%
10%
5%
-
-
-
-
-
-
-
-
-
-
-
-
-
-
-
-
-
-
-
-
-
-
-
-
TIPP
12/4/21
RV
37%
-
16%
-
-
3%
3%
4%
4%
3%
2%
3%
-
2%
2%
2%
2%
-
2%
-
-
1%
-
-
-
-
-
-
-
-
-
-
Harris Poll
12/2/21
RV
36%
-
16%
5%
-
4%
3%
5%
5%
5%
10%
-
-
-
-
-
-
-
1%
-
-
-
-
-
-
-
-
-
-
-
-
-
Harris Poll
12/2/21
RV
-
-
31%
15%
-
7%
8%
7%
5%
5%
5%
-
-
-
-
-
-
-
2%
-
-
-
-
-
-
-
-
-
-
-
-
-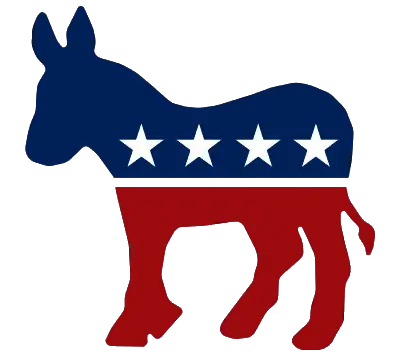 All 2024 Dem Primary Polls
Key: A = Adults, RV = Registered Voters, V = Voters, LV = Likely Voters
Poll
Results
January 2022

1/20/22 672 RV


Harris Poll
Biden 32, Harris 14, Sanders 11, Clinton 11, Abrams 5, Buttigieg 4, Warren 4, Ocasio-Cortez 4, Manchin 1, Klobuchar 1

1/20/22 672 RV


Harris Poll
Harris 23, Clinton 17, Sanders 12, Buttigieg 7, Warren 7, Abrams 6, Ocasio-Cortez 6, Manchin 3, Klobuchar 2

1/18/22 463 LV


McLaughlin & Associates
Biden 25, M. Obama 17, Harris 8, Clinton 7, Ocasio-Cortez 7, Abrams 6, Buttigieg 4, O'Rourke 3, Newsom 3, Booker 2, Klobuchar 2, Manchin 2, Gillibrand 1, Cuomo 1, Hickenlooper 0, Patrick 0, Kaine 0, Steyer 0, Adams 0

1/18/22 463 LV


McLaughlin & Associates
M. Obama 22, Harris 16, Clinton 9, Ocasio-Cortez 9, Abrams 6, Buttigieg 6, Booker 4, Klobuchar 3, Cuomo 2, Newsom 2, Manchin 2, O'Rourke 2, Hickenlooper 1, Adams 1, Gillibrand 0, Patrick 0, Kaine 0, Steyer 0
December 2021

12/20/21 491 A


YouGov
Biden 40, Sanders 18, Harris 10, Warren 10, Buttigieg 9, Ocasio-Cortez 7, Clinton 6

12/13/21 916 RV


Morning Consult
Harris 31, Buttigieg 11, Warren 8, Ocasio-Cortez 8, Booker 5, Newsom 3, Klobuchar 3, Cooper 1, Adams 1, Raimondo 1

12/13/21 479 RV


Echelon Insights
Harris 33, Sanders 14, Warren 8, Buttigieg 7, Booker 6, Ocasio-Cortez 5, Abrams 5, Klobuchar 3, Whitmer 2, Manchin 2, Newsom 1, Gabbard 1, Beshear 0, Sinema 0

12/13/21 640 A


YouGov
Biden 20, Harris 13, Warren 11, Sanders 11, Buttigieg 10, Ocasio-Cortez 7

12/13/21 530 RV


YouGov
Biden 22, Warren 13, Harris 13, Sanders 11, Buttigieg 10, Ocasio-Cortez 5

12/4/21 RV


TIPP
Biden 37, Harris 16, Ocasio-Cortez 4, Abrams 4, Buttigieg 3, Warren 3, Kennedy 3, Booker 3, Klobuchar 2, Newsom 2, Whitmer 2, Inslee 2, Lujan Grisham 2, Pritzker 2, Bennet 1

12/2/21 RV


Harris Poll
Biden 36, Harris 16, Klobuchar 10, Sanders 5, Ocasio-Cortez 5, Booker 5, Abrams 5, Warren 4, Buttigieg 3, Whitmer 1

12/2/21 RV


Harris Poll
Harris 31, Sanders 15, Buttigieg 8, Ocasio-Cortez 7, Warren 7, Booker 5, Abrams 5, Klobuchar 5, Whitmer 2
November 2021

11/19/21 939 RV


HarrisX
Harris 26, M. Obama 15, Sanders 7, Ocasio-Cortez 5, Buttigieg 5, Newsom 4, Abrams 4, Klobuchar 3, Booker 3, Warren 2, O'Rourke 2, Bloomberg 2, Brown 1, Yang 1, Whitmer 1, Porter 1

11/18/21 458 RV


Echelon Insights
Harris 29, Sanders 16, Buttigieg 8, Abrams 6, Booker 6, Warren 6, Ocasio-Cortez 5, Klobuchar 2, Newsom 2, Manchin 1, Beshear 0, Whitmer 0, Sinema 0, Gabbard 0

11/16/21 450 LV


McLaughlin & Associates
Biden 24, M. Obama 16, Harris 13, Buttigieg 8, Ocasio-Cortez 5, Abrams 4, Klobuchar 3, Manchin 2, O'Rourke 2, Booker 2, Newsom 2, Gillibrand 1, Cuomo 1, Hickenlooper 1, Kaine 1, Patrick 0, Steyer 0

11/16/21 450 LV


McLaughlin & Associates
M. Obama 23, Harris 22, Buttigieg 8, Abrams 5, Ocasio-Cortez 5, Klobuchar 5, Newsom 3, Booker 3, O'Rourke 3, Cuomo 2, Steyer 2, Manchin 2, Hickenlooper 1, Patrick 1, Kaine 1, Gillibrand 0, Omar 0

11/8/21 684 A


YouGov
Biden 25, Harris 14, Sanders 12, Warren 8, Ocasio-Cortez 8, Buttigieg 7
October 2021

10/21/21 671 A


YouGov
Harris 22, Sanders 12, Buttigieg 9, Warren 8, Ocasio-Cortez 7, Abrams 7, Brown 4

10/19/21 533 RV


Echelon Insights
Harris 23, Sanders 16, Buttigieg 9, Warren 6, Ocasio-Cortez 5, Abrams 5, Klobuchar 4, Booker 4, Newsom 3, Manchin 1, Gabbard 1, Beshear 0, Whitmer 0, Sinema 0

10/18/21 473 LV


McLaughlin & Associates
Harris 29, M. Obama 18, Buttigieg 9, Ocasio-Cortez 7, Abrams 5, Klobuchar 3, O'Rourke 3, Booker 3, Cuomo 2, Newsom 2, Manchin 2, Hickenlooper 1, Gillibrand 1, Patrick 1, Kaine 1, Steyer 1, Omar 0

10/10/21 426 LV


Zogby Analytics
Biden 40, M. Obama 20, Harris 9, Abrams 6, Newsom 4, Booker 3
September 2021

9/14/21 476 LV


McLaughlin & Associates
Harris 29, M. Obama 17, Ocasio-Cortez 7, Buttigieg 7, Abrams 5, Booker 4, Klobuchar 3, O'Rourke 3, Cuomo 2, Newsom 2, Gillibrand 1, Patrick 1, Steyer 1, Hickenlooper 0, Kaine 0, Omar 0
August 2021

8/18/21 514 RV


Echelon Insights
Harris 33, Buttigieg 11, Ocasio-Cortez 8, Abrams 6, Booker 6, Warren 5, Klobuchar 2, Yang 2, Newsom 2, O'Rourke 2, Beshear 1, Whitmer 1, Gabbard 1, Gillibrand 1, Sinema 0

8/3/21 467 LV


McLaughlin & Associates
Harris 28, M. Obama 16, Buttigieg 8, Ocasio-Cortez 7, Booker 5, Abrams 4, Yang 4, Cuomo 4, Patrick 3, Klobuchar 2, O'Rourke 2, Hickenlooper 2, Newsom 2, Gillibrand 1, Kaine 1, Omar 0

8/2/21 697 A


YouGov
Harris 44, Sanders 10, Buttigieg 6, Warren 6, Ocasio-Cortez 4, Abrams 4, Brown 2
June 2021

6/20/21 463 LV


McLaughlin & Associates
Harris 31, M. Obama 19, Abrams 5, Ocasio-Cortez 5, Buttigieg 4, Yang 3, Klobuchar 3, O'Rourke 3, Booker 3, Hickenlooper 2, Gillibrand 2, Cuomo 2, Patrick 1, Newsom 1, Kaine 1, Omar 1
May 2021

5/18/21 459 LV


McLaughlin & Associates
Harris 35, M. Obama 16, Ocasio-Cortez 7, Buttigieg 6, Booker 4, Abrams 4, Klobuchar 3, Patrick 2, Kaine 2, Yang 2, O'Rourke 2, Newsom 2, Cuomo 1, Hickenlooper 1, Gillibrand 1, Omar 1

5/6/21 LV


Trafalgar Group
Harris 41, Buttigieg 9, Ocasio-Cortez 8, Klobuchar 5, O'Rourke 4, Yang 2, Castro 1, Edwards 1
April 2021

4/13/21 458 LV


McLaughlin & Associates
Harris 34, M. Obama 20, Buttigieg 5, Booker 4, Klobuchar 4, Yang 4, Ocasio-Cortez 3, Cuomo 2, Hickenlooper 2, Gillibrand 2, O'Rourke 2, Newsom 2, Patrick 1, Kaine 1, Omar 1
February 2021

2/28/21 443 LV


McLaughlin & Associates
Harris 28, M. Obama 23, Ocasio-Cortez 8, Buttigieg 7, Booker 4, Yang 4, Klobuchar 3, Hickenlooper 2, O'Rourke 2, Cuomo 1, Patrick 1, Gillibrand 1, Kaine 1, Omar 1, Newsom 0
Key: A = Adults, RV = Registered Voters, V = Voters, LV = Likely Voters