A rash of polling data this week puts President Joe Biden in a tough spot heading into the presidential race next year.
To that point, so what? Polls have been incredibly unreliable in recent election cycles. Or have they? Certainly, in 2022, Republicans underperformed the polling data and Democrats scooped up victories in basically every tight race. This week, in the 2023 off-year elections, polls were right about the gubernatorial races in Kentucky and Mississippi. With the surplus of data floating around it's hard to judge which polls are meaningful and which have a story to tell.
What makes the 2024 battleground polling any different? Maybe it's the fact that Joe Biden is a known quantity now compared to 2020 when he was still thought of as friendly Uncle Joe from Scranton, a blue-collar guy with an awe-shucks attitude toward life. Those days are over.
First, the New York Times/Siena College polling data was released earlier this week, before Election Day. Here's the summation from NBC News:
Yet battleground-state polls released from the New York Times and Siena College on Sunday raise a different possibility.

What if 2024 is more a referendum on President Joe Biden?

In the polls, Trump leads Biden in Arizona (49% to 44%), Georgia (49% to 43%), Michigan (48% to 43%), Nevada (52% to 41%) and Pennsylvania (48% to 44%), while Biden is narrowly ahead in Wisconsin (47% to 45%).
If Trump were to hold those states in 2024, Arizona, Georgia, Michigan, Nevada, and Pennsylvania, it'd be an easy election night win and a second Trump term.
However, the margins are somewhat unbelievable. Would Trump win Michigan by 5 points over Biden? Maybe? A lot of Democrats and independents don't like Biden right now but if they were forced to choose, it'd be safe to add a few more points to the Democratic side. What it does demonstrate is the angst many Democrats feel about having Biden at the top of the ticket again. The Times polling also found that just about anyone but Joe Biden would fare better against Trump or any other generic Republican.
Emerson College also released a batch of polls this week covering the same swing states. The data is similar but does find some different outcomes compared to the NYT/Siena numbers: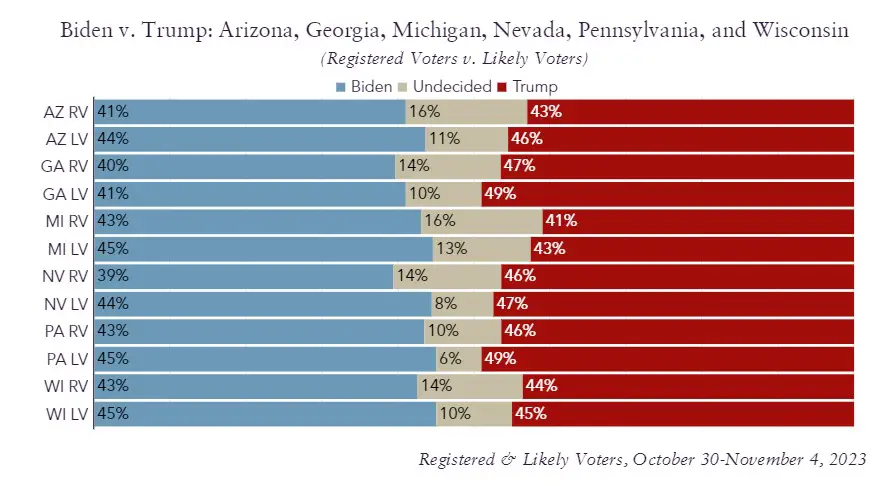 Noticeably different between Emerson and the NYT data is that the former has Michigan and Wisconsin reversed. Emerson has Biden winning Michigan while narrowly giving Wisconsin to Trump.
So, what does this all mean? Well, given the large swath of undecided voters, maybe there's another chunk of polling data worth looking at, per Politico:
Running with a promise to "spoil" the 2024 presidential contest, Robert F. Kennedy Jr. just received a sign that he might be making good on that pitch: A recent poll shows him with 22 percent support in a hypothetical three-way race against President Joe Biden and former President Donald Trump.

Biden, by contrast, would take 39 percent of the vote, and Trump would come away with 36 percent, according to the Quinnipiac University's survey. In another positive sign for Kennedy, he came away with the backing of a plurality of independents: 36 percent chose him, compared with 31 percent for Trump and 30 percent for Biden.
RFK Jr is the spoiler, and he loves it. With enough undecideds across the board in state after state, a rematch between Trump and Biden is ripe for the tinkering from a third-party candidate.
To that end, RFK Jr isn't the only spoiler popping up. Jill Stein, of 2016 fame, who took the blame from Hillary Clinton for putting Trump in the White House, is back in 2024, per Axios:
Jill Stein announced Thursday that she is running for president in 2024 as a Green Party candidate.

Between the lines: Democrats have accused Stein, who also launched a presidential bid in 2016, of costing the party key battleground states and contributing to Hillary Clinton's loss against former President Trump.

She has rejected the "spoiler" label.
Stein took a lot of ire from Democrats for apparently "spoiling" Hillary's chances in places like Wisconsin. In reality, Hillary did herself in by assuming she was strong enough to win without ever visiting the state.
The 2024 election could be anything but what the above polls suggest if RFK Jr. and Stein end up on the ballot in various swing states. With a lot of undecideds, Biden could lose votes to Stein while Kennedy might take a mix from both. It would create a jump ball election where polls are practically meaningless.
The bottom line is that Joe Biden's numbers have tanked across the board. He's behind Trump in practically every swing state and would be on his way to defeat if things stand as they are today.
Stein and RFK Jr. will only help add to the uncertainty of a Trump-Biden rematch.