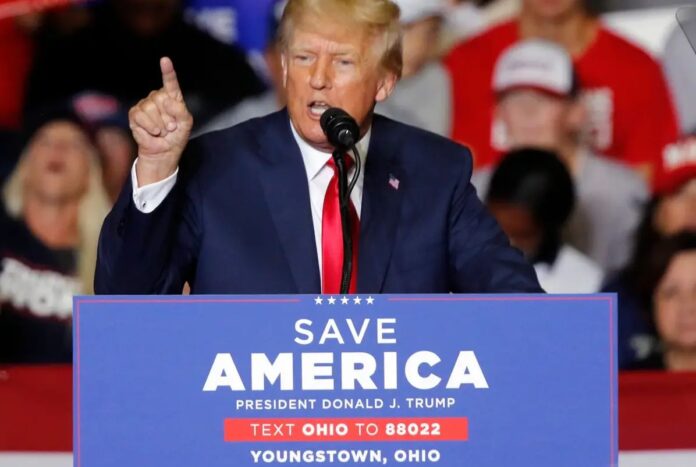 Former President Donald Trump hit the midterm campaign trail over the weekend, this time appearing alongside Republican Senate Candidate J.D. Vance in Ohio.
Vance was endorsed by Trump during the GOP primary, a move that arguably put him over the top and in the position to fight Democrat Tim Ryan for this open Senate seat.
Below you will find all the information about Trump's rally in Ohio including the start time, location, and the full video.
Save America Rally in Youngstown, Ohio
When: Saturday, September 17, 2022
Time: Trump speaks at 7 pm ET
Where: Covelli Centre in Youngstown, OH
Full Video: Watch below
Full Video – Trump Rally – Youngstown, OH
The full video below is provided by RSBN via Rumble. If you encounter issues, please use one of the alternate video links below the video.
Alternate Video Links: C-SPAN
Schedule (Eastern Time):
8 am ET – Parking and Line Opens
2 pm ET – Doors Open, Entertainment Begins
4 pm ET – Rally Begins, Guest Speakers
7 pm ET – Trump speaks
Guest Speakers
JD Vance, Candidate for U.S. Senate for Ohio
Jim Jordan, Representative from Ohio's 4th Congressional District
Bill Johnson, nominee for Ohio's 6th Congressional District
Max Miller, nominee for Ohio's 7th Congressional District
Madison Gesiotto, nominee for Ohio's 13th Congressional District
J.R. Majewski, nominee for Ohio's 9th Congressional District
And more!
The event couldn't come at a better time for Vance as recent polls show him starting to break away ever so slightly. Ohio is a strong Republican state, Trump won there twice without any real challenge.
On paper, Vance should be a shoo-in for this Senate seat but with Democrats offering a "moderate" opponent in Congressman Tim Ryan, the final stretch will be tight:
Republican J.D. Vance holds a 4-point lead over Rep. Tim Ryan (D) in Ohio's Senate race just over 50 days out from Election Day, according to a new survey from Emerson College Polling and The Hill released Friday.

Vance leads Ryan 44 percent to 40 percent, which is within the poll's margin of error of plus or minus 3 percentage points.

Thirteen percent of voters said they were undecided, while 3 percent said they planned to vote for someone else.

The latest poll shows Vance's lead growing since an Emerson College survey from August in which he led Ryan by 3 points.

Republicans were always expected to have a slight advantage in the red-leaning state, with the nonpartisan Cook Political Report rating the contest as "lean Republican." However, Ryan and his Democratic allies still say they have a chance at flipping the seat being vacated by retiring Sen. Rob Portman (R). The RealClearPolitics polling average of the race shows Vance leading by 2.3 points.
The open Ohio seat is a must-win for Republicans if they hope to retake the Senate in November. If it is assumed Vance can win there, and it looks like he can, then the onus will be on other races like Georgia, Colorado, Nevada, and Pennsylvania for Republicans to find a win as well.
The event kicks off at 4 pm ET Saturday afternoon with former President Donald Trump set to take the stage around 7 pm ET.
Follow the Trump rally schedule for additional information and to stay up to date on all the upcoming events.