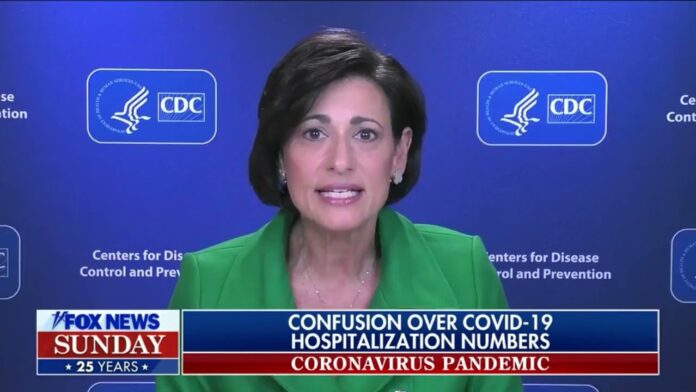 If you're paying attention, you'll notice that Covid-19 hospitalizations appear to be skyrocketing to new heights around the country. Hospital after hospital is suddenly once again filled with Covid patients, or so it seems. As it turns out, the numbers are not only lying, they're being distorted in such a way that further lessens public trust in agencies like the Centers for Disease Control (CDC) to accurately and objectively provide information.
The issue has to do with what types of hospital admissions actually get counted as Covid-19 patients. Obviously, patients suffering from severe illness due to Covid are included in this count. However, so are patients who visit the hospital for a scheduled procedure or another acute emergency, yet then test positive for Covid-19 while they're there. They could be asymptomatic, having no Covid issues, but suddenly they become a "Covid hospitalization" and greatly inflate and exaggerate the numbers.
The CDC has admitted this is the case and yet it has no way to correctly separate these statistics leading to a situation that appears worse than it actually is, as CNN's Jake Tapper somehow stumbled upon:
CNN's Jake Tapper rips into "misleading" COVID hospitalization numbers.
"We're 2 years into this … if somebody's in the hospital with a broken leg and they also have asymptomatic COVID, that should not be counted as hospitalized with covid, clearly." pic.twitter.com/rZhcANyYaW

— Nicholas Fondacaro (@NickFondacaro) January 10, 2022
In a recent interview, CDC Director Rochelle Walensky admitted that hospitalization numbers are greatly exaggerated, and the actual number of attributed Covid-19 deaths since the start of the pandemic may be exaggerated as well, but she doesn't know by how much:
CNN anchor Jake Tapper has criticized as "misleading" the admission by the head of the Centers for Disease Control and Prevention that it counted COVID patients who had been admitted to hospital for something else.

Tapper was reacting to comments CDC director Rochelle Walensky made on Fox News on Sunday that "up to 40 percent" of patients had been admitted to hospitals with another medical emergency but had been later detected as having COVID.

When asked by Fox News anchor Bret Baier if there was a breakdown of how many of the 836,000 deaths in the U.S. were "from COVID" or "with COVID," Walensky gave a non-committal answer in which she said "our death registry…takes a few weeks to collect," and that "those data will be forthcoming."
The numbers are repeating around the country, with at least 40%, perhaps higher, of non-Covid hospital admissions in New York City being incorrectly included in the count:
New statistics show that more than 40 percent of the state's hospitalized coronavirus-infected patients were admitted for "non-COVID reasons" — with the ratio in New York City "about 50-50," Gov. Kathy Hochul said Friday.

Wednesday's statewide 42 percent figure was up from 39 percent Tuesday, Hochul said during a news conference in Manhattan.

Hochul noted that there were wide "variations in our different parts of the state" between people "in the hospital for COVID vs. non-COVID reasons."
The politicians and health bureaucrats seem to know the numbers are bogus and greatly inflated, but that doesn't stop their propensity to issue dire warnings and edicts based on faulty information.
If the CDC, and state agencies, can't properly count and provide deeper granularity in their Covid statistics then they need to scrap the current system entirely and come up with a new way to record and classify Covid hospitalizations.
It's not just New York, of course, it's all over the country with hospitals experiencing similar non-Covid hospital admissions counted as Covid hospitalizations:
Hospitals across the country are also seeing a greater proportion of these so-called incidental Covid cases amid the omicron surge.

In Austin, Texas, some local hospitals report that 30 percent to 40 percent of the patients admitted for other reasons are also Covid positive, Dr. Desmar Walkes, medical director/health authority for the city of Austin and Travis County, said a news call Thursday.

Dr. Ryan Maves, an infectious disease and critical care physician at the Wake Forest School of Medicine in North Carolina, said he is also seeing more of these cases than usual, although he added most are mild or asymptomatic.
It's a fairly safe assertion to say that the current CDC Covid-19 response is sorely broken. From messaging to public stats, the agency has gone down the wrong path. As CDC Director, Walensky has been a terrible messenger and continues to damage the credibility of a once-respected agency. The Biden administration has only made the situation worse despite endless promises to "shut down the virus" rather than the country.
The end result is that fewer people take the CDC seriously, especially as we soon finish two solid years of Covid-19 pandemic response that clearly hasn't worked to the extent it was promised.
It's time for the federal health bureaucracy to revisit what worked and what hasn't worked, and reorient itself to a world where Covid-19 will be here to stay in some form for the foreseeable future.