Is the billionaire boom really happening? If you've watched a television anywhere in the country for the past few weeks, you've probably seen at least one commercial for former New York City mayor Michael Bloomberg. The man's face seems to be on every channel in every major market touting his record as mayor and his views on a variety of issues, including an emphasis on healthcare.
Polling has been sparse over the month of December, but some numbers are starting to trickle in. One poll that dropped last Friday seems to have flown by pretty quietly, but it shows some major shifts for Bloomberg on the national stage:
The number of voters favoring the former mayor jumped from 5 percent to 11 percent, according to a Hill-HarrisX national poll released Friday. The total elevates Bloomberg into a third-place tie with Warren, one of his sharpest critics since he entered the race on November 24.

Former Vice President Joe Biden maintains his lead in the poll with 28 percent, a one percent drop since the last poll taken in mid-December. Senator Bernie Sanders took second place with 16 percent, a three point gain from the last poll.
The poll, conducted by Hill-HarrisX, with a margin of error at 3.1%, breaks down further to show Buttigieg sitting behind Bloomberg, and the rest stuck in low single digits: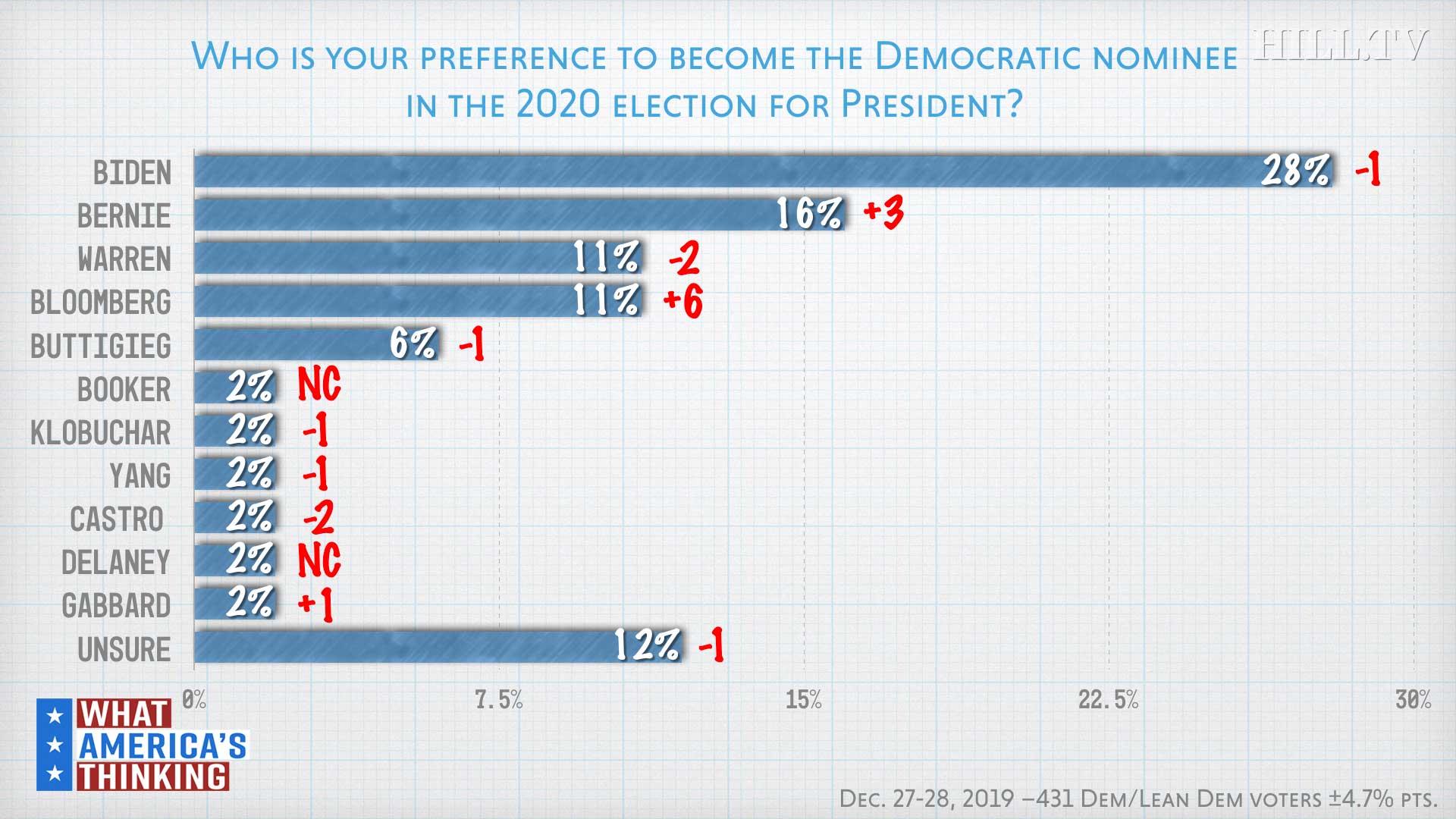 Bloomberg's playbook is quite simple. Blanket national media and major local markets in important Super Tuesday states with advertising and pray for some upset victories around the country. He has almost no presence in Iowa, New Hampshire, Nevada, or South Carolina, as he missed some ballot deadlines and he's not running a traditional campaign. He is staffing up all over the country, though, building one of the largest campaign organizations spread over at least 30 states.
Bloomberg's appeal is as a broad, national candidate, and he's running a primary campaign with that in mind and an eye toward Super Tuesday becoming much more meaningful than the four February states.
The amount of money being dropped by Bloomberg to "buy" his third-place spot in a national poll is staggering. As one strategist put it, the budget is limitless:
"We've never seen spending like this in a presidential race," said Jim McLaughlin, a Republican political strategist who worked as a consultant for Bloomberg's mayoral bids in New York. "He has a limitless budget."

Bloomberg is spending in all 50 states but is targeting the big, delegate-rich Super Tuesday states that can make or break his campaign. He's spent more than $13 million on advertising in California, which offers 416 delegates, the single biggest haul in the primary. He's also spent more than $13 million each in Texas, another Super Tuesday mainstay, and Florida, which votes one week after Super Tuesday and offers 219 delegates.

Bloomberg is also swamping smaller markets like Wilmington, N.C., where his ads have run up to 36 times each day, according to data from Advertising Analytics.

Bloomberg has also shelled out an additional $13 million in Florida, which votes one week after Super Tuesday and offers 219 delegates.
Back in December, Elizabeth Warren foresaw this very scenario, and spoke up at the time offering criticism of what Bloomberg is trying to do:
"I'm so concerned about Michael Bloomberg jumping into this race," Warren said on Bloomberg TV Wednesday night. "Dropping $37 million in one week on ad buys? I don't believe that elections ought to be for sale."

She added: "And I don't think as a Democratic Party that we should say that the only way you're going to get elected, the only way you're going to be our nominee, is either if you are a billionaire, or if you're sucking up to billionaires."
In the broader electorate, Warren's view is generally shared by a lot of voters in the Democratic primary. With the dearth of campaigning during the Christmas holiday and less attention paid to the primary in December, Bloomberg has managed to scoop up ad time in big markets and get his name in front of potential Democratic voters. However, bought advertising can only bring so much attention before it becomes meaningless and overplayed.
Creating a manicured image by purchasing it in the minds of voters takes more than TV ads. In day to day retail campaigning, Bloomberg is actually quite a weak candidate. What he lacks is the ability to connect with voters the way successful national politicians seem to be able to do. Looking at past presidents like George W. Bush and Barack Obama, there's little in comparison to the way Bloomberg is attempting to "buy" his connection with voters. In the "which candidate you'd like to have a beer with" category, Bloomberg doesn't compare to someone like Joe Biden or Donald Trump, for example.
Nonetheless, in this tumultuous primary which remains rather undecided and open, Bloomberg has at least carved out a niche and peeled some voters away nationally.
In Iowa and New Hampshire, his name isn't even in contention so he may become totally irrelevant to the same voters he's trying to win over by March. If his name is nowhere to be seen in any of the early state caucuses or primaries by the time Super Tuesday happens, he may be an expensive afterthought.