The third Democratic presidential primary debate, often referred to as the September Democratic debate, takes place tonight. Live, from Houston, Texas, the event starts at 8 pm ET and will air on your local ABC station, with live streaming embedded below. Here is everything you need to know about the Democratic debate tonight including start time, candidates, format, moderators, and what to expect as 10 candidates take the stage.
Full Video: Watch ABC News Democratic Debate
ABC News Democratic Primary Debate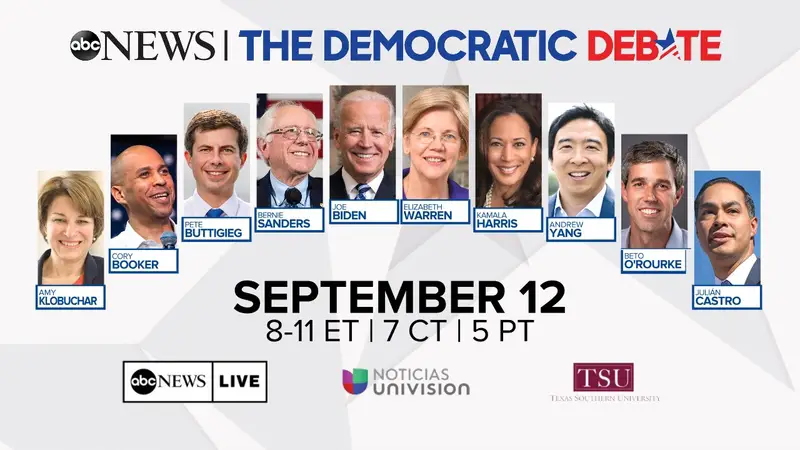 When: Thursday, September 12, 2019
Time: 8 pm ET (7 pm CT, 6 pm MT, 5 pm PT)
Airing On: ABC and Univision
Location: Texas Southern University in Houston, Texas
Moderators: George Stephanopoulos, David Muir, Linsey Davis, and Jorge Ramos
Full Video: Watch ABC News Democratic Debate
September Debate Candidates
Due to the candidate participation requirements being set much higher than the first two debates, there will only be a total of 10 candidates on stage and the debate will take place on one night. This means that all the major candidates will appear on stage together for the first time in this primary cycle:
Sen. Amy Klobuchar
Sen. Cory Booker
Mayor Pete Buttigieg
Sen. Bernie Sanders
Former VP Joe Biden
Sen. Elizabeth Warren
Sen. Kamala Harris
Businessman Andrew Yang
Former Rep. Beto O'Rourke
Former Hud Secretary Julian Castro
Debate Format
The September debate format will be one minute and 15 seconds for direct responses to questions from moderators and 45 seconds for responses and rebuttals. Also, ABC has decided that candidates will be allowed to make opening statements, but there will be no closing statements as there has been in previous debates.
The format for this debate is similar in tone to the CNN debate which took place in July where the pace was quick and candidates were often cut off before they could finish a full answer. The moderators will hopefully be working to ensure that candidates are given ample time and avoid short-changing candidates. That goal is hard, however, with 10 voices competing for time on stage.
ABC News Moderators
The moderating panel for the September Democratic debate tonight come from the ranks of ABC News. The panel of three will be anchored by ABC News Chief Anchor George Stephanopoulos. ABC News "World News Tonight" Anchor and Managing Editor David Muir will also share duties with ABC News Correspondent Linsey Davis, as well as Univision Anchor Jorge Ramos.
How To Watch The Debate
Full Video: Watch ABC News Democratic Debate
The debate will be held at Texas Southern University, a public, historically black university, and will air from 8 to 11 pm ET across ABC, Univision with a Spanish translation, locally on KTRK-TV, as well as embedded on this page above via YouTube. The streaming channel is available on the ABCNews.com, Good Morning America and FiveThirtyEight websites and mobile phone apps, as well as Hulu Live, The Roku Channel, Facebook Watch, AppleTV, Amazon Fire TV, YouTube, Apple News, and Twitter.
A Spanish translation broadcast will also be broadcast on Univision and streamed at Univisiaon.com
What To Watch For
As noted above, this is the first time that all the top candidates will share a debate stage on the same night so the potential for fireworks is prominent. Vox provides some background on what's happening with the dynamic between former vice president Joe Biden and Sen. Elizabeth Warren:
It's particularly noteworthy that this is the first time Joe Biden and Elizabeth Warren will be onstage together. Due to the vagaries of random drawings, they were assigned to different nights for both of the first two debates. In addition to being one of Biden's top challengers in polls, Warren has also had longstanding policy disagreements with Biden, dating back to a 2005 bill that made it more difficult for people to file for bankruptcy. So this is the first time their dueling visions for the Democratic Party's future will be contrasted onstage.

Biden, in fact, will be standing right between Warren and Bernie Sanders. That will create an interesting dynamic, as the frontrunner will be in between the two major candidates who have eschewed big-dollar fundraising and who want to push the party much further to the left on economic issues.

This isn't a do-or-die debate for any participant; in fact, everyone who qualified is guaranteed an invitation to return for the next Democratic debate in mid-October.
As Vox notes, every candidate who qualified for tonight's debate is automatically qualified for the October debate as well. This means that every candidate on stage has at least one more shot after tonight to reach a national audience and make a case for their candidacy.
Sen. Kamala Harris and South Bend, Ind. Mayor Pete Buttigieg have been stalled for weeks with stagnant poll numbers, they will need to at least score some points on the board tonight to get their campaigns heading in the right direction again.
Businessman Andrew Yang probably has the most to gain from this debate in that he is polling above several sitting U.S. Senators on stage with him, and he has the benefit of a large national audience tuning in for the main front runners, a good number of which may have not been exposed to his candidacy yet.
Former Rep. Beto O'Rourke will need something to happen as nothing he has tried seems to have jump-started his faltering campaign. I'd expect him to be very outspoken as much as he can be and push his message of earnest passion for various progressive causes.
Sen. Amy Klobuchar will be a more moderate voice on stage, perhaps complimenting Joe Biden to some extent. Her candidacy barely made the cut and she'll need to work hard to capture attention away from the front runners to have a meaningful impact.
Sen. Cory Booker and former Hud Secretary Julian Castro are in a similar boat having barely made the cut alongside Klobuchar. If they can't get any traction in this debate, or in October, their candidacies probably don't have much further to go.
The event kicks off at 8 pm ET and will be live across all time zones. We will have the full video available for viewing after the debate airs with analysis to follow. Follow the 2020 Debate Schedule Page for all the important details and please consider downloading our mobile app to help support Election Central.