Voting is underway in Ohio's 12th Congressional District where two candidates are vying for an open Republican seat left vacant from an early retirement. Democrat Danny O'Connor is hoping to pull an upset and turn this seat blue as the start of a wave toward the November midterm elections. Republican state Sen. Troy Balderson, with the backing of President Trump, is working to keep this seat in GOP hands.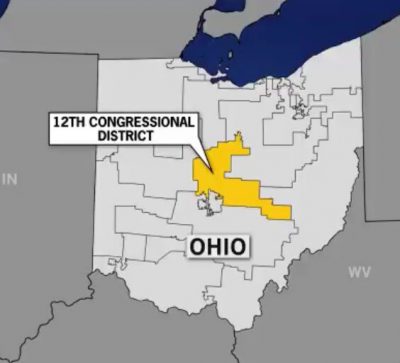 Balderson had been leading up until the last few days as the race has significantly tightened with the latest numbers indicating a toss-up which will be determined by voter turnout. Checking the latest polls from RealClearPolitics illustrates just how close this race currently sits:

The 12th district voted for Donald Trump in 2016 and has been in Republican hands for a couple decades. This should be a fairly easy win for Balderson, but the circumstances are such that few elections seem to be easy for either party right now. FiveThirtyEight breaks down the district by the partisan numbers:
Ohio's 12th District is traditionally Republican. According to FiveThirtyEight's partisan lean metric, it is 14 percentage points more Republican-leaning than the nation as a whole. But most districts (along with the one state) that have hosted federal special elections since Trump's inauguration leaned strongly toward Republicans, and most of those races were decided by single digits. In other words, Democratic enthusiasm, Trump's unpopularity and the normal mean-reversion tendency of midterm election cycles have transformed normally safe Republican seats into nail-biters.

Lo and behold, the special election in Ohio's 12th has evolved into a toss-up race too, with perhaps a slight tilt toward Republicans. But this should come as no surprise: Since 2017, the margins of federal special elections have shifted leftward from their partisan leans by an average of 16 percentage points (calculated from the rightmost column in the table above). If Ohio holds an average special election on Tuesday, that would suggest a 2-point O'Connor win.
A slight tilt toward Republicans should give Balderson some hope, but O'Connor seems to have the momentum, according to CBS News:
Bottom line: This isn't a place where Democrats should be competitive, reports CBS News correspondent Ed O'Keefe. President Trump won Ohio District 12 in 2016, but a 31-year-old Democrat is now running even with the Republican for an open House seat that the GOP has held since the early 1980s.

O'Connor rallied his volunteers Monday. He's facing Balderson, a state senator, who acknowledged "It's going to be a tight race." Balderson has earned endorsements from Mr. Trump and Vice President Pence.

…

Democrats point out this district is similar to other parts of the country where they think they can win this fall. Mr. Trump won by 11 percentage points in 2016, so if Democrats do win Tuesday, it suggests we could see a bigger-than-expected blue wave in November.
Both parties would like to use this race as a bellwether for their efforts in November, but the end result will probably be somewhat mixed regardless of the outcome. Races like this are often more local than national, though outside groups on both sides are attempting to inject national issues into this Columbus suburb. However, visits from the sitting President and Vice President have certainly raised the profile and turned this race partially into a referendum on Donald Trump.
Local news in Columbus is reporting high voter interest in this election compared to special elections in years past:
Thousands of people have been showing up at the Franklin County Board of Elections to vote in the 12th Congressional District Special Election this year.

As of Monday, 8,772 people were able to cast their ballot early on site and another 5,939 people have mailed in absentee ballots. An additional 137 provisional ballots are waiting as well.

This higher than anticipated turn out is fueling a positive outlook on voter participation in the special election Tuesday, with estimates that around 30% of eligible voters could visit the polls.

Thirty percent doesn't seem like a lot at first glance, but election officials say when it comes to voting it is. In May the primary election saw 29% voter turnout for the entire county.

Even more, people wanted to vote in the election but cannot and were turned away because they do not live in the 12th Congressional District.
Balderson has decided to go all-in with President Trump, and was eager to tout the President's endorsement even as late as this morning:
Thank you for the support President @realDonaldTrump! Find your polling location for today's #OH12 Special Election here: https://t.co/ppjt5G5DKl https://t.co/VlQPMLkrGi

— Troy Balderson (@Troy_Balderson) August 7, 2018
Polls in Ohio's 12th district are open until 7:30pm ET Tuesday evening. Follow the results live sometime after 7:30pm ET: New York Times, Columbus Dispatch, Decision Desk HQ