It's Election Day, and most localities will be voting on town council seats or state referendums. Except in Virginia and New Jersey, where voters will pick a new Governor, along with a handful of other statewide offices. The race in New Jersey has been lopsided, where a strong victory for Democrats is likely in the bag. The Governor's race in Virginia, however, is coming down to the wire with polls tightening significantly in recent weeks.
We'll start in the Old Dominion, with a piece from CNN that asks whether Democrats are blowing their chances in the Commonwealth:
For months, the assumption has been that Ralph Northam would be elected Virginia governor on Tuesday night. Now, with just hours remaining before polls open in the commonwealth, the race suddenly looks like a toss-up between Northam, the Democratic lieutenant governor, and former Republican National Committee Chairman Ed Gillespie.

"It's hard to imagine a statewide candidate who was in the lead with three weeks left who has had a worse close to their campaign," said Glen Bolger, a GOP pollster who has worked extensively in Virginia.

And, by any objective measure, it's hard to argue with Bolger's assessment.

Northam absolutely botched his position on sanctuary cities in the closing weeks of the race — insisting that despite his vote to kill a bill in the state Senate that would ban sanctuary cities (even though Virginia doesn't have any!), he actually would have voted in support of the legislation he killed if Virginia did have any sanctuary cities.
Virginia has a history of voting for the gubernatorial candidate whose party is not in the White House. That trend was broken in 2013 when Democrat Terry McAuliffe beat Republican Ken Cuccinelli, despite President Obama holding the Presidency. In 2017, the race is currently a toss-up with a slight edge for Democrat Ralph Northam, according to most polls. However, in the final days, the race has tightened with a series of missteps by the Northam campaign, and a spell of solid messaging from the Gillespie campaign capitalizing on it.
In the last couple weeks of October, the Virginia race changed entirely when an outside group, called the Latino Victory Fund, put out an ad ripe with racial politics essentially accusing Ed Gillespie, and his voters, as being white supremacists out to literally hunt down minority children. Here is the ad in question, pay attention to the ending, where the reference to the white supremacist rally in Charlottesville, Virginia, is tied to the Gillespie campaign:
The Washington Post, which endorsed Ralph Northam, wrote an editorial condemning the ad, and asking for Northam to disavow it:
It behooves Mr. Northam, while he is offering criticism, to make clear that even though the anti-Gillespie spot was not a product of his campaign, his campaign wants no part of it.

The minute-long spot from the Latino Victory Fund depicted a pickup truck being driven by a sinister-looking white man, flying a Confederate flag and sporting a Gillespie bumper sticker as it chased down a group of terrified brown-skinned children. Titled "American Nightmare," the ad ended with the children waking up from a nightmare and adults watching television footage of August's torch-bearing white-nationalist march in Charlottesville. "Is this what Donald Trump and Ed Gillespie mean by the 'American Dream?'?" asked the narrator.

…

But just because Mr. Gillespie has resorted to gutter tactics doesn't give others leave to do the same. The Latino Victory Fund ad was vile. Among other faults, it glossed over the fact that Mr. Gillespie condemned the white-supremacist violence in Charlottesville far more directly than did President Trump.
The polls show a close race, but the chart below the polls really tells the story of how much the race has tightened from late Summer: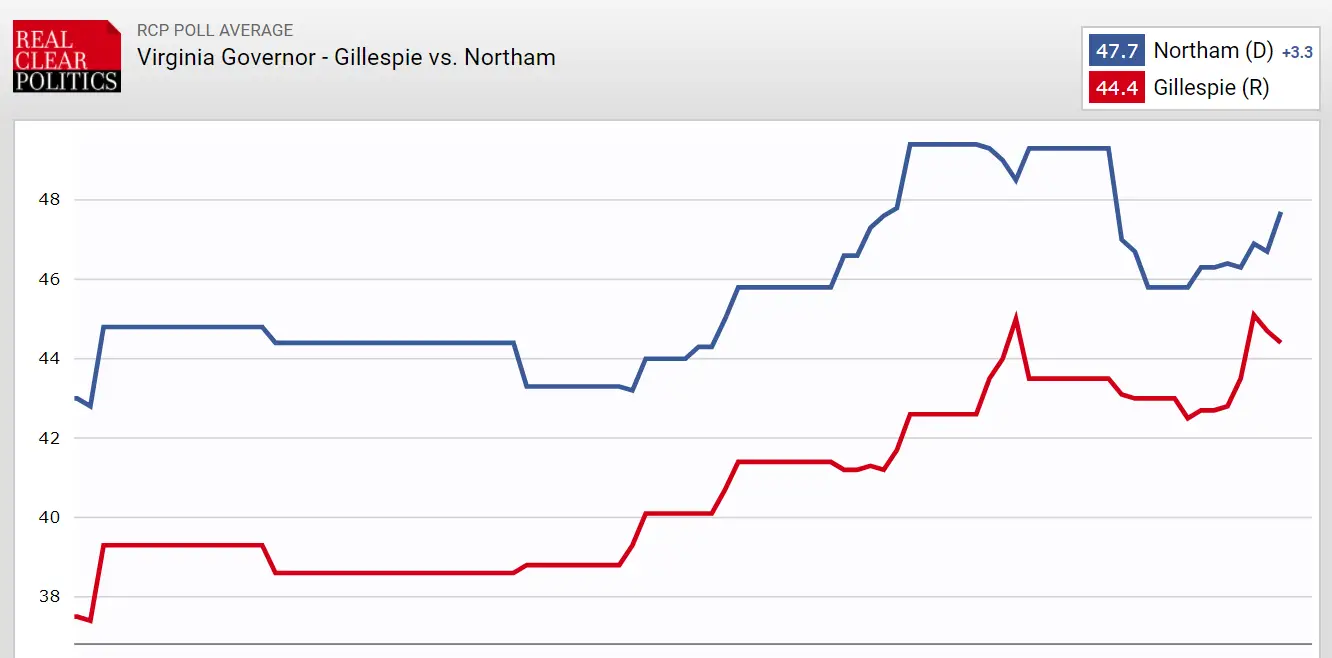 The other aspect in Virginia is how Gillespie has kept President Trump at a distance, though did campaign with Vice President Mike Pence. The most Trump has been involved is from his twitter account, where he has frequently offered support for Gillespie, and implored his followers to vote for him today.
Virginia opinion polling during these off-year elections has been wildly inaccurate since the 2013 Governor's race, and also in 2014 with a Senate race, so this race in 2017 will go down to the wire. As always, watch the Northern Virginia suburbs outside Washington, DC, as that is where the results will hinge depending on turnout. Polls close at 7pm ET if you want to follow the returns.
Now, as for New Jersey, the race isn't nearly as close, but it may not be a total blowout, according to ABC News:
The race to replace the deeply unpopular Christie features two candidates who are relatively unknown on a national level. Republican Lt. Gov. Kim Guadagno has served eight years as Christie's No. 2 in Trenton, and Democrat Phil Murphy had a brief run as the U.S. ambassador to Germany after a career on Wall Street.

While New Jersey is a consistently blue state in presidential elections, the Garden State has shown itself willing to elect Republicans at the state level. After early polls indicated Murphy had a wide lead, the gap has narrowed slightly in recent weeks as Guadagno has attempted to distance herself from the Christie administration.
Polls show that the race is a likely win for Democrats, according to RCP:

Murphy has held a consistent lead around 15 points for the duration of the campaign. Polls in New Jersey close at 8pm ET if you want to follow returns from the Garden State.