Presidents like to take credit when the stock market is flying high, but often look for scapegoats when it corrects itself back to reasonable levels. President Trump has wasted no time in claiming credit for the record number on the Dow Jones Industrial Average hitting over 22,000 for the first time in stock market history. Meanwhile, President Trump's approval numbers have slipped in the opposite direction, and it may set a record, though not one a president would be proud of.
First, CNBC reports on the stock market boom and the President's cheering via his twitter account:
Almost exactly a year ago, Donald Trump dismissed the stock market's rise under President Barack Obama as a "big bubble." Now President Trump is cheering as the Dow reaches 22,000 for the first time.

A surge in Apple stock carried the Dow past the milestone Wednesday right after the opening bell. The average is up more than 3,600 points since Trump's victory last November.

Wall Street's record-shattering performance is a bright spot for an administration mired in legislative failure and internal turmoil. Instead of warning about a market bubble, as Trump did repeatedly as a candidate, the White House now cites the stock records as affirmation of his policies.

Trump has broken with precedent by frequently bragging about the market, often on Twitter, and cheering for it to go much higher.
He did it again on Tuesday before trading even began.

"Stock Market could hit all-time high (again) 22,000 today," Trump tweeted 41 minutes before the opening bell on Wall Street — and, it turned out, a day early.
Here's the chart since Election Day to illustrate just how dramatic the rise has been: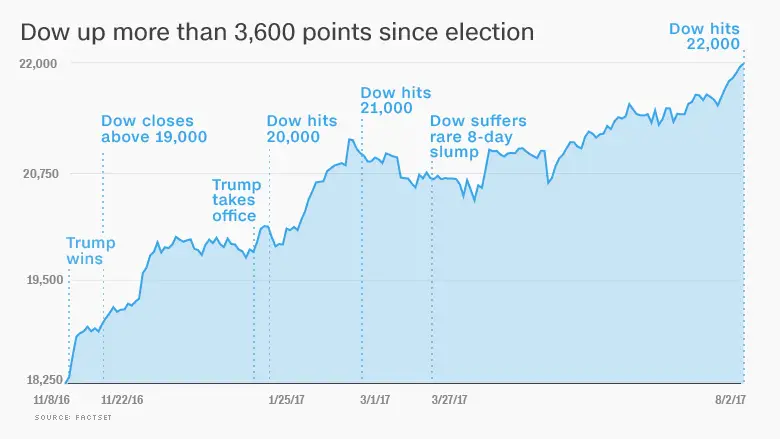 As a candidate, Trump was frequently calling the stock market a "bubble" that wouldn't last under Obama's economy. Well, not too much has changed on the economic policy front since Trump took office, yet the market has continued climbing. At some point, the market will correct, which is why presidents often steer clear of claiming too much credit for a booming market. Trump can't help himself, however, he's got to grab credit for every good thing happening under his watch, regardless of his level of involvement with it.
Speaking of numbers, the President has now hit an approval number lower than any number President Obama received during his entire eight years, according to Rasmussen:
The Rasmussen Reports daily Presidential Tracking Poll for Wednesday shows that 38% of Likely U.S. Voters approve of President Trump's job performance. Sixty-two percent (62%) disapprove.

…

Trump's overall approval numbers this week are lower than any Barack Obama received during his entire presidency.
For the record, here's Trump's approval since Inauguration Day: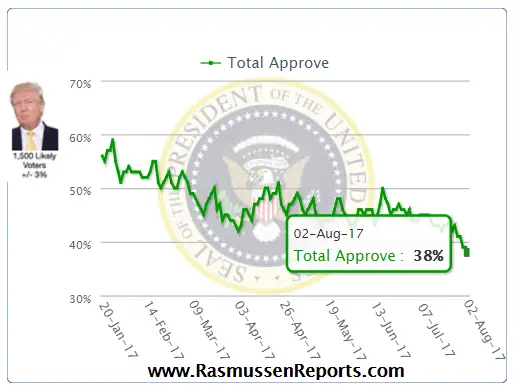 Not going to see this one touted over at @realDonaldTrump anytime soon, that I can tell you, believe me.