We're confused. That has to be the conclusion based on new polls. We're a muddled mess of indecision, as a whole. But that hides the fact that liberals and conservatives are more militant than ever, with an ever-shrinking number of independents.
Take Trump's ban on refugees. The public is evenly split (within the margin of error) 51-48%, but that masks the partisan fervor. Republicans love the ban on people from Islamic countries by 88%, while Democrats hate it by 81%.
Likewise equally divided is whether the country is "going in the right direction." Exactly 50% think so, while an equally lukewarm 51% are satisfied with the country's economic policies. As for Obamacare, 54% of the general public want the law expanded or left alone, while 42% want it repealed.
An Investors Business Daily poll says the public is still dubious about Donald Trump.
Just 42% approve of the job he's doing as president, while 48% disapprove. While men approve of Trump's performance, 48%-43%, for women it's 36%-53%.

President Obama's overall approval rating had climbed to 55% by the end of his two terms in office, after being in the 40s for most of his presidency.

Fewer than half (46%) think Trump did a good job managing the transition, just 41% say he appointed the right people to Cabinet positions, and only 44% give him top grades for his overall performance.
In fact, at this point, according to a Morning Consult poll, Trump would lose to any Democratic opponent (except Elizabeth Warren), if the election were held today.
Asked for whom they would vote if the 2020 election were held today, 43 percent say they would likely vote for the Democrat, while only 35 percent say they would support a second Trump term. Twenty-three percent are undecided.

Eighty-seven percent of voters who say they supported Hillary Clinton in last fall's election would vote for the Democrat, while only 71 percent of Trump voters say they are likely to support him again. Independents break away from the president by 10 percentage points.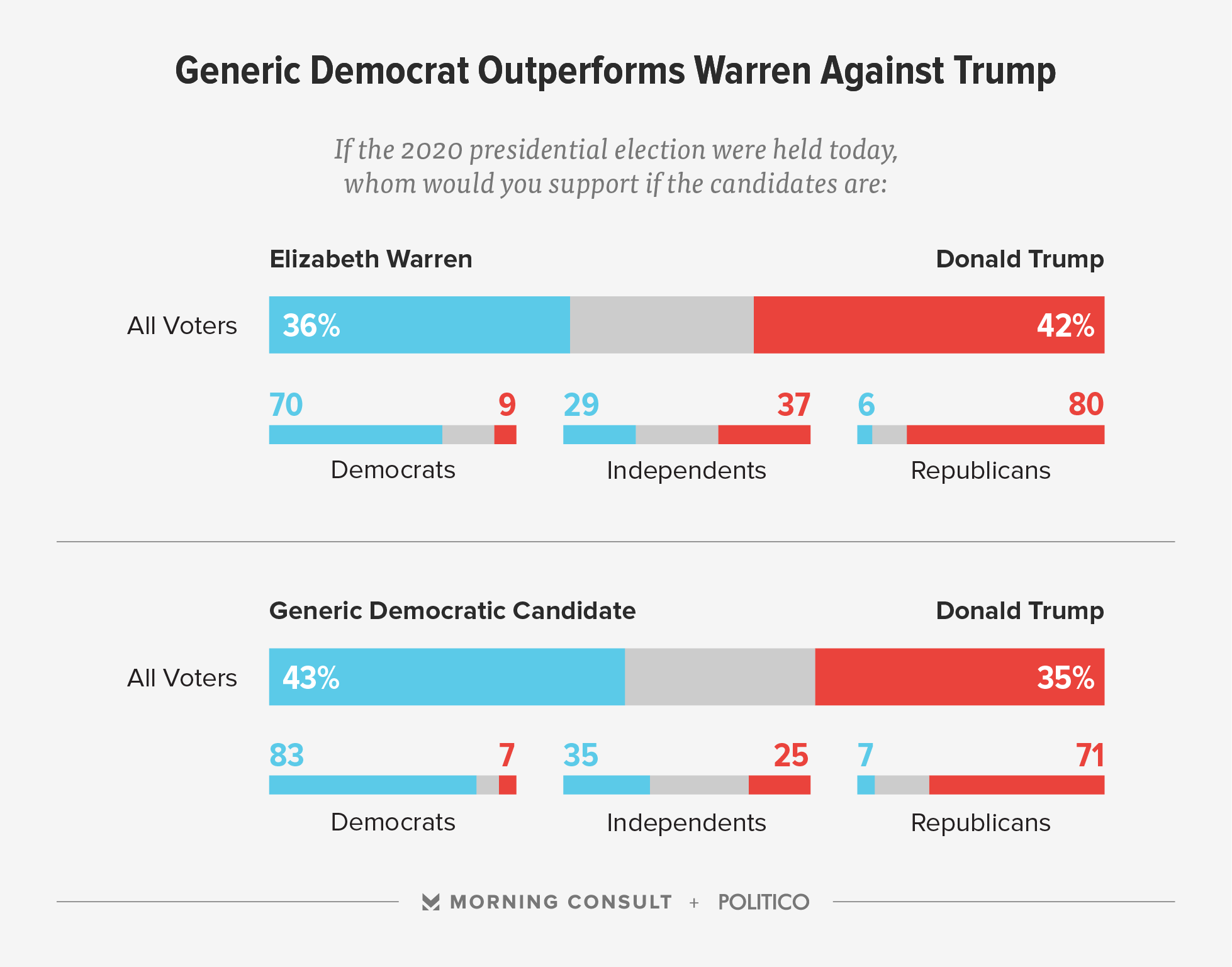 But before Democrats get too excited, they should look at another Morning Consult poll, showing Barack Obama as viewed as the second worst president since World War II.
President Donald Trump has been in office for less than a month, but according to a new poll he's already America's worst president in modern history.

With Presidents Day approaching on Monday, a Morning Consult/POLITICO survey asked registered voters across the country to evaluate each Oval Office occupant since World War II. Recency and partisanship appear to be at the forefront of voters' minds: 26 percent of respondents said Trump was America's worst president, with Barack Obama at 25 percent.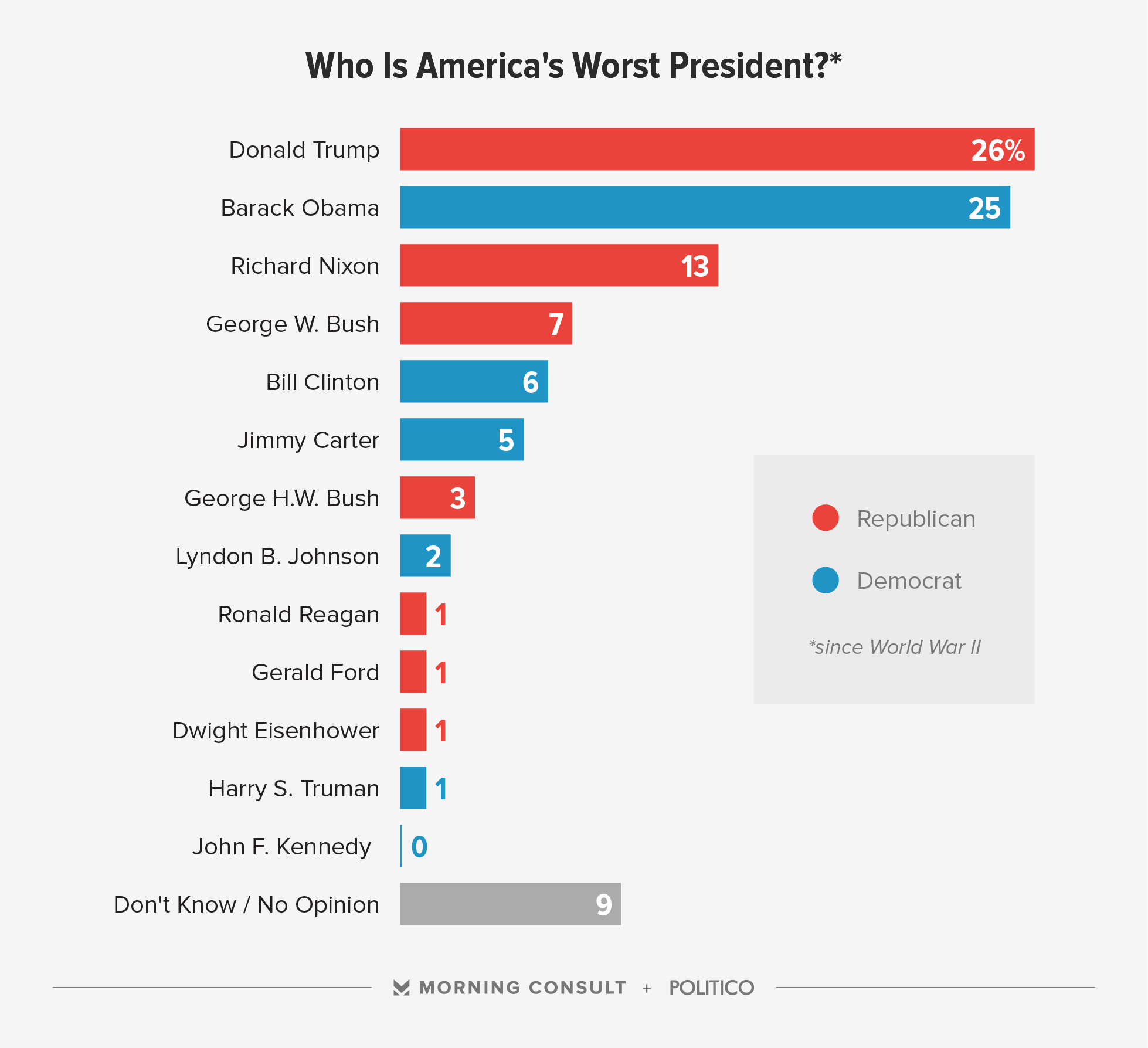 Of course, the opinion is partisan, but it's closer than one might expect.
While 49 percent of Republicans said Obama was the worst president, 47 percent of Democrats said the same about Trump. Independents were split, with 23 percent choosing Trump and 22 percent picking Obama.

Meanwhile, 20 percent said Obama was the best president since World War II, compared with just six percent of voters who said Trump has been the best.

Voters also say Obama's legacy is likely to improve, with 47 percent saying they think he will go down as an outstanding or above average president. That percentage includes 40 percent of independents and 22 percent of Republicans. The public's outlook on Trump's future is more pessimistic. About one-third (32 percent) said he will go down in history as an outstanding or above average commander-in-chief, while 38 percent said he would be viewed as a poor president. Twenty percent said the same about Obama.
Back to Trump, there is some disagreement on his support, according to The Hill.
Rasmussen, which has traditionally found results that are more positive for Republicans than other polls, seems to be an outlier among major polls, with Gallup also giving Trump a lower 41 percent approval rating in its most recent weekly average.

The Pew poll was conducted between Feb. 7-12 and surveyed a pool of 1,503 adults. The poll revealed that a 56 percent majority of Americans disapprove of the president while 46 percent strongly disapprove of the commander-in-chief.

The Pew survey also noted that Trump's strong disapproval has surpassed the strong disapproval of former President Obama during his entire presidency.
For those who thought Obama was too divisive, hoping for more harmony, the polls show even worse news.
New polling indicates the perception of President Donald Trump during his first month in office has been the most polarizing for any commander in chief in decades. The data finds that Americans largely either strongly approve or disapprove of the new president, with a slim middle ground.

On Feb. 16, a survey conducted by the Pew Research Center found that 39 percent of U.S. adults approve of Trump while 56 percent disapprove. The data also found that Trump inspires stronger feelings among the public than any of his predecessors stretching back to 1981, and that he has significantly widened the partisan gulf between Democrats and Republicans.

Despite having occupied the Oval Office for less than a month, Trump has already sparked strong opinions among American adults. Of those polled, 46 percent strongly disapprove of the president while 29 percent strongly approve of him. This means 75 percent of all respondents either approve or disapprove of him strongly, while only 17 percent feel either way less strongly. . .

Only 37 percent of respondents believe Trump is trustworthy, while 63 percent had viewed President Bill Clinton as trustworthy in 1993. Only 39 percent believe Trump is well-informed, while 62 percent believed that President George W. Bush knew his stuff in 2001. Only 54 percent believe that Trump is able to get things done, while 70 percent said the same of President Barack Obama in 2009. Finally, only 34 percent of respondents think Trump is a good communicator.
It's early. Trump has four years to try to bring the country together. But he doesn't seem to have any interest in being even-handed, nominating the most conservative advisors in history. In order to reduce the chaos of division in the country, he's going to have to find something he can offer his opponents. Ronald Reagan was a master at compromise. Trump calls himself a "negotiator," but has shown zero interest in negotiating, so far.