All the news seems to be about Donald Trump losing the election—or losing it in a landslide. But there are many variables out there. They include the "shy voter" or "Brexit effect," in which Trump's support is much higher than polls say—because his supporters don't want to talk to pollsters, or are embarrassed or defiant enough not to tell the truth. Another variable is the possibility of "yuge" turnout by white voters.
Nate Silver's Five Thirty Eight is offering a description of how this would play out, and what the newspapers might say on November 9.
In a stunning rebuke of elites, Donald Trump edged out Hillary Clinton for the presidency last night, jolting world markets and sending shock waves across a beleaguered political establishment. Trump captured 294 electoral votes, flipping Florida, Iowa, New Hampshire, Ohio, Pennsylvania and Wisconsin to the GOP column. With millions of votes left to tabulate in California and New York, Clinton was on track to win a worthless popular vote plurality.

After one of the worst polling misses of all time, election "forecasters" and experts were left scratching their heads. Trump credited his "Silent Majority" for swarming polling places and himself for leading a blue-collar revolution. Indeed, turnout among whites without a college degree surged from 55 percent in 2012 to 64 percent in 2016, and Trump carried them by 35 percentage points. Validating the "shy Trump voter" theory, Trump defied expectations by nearly tying Clinton among whites with a college degree.

Democrats faulted third-party "spoilers" and a lack of enthusiasm among their base for Clinton's loss. Latinos voted for Clinton by 47 percentage points, but their turnout barely increased over 2012. Meanwhile, African-American turnout fell to 56 percent from 63 percent four years ago. Libertarian nominee Gary Johnson, Green Party nominee Jill Stein and Independent Evan McMullin combined for 11 percent, severely eating into Clinton's margin among millennials.

. . . in his victory speech, Trump immediately praised the integrity of the vote, congratulating state and local officials on their "tremendous" work to ensure a fraud-free election.
Here's the map that illustrates the article's premise. The states have been "blocked" to make it easier to see the large and small states equally. Note that the flipped states have dash lines.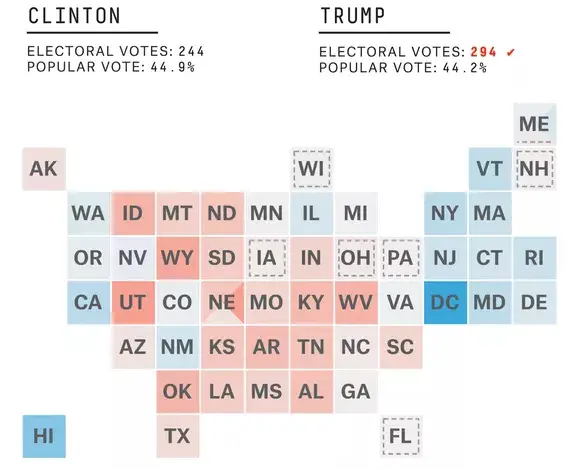 Trump has been preparing the world for this outcome.
"I'll tell you what, we're doing well in the polls, but you know, I really think those polls are very inaccurate," Trump said, flanked by women waving pink "Women for Trump" signs. "When it comes to women, I think we're doing better with women than with men. So we're setting records with men. But I want to set records with women. I hate to tell the men this, but if I could swap, I'd swap you out so fast, you have no idea how fast."

"The third debate, they didn't like the one answer," he said. "The people here, I think you understand it. We're in a rigged system, we're in a broken and corrupt system and Bernie Sanders was in a rigged system…you notice how quiet he's been the last three or four days? Because he's been reading and watching WikiLeaks."

"Are we glad that I started, are we happy?" said Trump, who began his rally several minutes early. "Well I'll let you know on the evening of Nov. 8 whether I'm glad."
The American Thinker says Trump's win comes down to a need for change, and a billionaire's ability to speak to those who are struggling.
. . . the existence of two American English languages and those who speak them.

I contended that one of those languages is spoken by an American "establishment" that includes well educated and self-styled "sophisticated" men and women with political views across the board – left, center, and right. This is a social aristocracy that is, as it is very American, not inherited by money or class, but culturally transmitted by education, occupation, and personal preference. The other language, which employs the same vocabulary and syntax, is spoken by a large number of men and women usually (but not always) with less education, often lower-paying work, and their own set of cultural preferences. Each group is aware of the other, but there is relatively little interaction between them other than when they must transact perfunctory business, services, and other daily contact with each other.

Hillary Clinton is the 2016 representative of the former, although those who are conservative and others who are more radical do not necessarily like her or plan to vote for her. Donald Trump is the representative of the latter, although those who are liberal or very conservative do not necessarily like him or plan to vote for him. Moreover, while Mrs. Clinton was born into her group, Mr. Trump was not born into his.

Donald Trump was born into wealth, privilege, private education, and high culture. But his business life, which has absorbed him most of his adult life, has brought him into constant and close contact with those who worked for him in the construction business. According to those who know him best, Mr. Trump was not a distant, uninvolved boss. Rather, like so many who are very successful, he mixed freely with his workers and, very importantly, listened to what they told him. As a result, he not only learned their language, but also gained an understanding of what was important to them.

It is their language he has been speaking in the 2016 campaign and their concerns he has tried to address – and that is why, in my opinion, the so-called educated and cultured class, even those who are traditionally Republican and conservative, have failed to understand his success in the 2016 nomination campaign. They are tone-deaf to the language of those who speak the "other" American English. . .

Ronald Reagan was a movie star governor who spoke in a non-establishment language. Not only Democrats, but many Republicans did not take him seriously. Walter Mondale was a career politician who was smart, witty, and well informed, and he spoke the establishment language with almost perfect pitch. He seemed clearly to out-debate Mr. Reagan in their first debate, and he openly declared that he was going to raise taxes and increase the role of government if he became president. Large numbers of working-class Democrats then voted for Mr. Reagan, who won in an historic landslide.