Now that the Republican convention is over, attention turns to the last personnel question: Whom will Hillary pick as her vice presidential running mate? That announcement has been expected to be made Friday afternoon. Some say that Trump's "safe" choice of Mike Pence means she can afford to take more of a chance with her choice. But it's still not an easy decision. Her biggest problem will be not to alienate Bernie Sanders' supporters.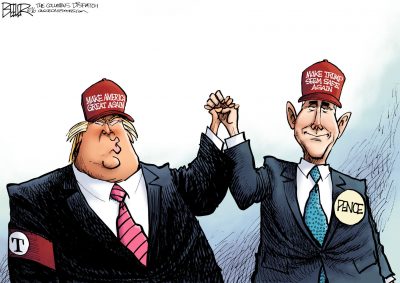 It's no news that Sanders' supporters would like to see Bernie on the ticket. For a variety of reasons, that's not expected. Their second choice is Elizabeth Warren, the outspoken senator from Massachusetts—who has been in an ongoing Twitter fight with Trump. After all, Hillary has said she would pick the most capable person—who might be a woman.
And as political observers note, the only female candidate that seems like a likely candidate is Senator Elizabeth Warren (D-MA), who is very popular with the Democrat Party's far-left activist base. Perhaps this is why Warren has avoided campaigning for Sanders in recent months, when he needed her the most?

Warren has been busy discussing the race in public and slamming conservative businessman Donald J. Trump in every media appearance. Perhaps she is currently auditioning for the VP slot with Hillary.
But as we've noted elsewhere, if she were chosen, her governor would choose a Republican to replace her in the senate.
And Warren says she doesn't expect to be picked, anyway.
Appearing in a cold open sketch for "The Late Show with Stephen Colbert," the host stopped by Warren's greenroom marked with a "VIP" sign on the door.

"Hey, I have to ask: Is there any chance that I could announce on my show tonight that you are Hillary's VP pick?" he asked. "Because that would be pretty huge news for me to break!"

Warren responded, "Stephen, I think if it were me, I would know it by now. So probably not. But look, she's got lots of good choices and I'm excited about seeing who she's going to pick."
Another Dem favorite is Sherrod Brown senator from Ohio, an important state, but if he were picked, John Kasich would pick a Republican to replace him in the senate. And Chris Christie would pick New Jersey Senator Corey Booker's replacement. Likewise, Al Franken, whose Minnesota governor would replace him. That has increased the interest in Tim Kaine, senator of Virginia, who would be replaced by his Democratic governor.
So, Kaine is a shoo-in, right? Not necessarily. Gamblers are betting that Kaine has an 85% chance of being picked. But Bernie Sanders fans don't like that Kaine is, well, agreeable, and although he has a high rating among several liberal groups, the fact that he's Catholic, and has said he wouldn't want an abortion in his family, makes him suspect, as we said before.
For a few weeks, Agriculture Secretary Vilsack's name was stronger in the veep race, but he's not popular with Sanders, either. In fact, some have nicknamed Vilsack "Mr. Monsanto."
Only weeks ago, Tom Vilsack helped broker a bill that Sanders had crusaded against. The bill requiring the labeling of genetically engineered food — which is expected to be signed into law by Barack Obama — was designed to pre-empt Vermont's much stricter, first-in-the-nation GMO labeling law and replace it with what Sanders called a "toothless" and confusing national standard.

To progressives, Vilsack's role in the GMO labeling law is emblematic of why they distrust him: They see him as a middle of-the-roader who helped negotiate a compromise that puts the interests of agribusiness over those of consumers and small farmers. . .

"Americans need staunch champions for a healthy food system, not a vice president who will allow Big Agriculture to wreak havoc on our environmental health," Friends of the Earth Action said in a statement Thursday. . .

"The only one [on Clinton's vice presidential short list] that has a high likelihood of just alienating Bernie supporters is Vilsack," said Jaydee Hanson, senior policy analyst for the Center for Food Safety.
The criticisms have had some effect, with his betting odds dropping to just 8% that he'll be picked. A few other names have been raised, but none seriously. It would be big news if she picked a wildcard, the way 2008's GOP nominee picked the "rogue" Sarah Palin. Not sure whom that would be, but it would be hoped that her nominee would be better vetted.
Finally, when it looked as if Hillary would pick Tim Kaine, I thought Trump should have gone with someone unexpected, specifically, an American politician and member of the Republican Party who served as the 48th Lieutenant Governor of California from 2010 to 2011.
Trump should have picked Abel O. Maldonado, Jr. (born August 21, 1967).
He's young. He's Hispanic. He's from a western state. Oh, who am I trying to kid? I just would love to have seen a vice-presidential debate between Kaine and Abel.