The top 7 Republican candidates will appear on stage tonight in a single primetime debate for the first time since the debates began back in August. The undercard debate is no longer happening due to the fact that the number of serious contenders has been winnowed down to less than ten candidates. This debate is sponsored by ABC News in conjunction with IJReview. The major exception to the lineup is Carly Fiorina who was excluded from this debate by ABC News based on their polling criteria.
Saturday, February 6, 2016
ABC News Republican Debate
8pm ET (7pm CT, 6pm MT, 5pm PT)
Live Stream: ABCNews.com
Aired On: ABC
Location: Saint Anselm College in Manchester, New Hampshire
Moderators: David Muir and Martha Raddatz
Candidates: Trump, Cruz, Rubio, Carson, Bush, Kasich, Christie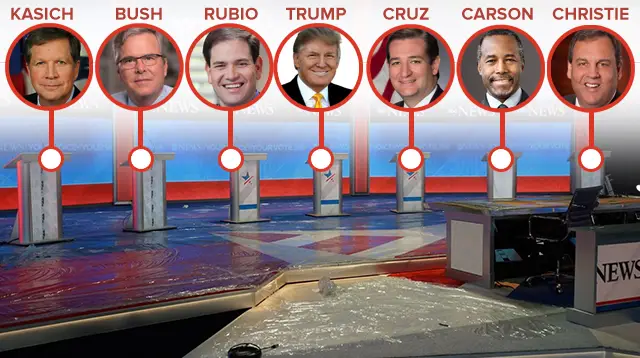 Report from ABC News:
The debate is slated for Saturday, Feb. 6, and coverage begins at 8 p.m. ET on ABC. It will be moderated by "World News Tonight" anchor David Muir and Chief Global Affairs Correspondent and co-anchor of "This Week with George Stephanopoulos" Martha Raddatz.

ABC News will be hosting the debate with the Independent Journal Review, and in partnership with the Republican National Committee. Additional questions will come from WMUR political director Josh McElveen and conservative journalist Mary Katharine Ham.

The network determined the debate's participants using a set of criteria established in late January. Candidates had three ways to qualify for the debate.

Candidates received an invitation to the debate if they:

1) placed among the top three finishers in the Iowa caucuses; OR 2) placed among the top six in an average of national polls; OR 3) placed among the top six in an average of New Hampshire polls.
We might as well call this the "Trump-Cruz-Rubio" debate because that will be the majority of the focus. According to polls (haha) this is down to a three-man race. Unless one of the other establishment lane candidates can make a dent in Rubio, the trip to South Carolina will probably have fewer candidates making the journey.
With Trump having skipped the last debate before Iowa, and possibly paying a price for it, there will be a lot of focus on this debate and there is a lot riding on the outcome.
We'll have the full video after it airs. Should be an interesting couple of hours.