Nevada Republicans will caucus tonight to choose their preferred presidential nominee. The results will not come in until very late, possibly closer to midnight eastern time since the caucus does not begin until early evening in Nevada. Donald Trump appears to be the favorite heading in, however, anything could happen given that caucuses are unpredictable and polling is very sparse.
Tuesday, February 23, 2016
Nevada Republican Caucus
Live Results: DecisionDeskHQ, CNN, NYTimes
Caucus starts between 5pm – 7pm PT (may vary by county)
Find Caucus Location
Nevada will award delegates proportionally with 30 delegates at stake.

Latest updates throughout the day will appear here, newest at the top:
Update 2 – 11:03am ET 2/24
Here are the final numbers with 100% reporting: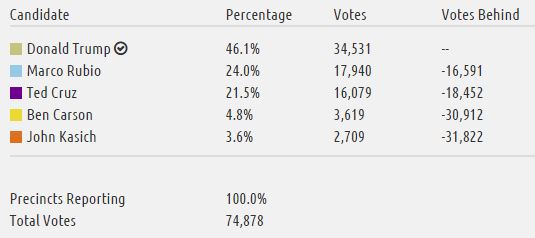 Update 1 – 12:00am ET 2/24
The Associated Press has announced Donald Trump will handily win the Nevada Republican Caucus. Here is the race as called just after midnight: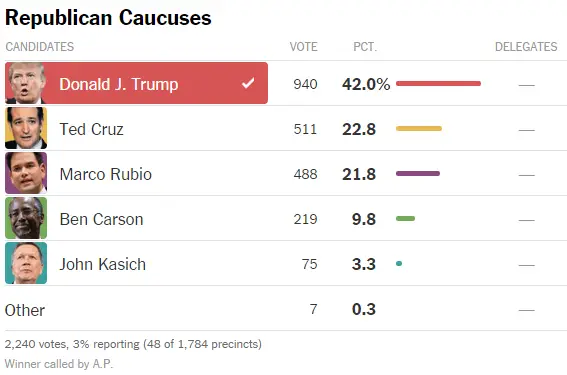 The numbers will continue rolling in but we're signing off for the night. Follow the results above at the Live Results links. Full update available in the morning.
Original Story
Report from the New York Times:
Donald J. Trump's Republican rivals are seeking to make a stand against him in the Nevada caucuses on Tuesday, their last chance to slow his momentum before a dozen states vote on the party's presidential nomination next week.

But it may be difficult to stop Mr. Trump in Nevada, where he has enjoyed a high profile because of his business dealings in Las Vegas and where only a small number of voters have typically participated in the caucuses.

Senators Ted Cruz of Texas and Marco Rubio of Florida have established serious operations in the state, and both campaigned there in advance of Tuesday's contest. They may once again be battling for second place rather than for a real shot at dethroning Mr. Trump.

That battle took on a sharply personal tone on Monday, when Mr. Cruz fired a top aide because he had spread a video that misrepresented comments Mr. Rubio made about the Bible. Mr. Cruz said he was upholding his campaign's standards of integrity. Mr. Rubio's team fired back that Mr. Cruz, not his aide, was the one with the character problem.
If Rubio were to win Nevada, for example, it would certainly reshape the race to an extent as it would break Trump's winning streak. On the other hand, given that this is a caucus and not being held as a traditional primary, it might just reinforce the "Trump does badly at caucuses" narrative without actually changing the race. Most of the Super Tuesday states are holding primaries, not caucuses, so that bodes better for Trump.
Polling and trends are favorable to a Trump victory right now so that is what I would expect heading into tonight. An upset is certainly possible, given the way caucuses are unpredictable, but if the polls are anywhere near accurate, Trump could be holding as high as a 26 point lead which leaves a lot of cushion.
We'll be updating this thread later in the evening when we start to get results.