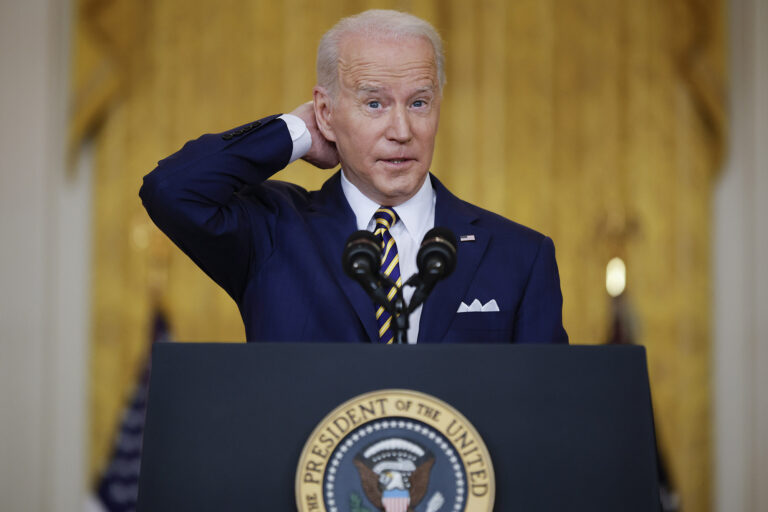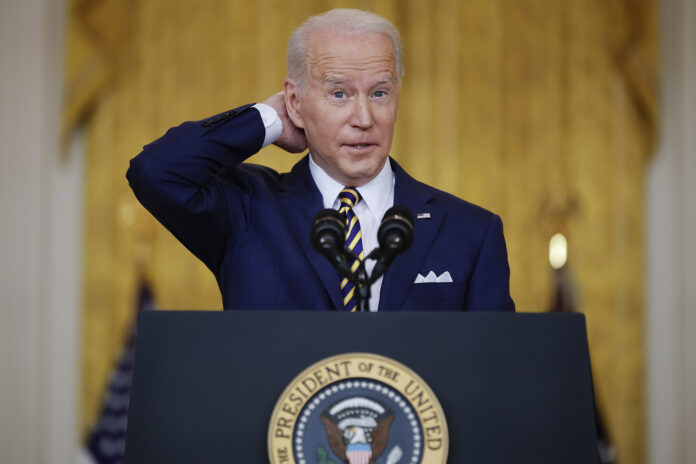 New numbers from the Associated Press/NORC poll give Biden his lowest approval marks since the start of his presidency. Along with a new low approval of just 43%, the poll also finds that only 28% of poll respondents, a group that includes Democrats as well, want Biden to run for reelection in 2024, an embarrassingly low number.
Furthermore, nearly half of poll respondents question Biden's mental fitness to handle the job of President, a sobering number which was solidified after the press conference on Wednesday.
As the great unifier, the only thing Biden has united the country over is opposition to his presidency.
Truly an embarrassment for Biden-Harris administration:
President Joe Biden ends his first year in the White House with a clear majority of Americans for the first time disapproving of his handling of the presidency in the face of an unrelenting pandemic and roaring inflation, according to a new poll from The Associated Press-NORC Center for Public Affairs Research.

More Americans disapprove than approve of how Biden is handling his job as president, 56% to 43%. As of now, just 28% of Americans say they want Biden to run for reelection in 2024, including only 48% of Democrats.

Asked on Wednesday at a wide-ranging news conference about his flagging popularity, Biden responded, "I don't believe the polls."

It's a stark reversal from early in Biden's presidency.
To find that even one-quarter of the country wants Biden to run for reelection seems high, actually, but that percentage seems right for the holdouts still convinced Biden is somehow a political genius.
As usual, it's several issues across the board where Biden is failing, from Covid to the economy, and everything in between:
Just 45% say they approve of Biden's handling of COVID-19, down from 57% in December and from 66% in July 2021.

Americans are even more downbeat about his handling of the economy, with just 37% approving. Growing angst about his economic policies comes as inflation rose at its fastest pace in nearly 40 years last month, a 7% spike from a year earlier that is increasing household expenses and eating into wage gains.
Biden has done nothing, absolutely nothing to build consensus within Congress or among the American people. His latest bit, trying to pass his voting rights vill by calling the bill's opponents racist is the best example of Biden's unique ability to divide the country, and his own party, in a losing issue.
Here's the trend lines among Democrats, Republicans, and all voters since last February: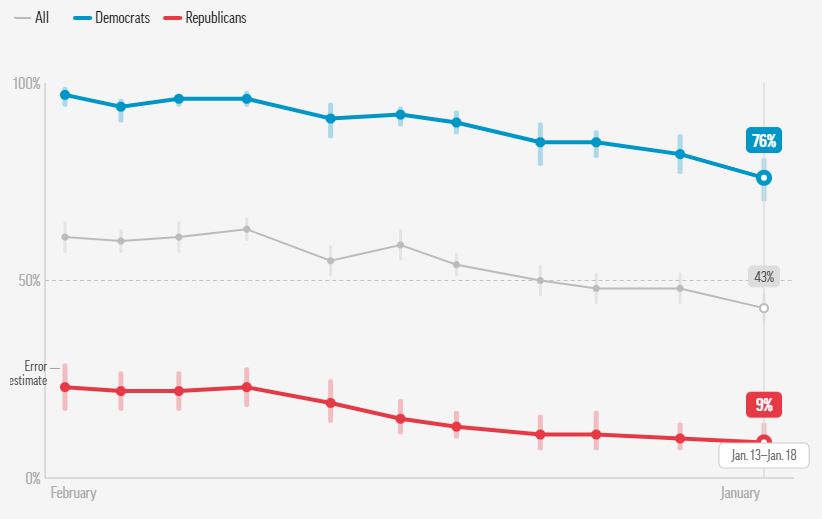 Democrats are down to 76% approval, a truly alarming number for the White House since almost one-quarter of Democrats no longer approve of the president they voted for. Between Democrats peeling away and independents leaving in droves, Biden's political capital is drying up.
At his press conference on Wednesday, Biden signaled no intention to change course or humble himself in the face of such obvious failure. He was better at being a Senator or Vice President, sitting in a job where he can spout off ideas and accomplish nothing, and no one cares. As a President, he seems, as one outlet recently described him, "too small for the job."
Here's to continued anniversary joy to the Biden-Harris administration on this momentous year one of ongoing failure.