This is, perhaps, a tipping point in the 2020 election. This is the point where many Democrats, bolstered by polling data which suggests an insurmountable lead, are voicing the belief that Joe Biden is "cruising to victory," as one writer put it. The race, by and large, from the eyes of many Democrats, is over, and President Trump will be limited to a single term in office. When asked about a similar attitude to 2016, Democrats feel as though 2020 is different. The polling is more accurate, the electorate is disgusted with Trump, and voters who might ordinarily stick with Republicans are now willing to give Biden a nod just to end the daily chaos they attribute to the current occupant of the White House.
For example, as referenced above, writing in The Week, Damon Linker literally says the race is over and Biden is all-but assured to be the winner on November 3:
But as we head into the first of three debates between Trump and Democrat Joe Biden, it's worth pausing to remind ourselves that another scenario is far more likely — which is that the outcome of the election will comport with every reputable poll going back months. Those polls have consistently shown Biden with a large and incredibly stable lead. Yes, we should prepare for the worst. But we also shouldn't lose sight of the fact that Biden supporters seem to be headed toward a much happier outcome.

…

How do we know this? Because nothing has changed the overall shape of the race over the madness of the past nine months. Not the deadliest pandemic in a century. Not a massive economic downturn. Not the worst protests and urban unrest in 50 years. Through it all, Biden has maintained his lead. The closest Trump has come to overtaking him since the pandemic lockdowns began last March was a brief period in May when he got within 4.4 points of Biden in RealClearPolitics' polling average. Since then, Biden has led Trump by anywhere from 5.9 to 10.2 points. On the eve of the first debate, Biden leads by 6.9.

A race in which one person consistently leads by that wide of a margin is a race that person is overwhelmingly likely to win.
It is certainly true that Joe Biden continues to lead comfortably in national polls, and many state polls, that is indisputable. The writer of the above-referenced piece tries to contrast the 2020 situation to that of 2016, when Democrats showed an equal surge in inevitably that Hillary Clinton would grace the Oval Office.
However, you needn't look far to find similar examples, from almost exactly four years ago, of stories written which loudly proclaimed that the 2016 race was over, and Trump was vanquished. Take this article, from Oct. 28, 2016, in U.S. News:
Barring a historic failure of polling or an epic game-changing, deus ex machina event – and 11 days is long enough to make that possible but short enough to make it very hard – Hillary Clinton will be elected the 45th president of the United States on Nov. 8.

The national vote. It's always a good idea not to focus too much on individual polls but instead to look at the average. Nationally, RealClearPolitics has Clinton up over Trump 45.1 to 40.7 in the four-way race as of this morning; HuffPoPollster has Clinton up 47.7 to 40.7 in a two-way race; and FiveThirtyEight has Clinton up 49.6 to 43.9 in the four-way. So you're looking at a 4 to 7 percentage point gap nationally with less than two weeks to go.

The battleground map. Another way to get a sense of the direction in which the election is moving is to look at how the list of battleground states has evolved. On the one hand, states once expected to be in play, like Colorado and Virginia, are now widely believed to be safely in Clinton's column – she leads by 6.2 percentage points in the former and 8 percentage points in the latter, per RealClearPolitics. Conversely, a number of traditionally Republican states are suddenly competitive: Clinton is within five points of Trump in Texas – yes really – within 2.8 points of him in Georgia and she's actually leading in Arizona by a point-and-a-half.

Early voting. Starting to move from data-driven to more anecdotal evidence (and there's a reasonable case to be made that these numbers are fairly meaningless), consider early voting.

Roughly 12.6 million Americans have voted already. "Despite weakness for Clinton in the Midwest, Clinton looks well-positioned in other states Trump still needs for an Electoral College victory," University of Florida professor Michael McDonald, who tabulates early voting stats at the United States Election Project website, wrote on Huffington Post earlier this week.
In other words, every single possible indicator was pointing toward Hillary Clinton's inevitable victory in 2016. The polls were saying it, the battleground states were saying it, the early voting indicators were saying it, everything was saying it. Then, the unthinkable happened on Election Day as Donald Trump — not Hillary Clinton — cruised to victory.
It was days before the vote in November 2016 that Hillary looked like a very sure thing. Remember the charts indicating a "chance of winning" over 90%?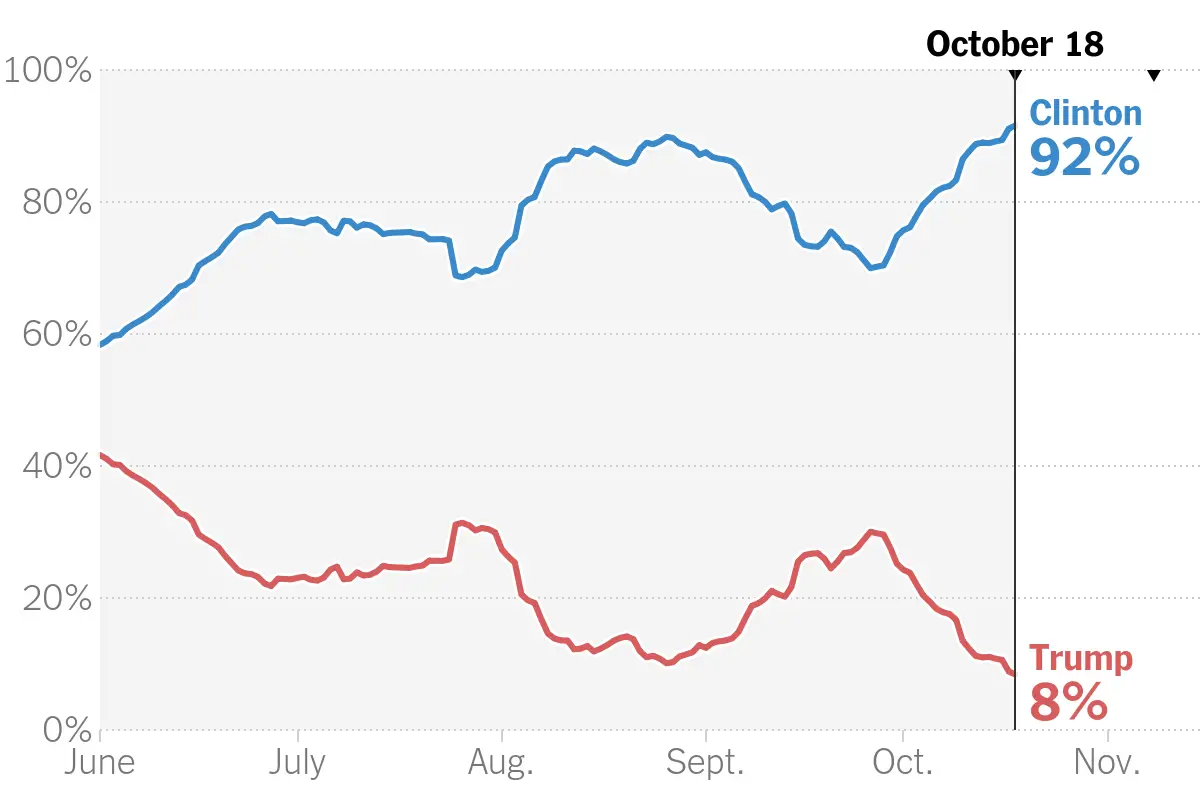 Many Democrats would like to forget those "chance of winning" predictors. Biden, at the moment, is sitting around a 78% percent chance of victory according to FiveThirtyEight.
None of this is to suggest that the indicators leading up to Election Day 2020 are entirely wrong, or even partially wrong, they could be entirely correct and Joe Biden could be all-but assured a victory. Maybe Biden is even underestimated in strength?
The U.S. News story on Hillary Clinton's inevitable victory was put out days before America voted. So certain, were Democrats, that Donald Trump didn't have a prayer, that they started redirecting resources to down-ballot races with high hopes of winning a big Senate majority:
National Democrats seem to feel so secure about a Clinton victory that they are starting to turn their attention to her coat tails and specifically bringing the Senate along with her. So in the last week you've seen Clinton and President Obama on the campaign trail not simply making the case against Trump and for Clinton but also against the targeted Republican and for the Democrat in the local senate race.

And the Clinton campaign announced last week that not only was it pouring new money into eight presidential swing states with competitive Senate races but it was also moving money into Indiana and Missouri, neither of which figure to be competitive for her but both of which have key Senate races.
The Senate victory didn't pan out either as Republicans maintained control of the upper chamber, but did lose two seats.
If you take everything right now at face value, 2020 sure does resemble 2016 in a variety of familiar ways. Democrats are very, very confident based on polling data which suggests victories all over the map. Republicans, and Trump specifically, continue to say that polls shouldn't be trusted, just show up and vote on Election Day.
Is 2020 like 2016? Some pollsters believe that pitfalls in the data still remain, but most polling outfits are trying to make adjustments in their weighting:
While many pollsters adjust their methodology and adapt to new circumstances, others — voters, journalists and political forecasters —should keep some things in mind as this election season enters the homestretch.

Walter, host of a podcast called "The Takeaway: Politics with Amy Walter," advises looking for trends in polls "rather than cherry-picking numbers."

And speaking of numbers, Walter said, appreciate the margin of error in any poll. "If it's a 2 or 3 point race," she said, "it could be 6, it could be zero."

Elon University's Husser said consumers of polls should remember that each poll is "a measurement, not a prediction." With possible surprises in October or before, "things could easily change."
Much of this is to say that based on the history of presidential elections, anything can happen. Ignoring the reality of the 2016 race and the seeming inevitability of Hillary Clinton's victory simply can't be discounted in 2020. Democrats would be right to worry, but so would Republicans.
Expect the unexpected, and expect election night to be a twist and turn of high hopes and tempered expectations, for both sides of the aisle, all night.
The first presidential debate will set the tone for the next month of campaigning and may alter the trajectory of the race. The question will be whether the same arguments of inevitability for Joe Biden being made today will still be made a week before the election.