We continue to touch on this issue because it's worth learning from mistakes of the past and identifying how they can be fixed in the future. In a story last week, we asked if polls were underestimating Trump's support in surveys around the country. On the other side of the coin, one prominent pollster is now publicly worried that rather than underestimate Trump, polls right now are overestimating Joe Biden's support, especially among battleground state polls.
Courtney Kennedy, director of research at the Pew Research Center, says that the same dynamics that were in play during the 2016 contest are still in play during 2020. Pollsters may be undersampling demographics that turnout in higher numbers for Trump, and oversampling demographics that will turnout higher for Biden:
The national polls were largely accurate, to within the margin of error. But there were too few state polls, and many of those that were conducted failed to collect accurate data, especially from white voters without college degrees in key swing states.

And those issues haven't been fixed.

"I would say that most, if not all, of the concerns that we expressed still hold — some to a lesser degree," said Courtney Kennedy, the director of research at the Pew Research Center and lead author of the polling industry's post-2016 autopsy. "But I think some of the fundamental, structural challenges that came to a head in 2016 are still in place in 2020."

Polling errors are not uncommon in presidential elections. But pollsters see a real risk this year that the same 2016 mistakes will be repeated. Their colleagues are still not accounting for the fact that voters with greater educational attainment are more likely to complete surveys — and more likely to vote for Democratic candidates.
To put this in another perspective, think about a voter who rarely answers a phone call from an unidentified number. When they do choose to answer, they hear a message about someone calling from such and such polling place for a presidential primary poll. Many voters, especially Trump voters, were sick of the polls in 2016, and sick of hearing about them. They could be more likely to hang up on a pollster and never complete the survey.
On the other hand, as the Politico story notes, voters that would ordinarily align with Joe Biden, or Hillary Clinton in 2016, could be simply more likely to answer the phone and complete the survey. If that caused a skew in the numbers because not enough voters in a major demographic could be sampled, you can see where the disparity arose in 2016.
What about the current numbers across the board giving Biden a sizable national lead and big numbers in various battleground states? It's not that they're inaccurate, but they could be undersampling:
Biden's current lead over Trump is so large — over 8 points in the national RealClearPolitics polling average, and an average advantage of 3 points or greater in Arizona, Florida, Michigan, Pennsylvania and Wisconsin — that a 2016-level polling error wouldn't matter. A lead that large would probably guarantee Trump would be denied a second term, and even a polling miss on par with 2016 wouldn't be enough to overcome it.

But that doesn't mean the president's standing is quite as dire as it looks on paper — the same problem that pollsters identified in 2016 remains. Not enough surveys are being conducted in the battleground states, and those that exist are failing to account for a key political dynamic of modern politics, especially in the Trump era: the rapid movement of lower-income white voters to Republicans and upscale whites to Democrats.
There is certainly anecdotal evidence that in states like Pennsylvania, enthusiasm among Trump voters hasn't much waned. Take the recent presidential primary from June 2. Joe Biden won the Democratic primary, but Donald Trump won the meaningless Republican primary as well, getting some 900,000+ votes: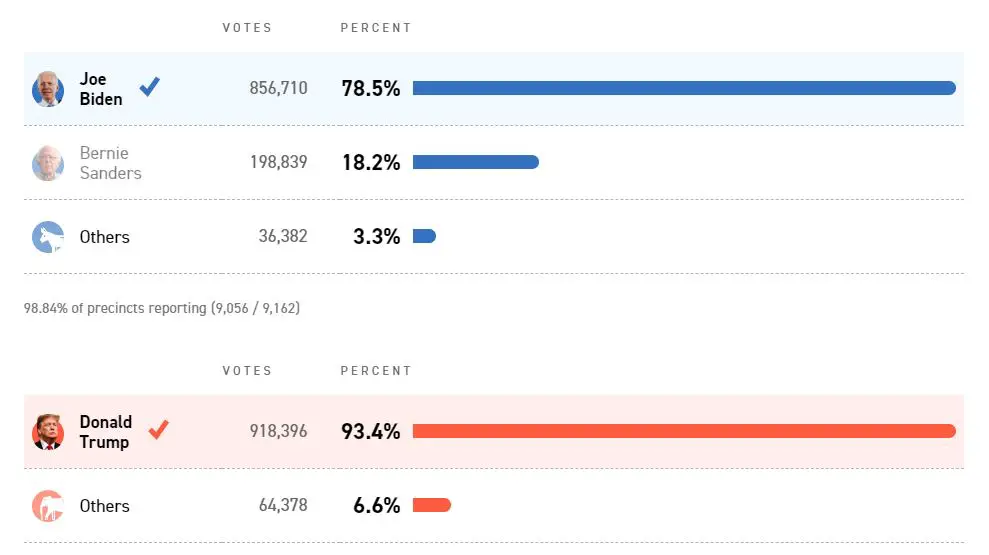 The Republican primary was meaningless. Trump was running unopposed, why did almost a million voters come out to cast a ballot for him, with Coronavirus lingering, in a primary that was already his for the taking?
There's nothing here truly to correlate to the opinion polls or the outcome on Election Day other than the fact that Trump has been collecting more re-election year primary votes than past presidents.
As Politico noted back in February, his campaign was driving voters to primary polls in Iowa and New Hampshire, in large numbers:
President Donald Trump doesn't have much of a primary fight on his hands — but Republican voters are nevertheless turning out in droves for him, a warning sign for Democrats in November.

The massive turnout is a reflection of organic enthusiasm among conservatives and a sophisticated effort by Trump's campaign to rev up its get-out-the-vote machine ahead of the general election. Trump and Vice President Mike Pence traveled to Iowa and New Hampshire ahead of voting, and the campaign flooded the two states with high-profile surrogates and launched a Facebook advertising blitz reminding supporters to cast ballots.

The efforts are paying off, with Republicans turning out in historic numbers. Trump received more than 31,000 votes in the Iowa caucus, surpassing the 25,000 Democrats who turned out during Barack Obama's successful 2012 reelection bid. Trump's share was more than four times the number of Republicans who caucused during George W. Bush's 2004 reelection campaign.
Politico called it a "warning sign" that Trump was able to accumulate more primary votes in these early states than George W. Bush or Barack Obama did in 2004 and 2012 respectively. Not every state will follow suit, but the fact remains about voter enthusiasm, a number often difficult to measure.
Connecting the early February numbers, in Iowa and New Hampshire, to the Pennsylvania numbers from June, and clearly the President's support hasn't eroded much if any among his base.
The ultimate poll is, of course, Election Day on November 3. Then and only then will we truly know if the polls we're looking at right now were anything close to a reflection of how the vote might end up.