We're typically not in the habit of posting a bombardment of polling data day after day since it's easy to get bogged down in the numbers which can often become meaningless days later. However, in this case, coming off yesterday's national polling showing Sen. Elizabeth Warren in a statistical tie with former vice president Joe Biden, this new poll of Iowa Democratic caucus voters is worth mentioning.
The latest numbers come from Change Research in partnership with Iowa Starting Line, a news outlet covering all things politics in the Hawkeye State.
Warren +11 Over Biden And Bernie
The results are quite astonishing for the Warren campaign, and something of an alarm bell for Joe Biden: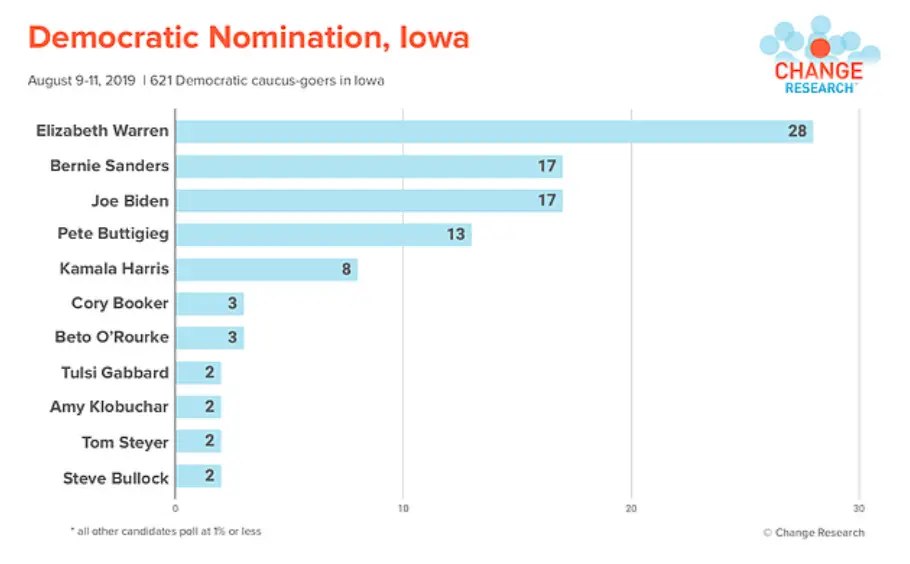 Yes, that's correct, the Change Research numbers now put Elizabeth Warren in the top position leading her closest rivals by 11 points. Biden and Sanders are tied at 17 percent, with Pete Buttigieg as the only other candidate to break double-digits at 13 percent. Sen. Kamala Harris is still hanging in there, sitting at 8 percent, which keeps her hopes alive in Iowa, but it's a fairly weak showing.
Some background on the numbers from the polling source:
The poll was conducted online August 9 to 11, right in the middle of peak Iowa State Fair campaigning, and surveyed 621 likely Democratic caucus-goers on questions related to the Democratic horserace. That part of the poll had a ±3.9% margin of error.
This isn't the first release from Change Research, they put out numbers in Iowa back in May which showed the Iowa Caucus as a toss-up between Biden and Bernie:
May Poll 
Joe Biden: 24%
Bernie Sanders: 24%
Pete Buttigieg: 14%
Elizabeth Warren: 12%
Kamala Harris: 10%
Beto O'Rourke: 5%
From May to August shows 16 point jump for Warren and proof that she continues to consolidate support for her campaign.
At the risk of overstating things, it's important to keep in mind this is one poll right now and it will take others to corroborate the numbers or prove them to be an outlier.
According to the RealClearPolitics average of Iowa Democratic caucus polls, Warren had already pushed herself into second-place behind Biden for several weeks now.
So, what changed? It could be that this poll caught a glimpse of the gut reaction some voters had to Biden's "poor kids" remark which we covered earlier this week. The other possibility is that it's August, a month where fewer voters pay close attention while they're spending time on vacation and preparations for back-to-school soon. However, the latter explanation would tend to favor Biden since he seems to be more of a "default choice" for casual Democratic voters.
More good news for Warren, according to Change Research, is that she leads across all demographics in this poll:
She leads every age demographic (even surpassing Biden in the oldest age bracket, 31% to 28%) except for the youngest. Sanders has a 14-point lead here among the 18-34 range with 34%.
Bernie Sanders still holds out with the 18-34 crowd which was his bread and butter during the 2016 campaign.
All-in-all, however, another good poll for Elizabeth Warren this week and one which Biden and Sanders should take note of.