Election Day is upon us and we will soon know the verdict that voters will render on the state of affairs in the country. President Trump has campaigned heavily in the past several months making it very clear that a vote for Republicans down the line is a vote for him and his agenda. On the other side, Democrats are pushing a similar narrative, that if voters want to reject the President and reject his agenda, they should vote straight Democrat and send more Trump opposition to DC and to state capitals around the country.
Live Midterm Election Results
Live midterm election results from CBS News, starting at 5pm ET:
What Time Do Polls Close?
Poll closing times vary by state so here is a map from Politico to help you know which states will be the first out of the gate this evening to provide the earliest results: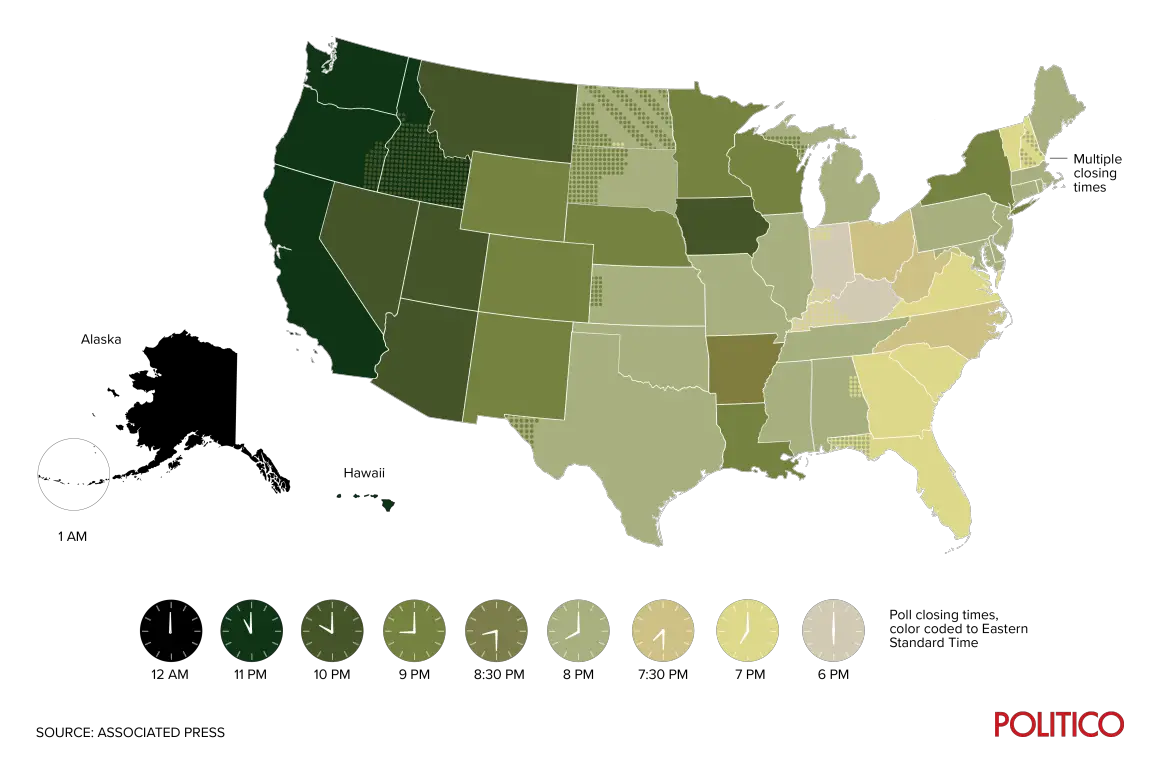 First poll closing times by state
6 p.m. – Indiana, Kentucky
7 p.m. – Alabama, Florida, Georgia, New Hampshire, South Carolina, Vermont, Virginia
7:30 p.m. – North Carolina, Ohio, West Virginia
8 p.m. – Connecticut, Delaware, Illinois, Kansas, Maine, Maryland, Massachusetts, Michigan, Mississippi, Missouri, New Jersey, North Dakota, Oklahoma, Pennsylvania, Rhode Island, South Dakota, Tennessee, Texas
8:30 p.m. – Arkansas
9 p.m. – Arizona, Colorado, Louisiana, Minnesota, Nebraska, New Mexico, New York, Wisconsin, Wyoming
10 p.m. – Idaho, Iowa, Montana, Nevada, Oregon, Utah
11 p.m. – California, Hawaii, Washington
12 a.m. (Nov. 7) – Alaska
Some of the earliest states close at 7 pm ET, such as Virginia. Parts of Florida also close at 7 pm, but the state doesn't start announcing numbers until after 8 pm ET since the Florida panhandle is in the central time zone.
It won't be until closer to the 9 pm ET hour that we start to get a feel for how this vote is going to break tonight.
This post will be updated throughout the day with more details and live result links.
Stay tuned!