Democrats will take control of the House, winning somewhere around 34 seats which well exceeds the 24 needed to win. Some races are still too close to call and we won't know for days on the exact numbers. On the Senate side, Republicans expanded their majority and will have a nice cushion for the next two years on things like judicial nominations and cabinet appointments.
Democrats Take the House
Any areas not colored in remain too close to call. See full details from NBC News.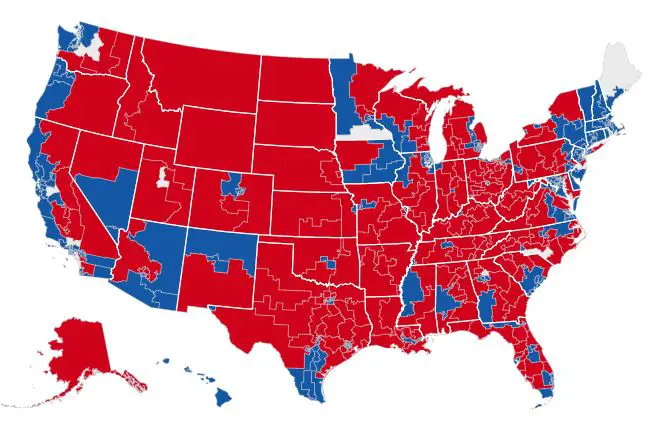 There has been some discussion, on these very pages, about whether the President was all that concerned about losing the House. There is a political calculation to be made which says that giving control to the Democrats may actually help the President in his 2020 re-election bid since he'll have a daily enemy to spar with. Inaction over the next two years will be blamed on the Democratic majority so Trump can make the argument to voters that he needs to be re-elected and they need to give the House to Republicans again to get anything done.
On the other hand, the President will have a stack of investigations being launched by House Democrats which will be coming in his direction next year, as USAToday reports:
Democrats are expected to leverage their new majority to wield Congress' oversight powers. They could demand Trump's tax returns, subpoena his Cabinet members and investigate alleged corruption across the executive branch. And they can block the president's legislative priorities, whether it's funding for a wall along the U.S.-Mexico border or curbing entitlement programs.

Democrats notched key wins in suburban districts from Virginia to Colorado to Florida. Although the final party breakdown remained in flux as of Wednesday morning, Democrats were expected to win more than the 23 seats they need to gain control.

"Tomorrow will be a new day in America," House Democratic leader Nancy Pelosi told an ebullient crowd at an election watch party in Washington Tuesday night.

Taking the stage to loud chants of "speaker," Pelosi said the new Democratic majority would take "strong legislative action" to lower the price of prescription drugs, invest in infrastructure and "drain the swamp of dark interest money."

She did not mention possible investigations of the president or aggressive oversight of his administration, although she said the Democratic win was about "restoring the constitutional checks and balances to the Trump administration."
The President will try to use these investigations to his advantage by once again taking the position of fighting back against the "swamp" or the "deep state" that is trying to hinder his agenda.
Senate Results
The yellow states are still too close to call at press time. Mississippi is heading into a runoff since no candidate received 50% of the vote, but this race will likely end in the "R" column next month. Democrats flipped Nevada, but the gain was offset by GOP pickups in Florida, Indiana, Montana, North Dakota, and Missouri, assuming those close results hold.
The Senate was a bright spot for Republicans where they will expand their majority from 51 seats to 54 seats once things are settled. All three races were too close to call last night, but the Republican candidates are leading slightly.
According to NBC News, this is where the President chose to focus his remarks this morning:
President Donald Trump hailed the results of Tuesday's tumultuous midterm elections as a "Big Victory" for him and his supporters — and gave an unceremonious kiss-off to candidates who kept their distance.

"Those that worked with me in this incredible Midterm Election, embracing certain policies and principles, did very well. Those that did not, say goodbye!" Trump tweeted Wednesday morning, ahead of a planned news conference at 11:30 a.m. ET from the White House.

The president is expected to discuss the midterms, in which many states had record voter turnout not typically seen in non-presidential election years.

He also lashed out at pundits that "do not give us proper credit" as "FAKE NEWS!" and warned that Democrats, after seizing control of the House, who decide to launch investigations into the GOP may likewise be investigated at the Senate level for any leaks of classified information.

"Two can play that game!" he tweeted.

Trump earlier touted the night as a "tremendous success" for his party as the GOP cemented its grip on the Senate by holding key seats in Texas and Tennessee while picking up seats in Indiana, North Dakota and Missouri.
Texas was getting close but came home for Cruz in the end. The same goes for New Jersey on the other side where early in the night, it looked like the Republican challenger to Menendez might have a shot, but it was quickly dashed as more results came in.
The big surprises may be Florida and Montana, where polling gave an edge to Democrats in recent days.
Governors
Yellow states remain too close to call, but it looks like the GOP will retain Georgia and Alaska, while Democrats pick up Wisconsin and a handful of others. Detailed gubernatorial results available from Fox News.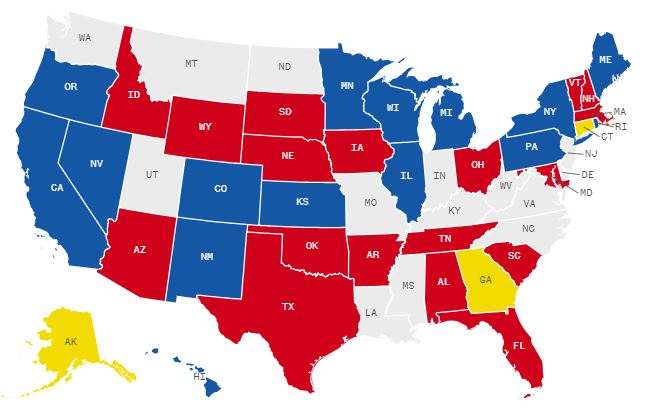 Scott Walker lost in Wisconsin, but that was a heavy lift for him in a blue state. That will affect the 2020 Presidential election since Trump won Wisconsin and having the GOP in control at the state level usually helps in Presidential years. Ohio and Florida, however, two incredibly important states for Presidential politics, will remain under GOP control.
Mixed Bag
The 2018 Midterms left presents under the tree for both parties. Democrats get a shiny new House majority, while Republicans get more chess pieces in the Senate and retained some key Governorships. The "blue wave" never really materialized, and a 34 seat pick up for Democrats in the House is inside the historical norm pattern for the party out of power. In order for a "wave" declaration, the number would have had to be closer to 50 or 60 seats, such as the Republican wave in 2010.
Washington will be stuck in gridlock for the next two years, even more so than the last two years. The House and Senate will agree on very little and likely no major ideological legislation will pass.