I think it's fitting in the age of Trump to start off 2018 with speculation about another massive entertainment celebrity considering a presidential run. Oprah Winfrey delivered an award acceptance speech at the Golden Globes (the place where most political careers start, right?) last night and brought the audience of celebrity attendees to their feet, standing ovation and all. Almost every reaction said that the speech seemed like a campaign mantra meant to rally the country around opposition to Donald Trump, and a future of "hope" for America. Oprah did not mention Trump by name, though the message was well-received by the room.
Here is Oprah's entire 10 minute speech so you can judge for yourself:
Following her performance, NBC outright claimed Oprah as "OUR" future president on their verified twitter account: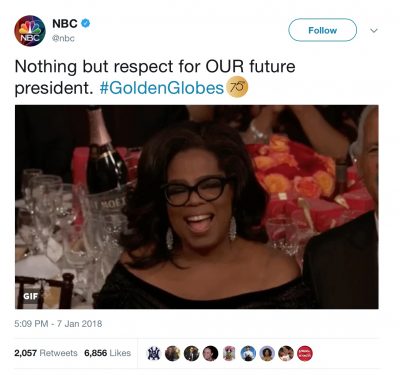 Since tweeting about Oprah, NBC has actually deleted the tweet due to criticism, according to Fox News:
"Nothing but respect for OUR future president," the verified NBC account tweeted on Sunday night during its Golden Globes telecast, complete with an image of Winfrey, after host Seth Meyers joked about his desire for the talk show icon to run for office.

Early Monday, NBC appeared to back off the apparent Oprah endorsement, and blamed it on a "third party."

"Yesterday a tweet about the Golden Globes and Oprah Winfrey was sent by a third party agency for NBC Entertainment in real time during the broadcast," read the tweet. "It is in reference to a joke made during the monologue and not meant to be a political statement. We have since removed the tweet."
What "third-party" operates the NBC verified twitter account? They'd be better off blaming it on "low level staffers in Cleveland" or whatever the standard line is for evading responsibility these days.
CNN has the scoop claiming that Oprah could be, perhaps, investigating what it would take to mount a presidential run:
Oprah Winfrey is "actively thinking" about running for president, two of her close friends told CNN Monday.

The two friends, who requested anonymity in order to speak freely, talked in the wake of Winfrey's extraordinary speech at the Golden Globes Sunday night, which spurred chatter about a 2020 run.

Some of Winfrey's confidants have been privately urging her to run, the sources said.

One of the sources said these conversations date back several months. The person emphasized that Winfrey has not made up her mind about running.

A representative for Winfrey did not immediately respond to a request for comment.

The Democratic race for president won't officially begin until after the 2018 midterms, but many potential candidates are already jostling for position and making trips to Iowa.
Well, if we game this out a little bit, let's presume that Oprah can probably skip the early Iowa visits, and the early New Hampshire visits for that matter. Her name recognition is probably around 100%, even with a younger generation. She could easily self-fund her campaign with a vast personal wealth that runs into the billions. Let's also presume she'd attempt to run for the Democratic nomination, or would she?
Being a billionaire would allow her to mount a serious independent run if she wanted to. But independent runs usually end in defeat or end in splitting the vote of one side and giving the other side a victory. Better to do what Trump did and run within the system of a major party.
So if Oprah runs as a Democrat, will she participate in presidential debates? Would there be protest from certain wings of the party? Is she too liberal or too centrist to please everyone? Many Democrats complain now that in 2016, the party basically gave the nomination to Hillary and dispensed with the messy primary process. This allowed Hillary to walk into the nomination, but it also kept the party from vetting candidates and giving Democratic voters a buffet of choices. In 2020, there will be bus loads of Democrats lining up to challenge President Trump. Would Oprah basically clear that field if she chose to run?
After the 2016 race of billionaire versus political dynasty, maybe we need billionaire vs. billionaire in 2020 to really send us over the edge. Will we ever be able to look at a boring race of politician versus politician the same way again?