I'm going to start a list of headlines I never expected to be writing. Ever. Well, today is the day for a Special Election in Montana to fill the one and only at-large US House seat in the state. Republican Greg Gianforte is facing Democrat Rob Quist for the seat in what has become a small battleground for national politics. Things took a strange turn just yesterday when Gianforte was witnessed literally putting hands on a reporter from the UK Guardian and apparently slammed him to the ground.
A crew from Fox News witnessed the incident and described the events as they saw them unfold:
The race to fill Montana's sole seat in the U.S. House of Representatives took a violent turn Wednesday, and a crew from the Fox News Channel, including myself, witnessed it firsthand.

…

During that conversation, another man — who we now know is Ben Jacobs of The Guardian — walked into the room with a voice recorder, put it up to Gianforte's face and began asking if he had a response to the newly released Congressional Budget Office report on the American Health Care Act. Gianforte told him he would get to him later. Jacobs persisted with his question. Gianforte told him to talk to his press guy, Shane Scanlon.

At that point, Gianforte grabbed Jacobs by the neck with both hands and slammed him into the ground behind him. [Emphasis added] Faith, Keith and I watched in disbelief as Gianforte then began punching the reporter. As Gianforte moved on top of Jacobs, he began yelling something to the effect of, "I'm sick and tired of this!"

Jacobs scrambled to his knees and said something about his glasses being broken. He asked Faith, Keith and myself for our names. In shock, we did not answer. Jacobs then said he wanted the police called and went to leave. Gianforte looked at the three of us and repeatedly apologized. At that point, I told him and Scanlon, who was now present, that we needed a moment. The men then left.
There is also audio of the incident released by the UK Guardian:
Now, ABC/Fox Montana reports that Gianforte has been charged with misdemeanor assault and will appear in court on June 7th:
Just after 10:30pm on Wednesday evening, Gallatin County Sheriff Brian Gootkin reported his office has charged Greg Gianforte with misdemeanor assault.

Gootkin's statement reads as follows:

"Following multiple interviews and an investigation by the Gallatin County Sheriff's Office it was determined there was probable cause to issue a citation to Greg Gianforte for misdemeanor assault (MCA 45-5-201). The nature of the injuries did not meet the statutory elements of felony assault. Greg Gianforte received a citation on Wednesday night and is scheduled to appear in Gallatin County Justice Court between now and June 7, 2017."
As a result of this incident, the race has become far more competitive in the past twelve hours than it had been up to this point. Recent polling data had given Gianforte a 14 point advantage on average, according to RealClearPolitics. However, according to the prediction market site PredictIt, which will show a more real-time view of sentiment on the race, the contest has tightened closer to being a toss-up: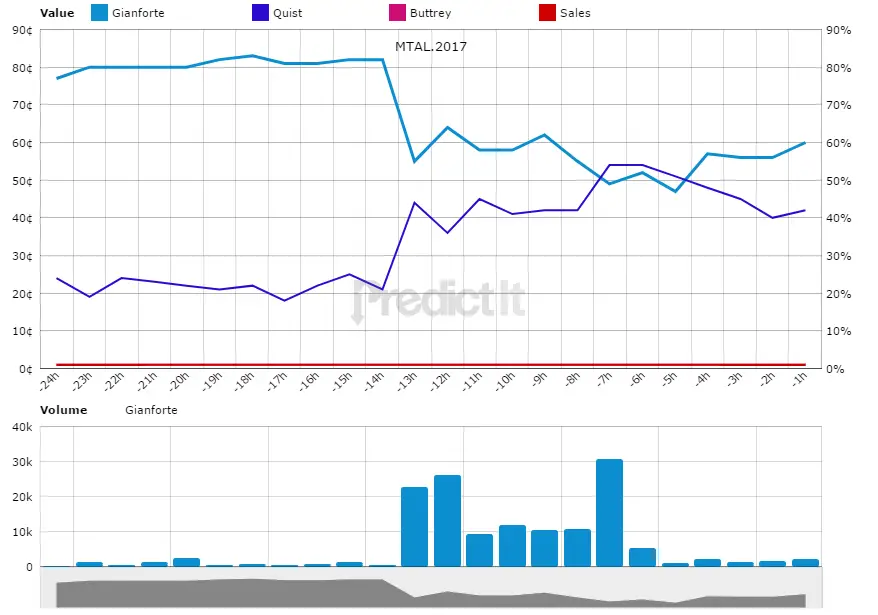 As mentioned yesterday, Gianforte was being supported nationally by surrogates of President Trump, including Donald Trump Jr., who visited Montana to personally campaign for Gianforte.
The polls close this evening in Montana at 8pm MT, which is 10pm ET. It may be late into the night before we get any results, especially if the race goes down to the wire given the recent incident.