It's been literally years in the making, but we've finally arrived at Election Day in 2016. While many voters have already cast their ballots in early voting, the majority of them will vote today for their preference between Hillary Clinton, Donald Trump, Gary Johnson, or Jill Stein. There are also independent candidates, such as Evan McMullin, on the ballot in some states. There are also key US Senate races which will determine the balance of control in Congress under the next President.
Here is the important map of the day which covers all the poll closing times across the country. Among the early important states to watch are New Hampshire, Virginia, North Carolina, and Florida.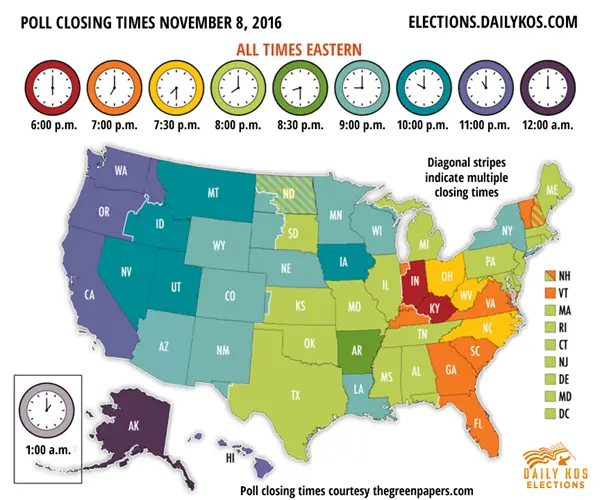 All Times Listed Eastern (Details from Politico)
6 pm – Indiana, Kentucky
7 pm – Alabama, Florida, Georgia, New Hampshire, South Carolina, Vermont, Virginia
7:30 pm– North Carolina, Ohio, West Virginia
8 pm – Connecticut, Delaware, D.C., Illinois, Kansas, Maine, Maryland, Massachusetts, Michigan, Mississippi, Missouri, New Jersey, North Dakota, Oklahoma, Pennsylvania, Rhode Island, South Dakota, Tennessee, Texas
8:30 pm – Arkansas
9 pm – Arizona, Colorado, Louisiana, Minnesota, Nebraska, New Mexico, New York, Wisconsin, Wyoming
10 pm – Idaho, Iowa, Montana, Nevada, Oregon, Utah
11 pm – Alaska, California, Hawaii, Washington
Note: In the event of multiple poll closing times per state, states above are listed by their first closing time. For complete details please scroll to the alphabetized list below.
---
Live stream of election results broadcast and links to live news feeds.
Live Stream: (Courtesy NBC News)

Live Stream Links: ABCNews.com, Bloomberg.com, CBSNews.com, CNN.com, FoxNews.com, FoxBusiness.com, MSNBC.com, Twitter.com
More details will follow throughout the day. Please consider this an open thread for all things Election Day. Did you vote today or had you already voted? How were the lines? What was your experience?