Just in case you're taking the campaign (or yourself) too seriously, we thought we'd do a change of pace. It's not "all work and no play," here. After all, that would make "Jack (John Kasich?) a dull boy." Let's lighten up a bit and take an odd look at the campaign, shall we?
Did you know that merchants can't keep the Donald Trump Pinata on the shelves?
SANTA FE, N.M. (AP) – Pinatas of GOP presidential hopeful Donald Trump have become hot sellers in two of the largest cities in the state with the highest percentage of Hispanic residents.

Businesses in Albuquerque and Santa Fe say Trump pinatas have been flying off their shelves and it's not just Latinos who are buying them.
That's not all the campaign merchandise, find more here.
You can buy a Marco "Polo shirt" for $45. OR—you can pay a thousand bucks to get a copy of the Constitution, autographed by Rand Paul (and he didn't even write it!). There's also a Ted Cruz "This Vehicle Only Makes Right Turns" bumper sticker, for $10.
Not to be outdone, Bernie also has a bumper sticker.
It says "Honk for a Political Revolution."
Oh, and for $45, you might get a lock of Scott Walker's hair ("Eee-ew").
If you Google "Kasich Merchandise," you get a few favorites here.
There's a button that says, "ContesTed," a mug that says, "Lose with Cruz," and a drinking glass that says, "Insert Name for President."
BUT WAIT! That's not all! There's MORE!
How about a "Grillary" Clinton apron? She also has a t-shirt that looks like a pantsuit. And Rand Paul had a "Don't Drone Me, Bro" t-shirt. Rick Perry had a t-shirt with his face on it, with "WANTED" printed above it (really?). And Bobby Jindal had a strange t-shirt, with the slogan, "Tanned. Rested. Ready." Like, Jindal ever not tanned??
Meanwhile a woman has become famous for looking almost exactly like Ted Cruz, after appearing on the "Maury" (Povich) TV show.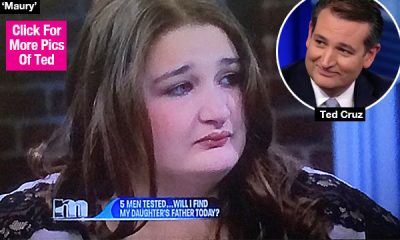 Okay, this is hilarious. A woman who looks like she could be Ted Cruz's identical twin made an appearance on Maury Povich's salacious talk show ["5 Men Tested… Will I Find My Daughter's Father Today?"], and the internet has totally lost their cool about it. . .For the most part, tweeters liked to joke that the woman was Ted in "drag."
Bernie Sanders' apparent lack of humor hasn't stopped the jokes.
Jimmy Kimmel: This is the 100th anniversary of the New Hampshire primary. They've been doing this primary in New Hampshire since Bernie Sanders was 5 years old.

[Bernie's] favorability rating is 91 percent — that is incredibly high. As are many of his supporters.

Conan O'Brien: Today a very confident Hillary said, "Oh, please. Like I'm going to lose the Democratic nomination to a left-wing senator nobody's ever heard of?"

Seth Meyers: Bernie Sanders. . .passed Hillary Clinton in the New Hampshire polls. It's the first time anyone's ever been passed by a guy in a Prius.

Stephen Colbert: Ben & Jerry's Ice Cream wants to make a flavor inspired by Bernie Sanders. Whatever flavor it winds up being, we know Bernie will hate it for being too rich.

Trevor Noah: A turning point in Sanders' life came as a teenager, when he was bitten by a radioactive senior citizen, giving him the power to be as grumpy as 10 old men.
The Intelligencer is helping us find more of "All The News Unfit to Print."
Ready for Hillary … to Start Drinking: As her campaign began on Monday, Hillary Clinton announced that she was ready to "drink my way across Iowa."

Ben Carson Flip Flops: A week after publishing an essay in the Washington Post noting that "selfies are dangerous," Ben Carson sent a selfie to a reporter.

Rand Paul [was] the first 2016 presidential candidate to accept Bitcoin.

Bowlers Journal notes that Clinton also discussed bowling this week. "We need more bowling. Everybody needs to go bowling."

Lindsay Graham. . .said that if he becomes president, he will build a Chick-fil-A drive-through at the White House.

In 1989, Marco Rubio and some of his football teammates wowed the crowd with a Chippendale's style dance routine. Bare-chested Rubio photo here.

Hillary Clinton took a photo with a 5-year-old boy wearing a T-shirt that said, "Iowa: Wave the next time you fly over."
And here is some more trivia of dubious value:
When Rand Paul "was a surgical resident in Atlanta, his friends called him 'Doogie Howser' because he still looked like a teenager."

Scott Walker had the best NCAA bracket out of all the 2016 candidates. However, it wasn't as good as Mitt Romney's.

More than 100 people watched Martin O'Malley play his guitar in an Iowa pub.

In 1997 Hillary Clinton would not tell a Scottish newspaper what she would do first if she won the lottery.
OK. Enough time wasted. Now you can get back to ranting and obsessing. 😉