The first Republican debate of 2016 airs tonight on the Fox Business Network, live from South Carolina. There will be seven candidates on the primetime debate stage airing at 9pm ET, while the remaining three candidates will appear earlier at 6pm ET. Rand Paul has decided to skip the debate entirely since he did not make the polling threshold needed to earn a spot on the primetime stage, and has decided to decline his invitation to the undercard broadcast.
Thursday, January 14, 2016
Fox Business Republican Debate
Live Stream: FoxBusiness.com (free)
Location: North Charleston Coliseum in North Charleston, South Carolina
Primetime Debate
9pm ET (8pm CT, 6pm PT)
Moderators: Maria Bartiromo and Neil Cavuto
Candidates: Trump, Cruz, Rubio, Carson, Christie, Bush, Kasich
Undercard Debate
6pm ET (5pm CT, 3pm PT)
Moderators: Trish Regan and Sandra Smith
Candidates: Paul*, Fiorina, Huckabee, Santorum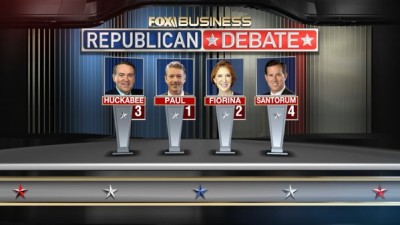 *Rand Paul has said he is not participating in the debate unless he is given access to the primetime debate stage.
Report from Fox5NY:
The participants qualifying for the prime-time, 9 p.m. ET debate are: Billionaire businessman Donald Trump; Texas Sen. Ted Cruz; Florida Sen. Marco Rubio; retired neurosurgeon Ben Carson; New Jersey Gov. Chris Christie; former Florida Gov. Jeb Bush; and Ohio Gov. John Kasich.

The participants qualifying for the earlier, 6 p.m. ET debate are: Kentucky Sen. Rand Paul; former HP CEO Carly Fiorina; former Arkansas Gov. Mike Huckabee; and former Pennsylvania Sen. Rick Santorum.

The lineup was decided based on the results of national, New Hampshire and Iowa polling. To qualify for the prime-time debate, a candidate had to place in the top six in an average of recent national polls, or in the top five in an average of recent Iowa or New Hampshire polls. ?

The debate comes as front-runner Trump faces a rising challenge from Cruz, particularly in the caucus state of Iowa where the two are effectively tied for the lead.

The changing dynamic has fueled new tensions in the race, with Trump now openly questioning whether Cruz' Canadian birth complicates his eligibility to run.
According to Business Insider, Rand Paul has declared "war" on the media over his demotion from primetime and is accusing the media and the DC establishment of trying to "block his message." Report from Business Insider:
Paul was one of several candidates who failed to meet Fox Business' threshold to qualify for the main Thursday debate because of his relatively poor polling numbers.

But Paul argued in an email to his supporters that he was actually running a "top-tier" campaign.

"Are you kidding me?" the candidate wrote in the subject line.

"I know the media and the Washington machine have been trying to block our message, but I didn't think they'd go this far," Paul continued. "This week we proved the strength of our top-tier campaign with multiday trips to Iowa and New Hampshire to take my message of liberty straight to the voters. … But those supporters don't mean enough to the media. We just learned today that we will not be allowed on the main stage at Thursday's debate."

Paul was offered a position at the so-called undercard debate, where the lower-polling candidates face off before the main, prime-time event. Paul rejected that offer.
We'll have the complete debate videos after they air. As for Paul, it remains to be seen whether skipping the undercard is a good idea or whether it will make him less relevant in the minds of voters since he isn't attending either debate.