The seconds are ticking down to Tuesday and every pundit has an opinion on what the outcome will be. In the tradition of going out on a limb, I think we need to get some predictions from the 2012EC community on the record before Tuesday. If you don't feel like making a full-blown electoral map, at least give us your final electoral vote count for President Obama and Governor Romney as well as your projected winner.
Directions: Click the link below, set the states as you see them coming out on Tuesday. Click the "Share Map" button and copy/paste that link in your comment below. You can give your electoral count as well in your comment.
Create Your Electoral Map: 270ToWin.com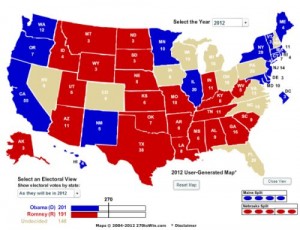 On Wednesday we can re-visit this topic and I'll make a post giving our top 3 closest guesses and our top 3 worst guesses.